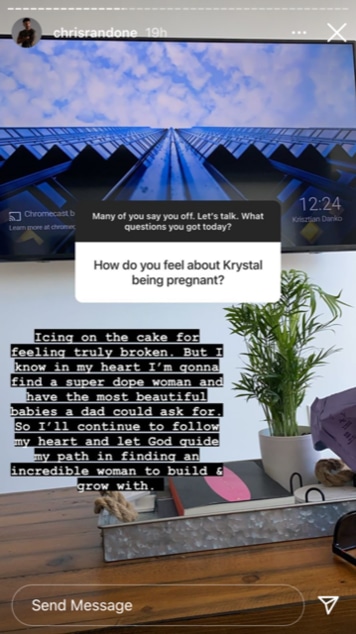 Instagram
Chris Randone is getting a few things off his chest.
On Friday, Nov. 13, the Bachelor in Paradise alum took to Instagram Stories to candidly discuss his ex-wife's recent announcement.
Here's a quick refresher: On Wednesday, Nov. 11, Krystal Nielson shared she is pregnant and expecting her first child with her boyfriendMiles Bowles.
Following the fitness guru's baby news, Chris opened up about Krystal's big reveal during a fan Q&A on Instagram Stories.
When one follower bluntly asked how he felt about her pregnancy, the reality TV personality kept it real.
"Icing on the cake for feeling truly broken," Chris responded. "But I know in my heart I'm gonna find a super dope woman and have the most beautiful babies a dad could ask for."
He added, "So I'll continue to follow my heart and let God guide my path in finding an incredible woman to build and grow with."
Another follower asked if he was "OK with all the Krystal stuff," to which he replied, "I'll never be okay about it but I will just continue to be grateful for the years I had with that love. At least the love I had in my heart."
Pregnancy aside, one fan wanted to know if he and Krystal would ever "put out a lengthy statement" about their breakup. Short answer: No.
"I'm not sure I want to tap back into that energy," Chris shared. "I've had to do some much healing and therapy over the last eight months and now I have to continue that journey, it doesn't just happen overnight. But I'm working through the trauma."
Denise Truscello/Getty Images for Clique Hospitality
As Bachelor Nation fans will recall, Chris and Krystal met on season five of Bachelor in Paradise in 2018. Like The Bachelorette and The Bachelor, the two found themselves engaged by the end of Paradise and tied the knot during a televised wedding a year later.
But by February 2020, the couple announced they were officially calling it quits.
"It hurts to announce that at this moment, we have mutually decided to separate," the duo said in a joint statement at the time. "Never did we imagine this scenario, but we've come to a point where we both need to work on ourselves."
They both filed for divorce in August. "I wouldn't say this marriage was a failure because we evolved into better versions of ourselves," Chris shared on Instagram Stories. "I'll always wish things turned out different & as much as we'd like, not everything last forever, including relationships."
For her part, Krystal took to Instagram with her own statement.
"The past eight months have not been easy...," she wrote on Instagram. "I've been torn between mourning a life that could've been…and determined to fight for the future that I know I deserve. With respect and support for one another, Chris and I have decided to move forward with filing for divorce."
Watch:
Cole Sprouse & Lili Reinhart and More 2020 Celebrity Breakups
Krystal's pregnancy news comes about a month after she revealed her relationship with Miles. Because the 33-year-old star has kept her romance private, it's unclear how long the two have been dating.
As for Chris? The star is currently single. However, during his Q&A he confessed that he's ready to put himself out there. "I'm starting to dive in just a little," he responded after a fan asked if he wanted to start dating again. "But giving all of me will take some time."