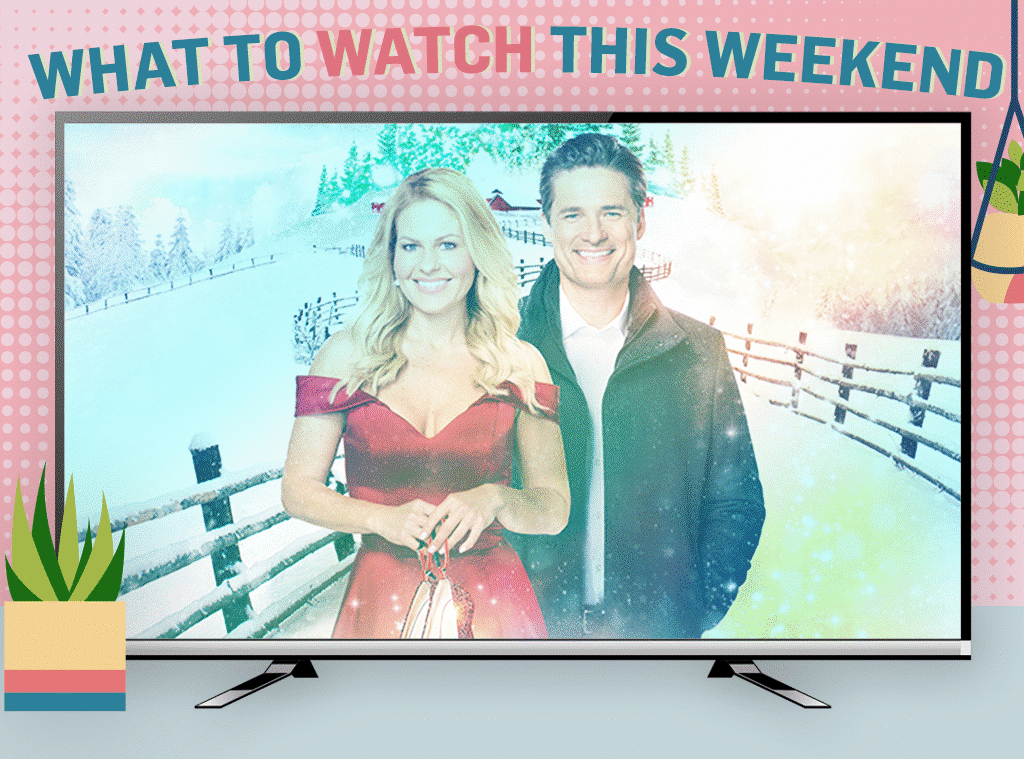 Netflix; Peacock; Crown Media/E! Illustration
Ready for a Tryptophan-induced binge sesh? 
It's officially Thanksgiving weekend, people, which means one thing: Five days to fill up on comfort food and catch up on all of your TV shows. (And to express gratitude, of course, that too.)
While we've already offered up the list of the best movies and TV episodes centered around the Jan Brady of holidays (Halloween is the rebellious youngest sibling while Christmas is the overachieving firstborn), there's also a slew of new offerings dropping to keep you entertained.
Saved By the Bell's reboot is finally making its debut (with many of the OG series stars reprising their iconic roles) and we're more excited than Jessie Spano on caffeine pills. Plus, Shawn Mendes is the latest music superstar to release an intimate doc.
Oh, and we've got all the Christmas-related goods for you to open up early, including Kristen Stewart's LGBTQ rom-com, HBO's seasonal reality dating series about finding love underneath the mistletoe and the 4-1-1 on Hallmark's latest cheesy movies, including Candace Cameron Bure's annual outing.
Here's everything new to check out this holiday weekend, kicking off with a yearly tradition: 
If You Love Watching the Parade Each Year on Thanksgiving Morning: Don't worry, The Macy's Thanksgiving Parade will still air as a television-only event. The beloved tradition will feature appearances by Lauren Alaina, Sofia Carson, Keke Palmer, Dolly Parton, Bebe Rexha and Jimmy Fallon and the Roots, among many others.
Due to safety measures put into place because of the coronavirus pandemic, the 94th annual parade will go audience-less for the first time ever. But in a statement, Macy's promised to "showcase the Macy's Parade's signature mix of giant character helium balloons, fantastic floats, street performers, clowns and heralding the arrival of the holiday season with the one-and-only Santa Claus." (Where to Watch: NBC and Telemundo on Thursday, Nov. 26, 9 a.m. to 12 p.m. in all time zones)
For another Thanksgiving tradition, A Charlie Brown Thanksgiving will be available free of charge from Nov. 25-27, with the Peanuts holiday special making the transition from cable to streaming for the first time. While it may have you want to yell "Good grief!" to know this will be the first time in 65 years the classic special will not air on TV, at least it'll be free? (Where to Watch: AppleTV+)
Joe Lederer / fotojo/NETFLIX
If You love Kurt Russell and Goldie Hawn's Love Story: After first being teased with the possibility of Hawn joining Russell in Claus action after her cameo at the end of the 2018 original, the pair return to their respective red suits in The Christmas Chronicles: Part Two. And fans can expect to see a whole lot more of Hawn in action as Netflix promised on Twitter, "It's time for Mrs. Claus to get her due." In this action-packed romp, the couple teams up with a now cynical and over-it teenage Kate (Darby Camp) to save Christmas from Santa's holiday-hating cousin, Belsnickel (Julian Dennison). (Where to Watch: Netflix)
If Zack Morris and Kelly Kapowski Are Still Your OTP: Feel free to call "Time out!" this holiday weekend to binge Peacock's highly anticipated Saved By the Bell reboot. OG stars Elizabeth Berkley and Mario Lopez are back at Bayside as the school counselor and athletic director, respectively, while Mark-Paul Gosselaar's Zack is now the Governor of California, with Tiffani Thiessen returning as Kelly, his first lady, of course. You truly love to see it. 
But Saved By the Bell's return is also about the next generation, including Zack and Kelly's son, Mac (Mitchell Hoog), and Jessie's son, Jamie (Belmont Cameli). Get to know the rest of the new class of Bayside High and find out which other stars from the original series you can expect to see right here. (Where to Watch: Peacock)
If Your "Little Cousin" Just Loves That Shawn Mendes: Well, you can let your "little cousin" know they might want to get ready to see an unguarded and vulnerable side of the heartthrob in his his documentary. The 22-year-old's In Wonder arrives just four days before his latest album's release and gives fans an inside look at his life over the last couple of years. Directed by Grant Singer, Mendes promises "this is a story about a guy growing up" in the trailer, which of course, opens with a shot of the pop star in the shower. In case, you know, your "little cousin" is into that. (And yes, In Wonder will deliver the goods when it comes to Mendes' relationship with Camila Cabello.) (Where to Watch: Netflix)
If You Still Say Bazinga! On a Daily Basis: The Big Bang Theory star Kaley Cuoco makes the jump to darker material in The Flight Attendant. Playing an alcoholic stewardess, her character Cassie's life experiences some serious turbulence when she wakes up next to a dead body after blacking out in Bangkok. Talk about an elevator pitch for the ages. Michiel Huisman, T.R. Knight, Rosie Perez, Zosia Mamet, Merle Dandridge, Michelle Gomez and Colin Woodell co-star in the miniseries, which was produced by Cuoco. (Where to Watch: HBO Max, premieres on Nov. 26)
If You've Been Waiting for a Lesbian Christmas Movie: It's like Hulu Inceptioned our holiday movie-loving brains when they picked up Happiest Season, a rom-com starring Kristen Stewart and Mackenzie Davis. Need we go on? Fine, we shall. Directed by Clea DuVall, Happiest Season centers on Abby's (Stewart) plans to propose to girlfriend Harper (Davis) as her family's annual Christmas dinner being turned upside down when she discovers Harper's loved ones have no idea she's gay. Shenanigans, family drama and lessons about acceptance ensue.
Need we still go on? OK, if you insist. The film also stars Aubrey Plaza, Alison Brie, Mary Steenburgen, Victor Garber, Ana Gasteyer, Jake McDorman, Michelle Buteau and Dan Levy a.k.a. the Canadian national treasure who gifted us with Schitt's Creek. Yeah, we don't know what you're waiting for either. (Where to Watch: Hulu, premieres on Nov. 26)
If You Often Wish a Hallmark Movies Was Longer Than Two Hours: Virgin River, Netflix's sleepily charming series from 2019, returns for its second season and it's just as unassumingly delightful as you remember. Adapted from the Virgin River novels by Robyn Carr, the sophomore outing finds Mel (Alexandra Breckenridge) dealing with the fallout of her decision to possibly leave town after ending things with Jack (Martin Henderson). Per Netflix, fans should expect an engagement, heartbreak, murder and a hot new Sheriff. You know what they say about small towns: big drama. (Where to Watch: Netflix, premieres on Nov. 27)
If Your DVR Is Already Piling Up Hallmark Christmas Movies: You better not pout, you better not cry when we tell you that Hallmark Channel is dropping a new movie every night this week as part of their annual Thanksgiving event, which always ends with Candace Cameron Bure's movie's premiere (If I Only Had Christmas). This year's slate includes titles such as A Christmas Tree Grows in Colorado, Five Star Christmas and Christmas Waltz. Ain't no rest this Christmas! (Where to Watch: Every day at 8 p.m. ET on Hallmark Channel)
If You're Looking for a Real-Life Christmas Movie: The 12 Dates of Christmas is a fun, feel-good reality dating series that sends singles into an IRL romantic comedy filled with cozy sweaters, fireside cuddles, and mistletoe kisses. And it all takes place in a Christmas castle because of course it does. By going through festive activities like ice-skating and sleigh rides, the participants are hoping to find someone they can bring home for the holidays. (Where to Watch: HBO Max, premieres on Nov. 26)
If You're Missing Going to the Movies Right Now: Sigh, remember when we could all sit in a theater and get lost in a story together? Ron Howard's Hillbilly Elegy is one of the movies that is perfect for a quietly powerful experience. Starring Glenn Close, Amy Adam, Owen Asztalos and Gabriel Brasso (with the latter two sharing the role of J.D.), the family drama shows the impact of the American dream across three generations of an Appalachian family. After leaving home to go to college and Yale Law, an adult J.D. eventually returns to his small Ohio town to come to terms with his childhood. Tears, they will likely be shed. (Where to Watch: Netflix)
And, for the kids, there's Illumination Presents Minion Holiday Special. Yes, our favorite little yellow creatures are back for a night of hijinks, mischief and holiday adventure. Of course, except some heartwarming moments sprinkled in there, too. This one is guaranteed to get the whole family pumped for next summer's Minions: The Rise of Gru. (Where to Watch: NBC, Nov. 26 at 8:30 p.m.)
If You Can't Resist Sweets During the Holiday Season: Hmm...we're not sure if we should recommend to you or warn you away from Sugar Rush Christmas' second season, which finds the bakers tasked with creating edible and gorgeous holiday confections. JK, we totally recommend this delicious treat. (Where to Watch: Netflix, premieres on Nov. 27)
If You're Craving More Football After the Games on Thanksgiving: CBS All-Access is dropping the first three episodes of Texas 6. In the docuseries, viewers will meet (and immediately root for) the Greyhounds, a high school six-man football team under the direction of Coach Dewaine Lee attempting a three-peat for the 6-Man Football State Championship. So, it's just like Cheer, but with less flips and more tackling. (Where to Watch: CBS All-Access, debuts on Nov. 26)
If You're A Fan of The Nutcracker and Grey's Anatomy: A weird Venn diagram, for sure, but it turns out Netflix is into that niche. Hailing from Shondaland, Dance Dreams: Hot Chocolate Nutcracker shines a spotlight on Debbie Allen and her group of young dancers as they prepare for the star's annual "Hot Chocolate Nutcracker" production. (Where to Watch: Netflix, premieres on Nov. 27)
For everything you should be watching right now, don't miss BingE! Club hosted by Erin Lim on Snapchat!