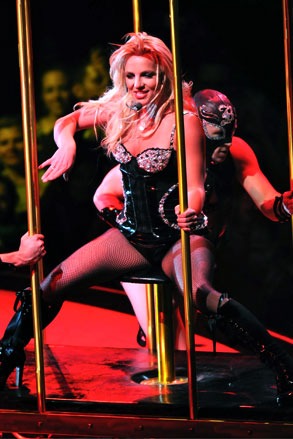 Sandy/National Photo Group
After Britney Spears wrapped up her Sin City show Saturday night, it was time for the pop princess to party and let her hair down.
Brit threw an exclusive bash in Phil Maloof's 15,000 square foot Sky Villa at the Palms Place Hotel & Spa for 50 people. Besides her backup dancers, the Pussycat Dolls (who open for Brit) came to party, minus Nicole Scherzinger.
"Everyone kept asking 'Where's Nicole?' And the answer was that she hardly ever hangs out with the group any more," says a source at the soiree.
While Paul Oakenfeld deejayed, guests got to watch a juggling act and contortionist performances. On the menu for late-night revelers, who hung until 3 a.m.? Sliders, peanut-butter-and-jelly sandwiches, brownies, cotton candy and caramel popcorn.
Brit wasn't the only celeb spotted in Sin City this weekend...
Paris and Doug Reinhardt were sitting right by the stage watching Brit's show early Saturday. Later they joined Nicky Hilton to hit up Tao, where Jamie King was celebrating her 30th birthday.
Their group later headed to XS at Encore around 3 a.m., where Ryan Seacrest, Simon Cowell and Randy Jackson were also hanging out. Wonder how that panel would rate Brit's Circus?
—Additional reporting by Ken Baker