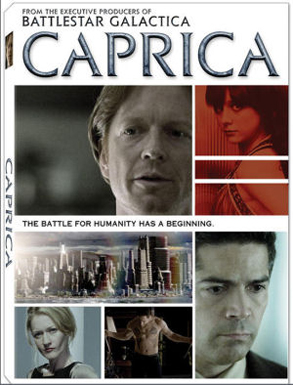 Caprica is the world 50 years before the events that take place in the hit science fiction series, Battlestar Galactica and the first episode has just been released on DVD.
Magda Apanowicz who plays Lacy Rand in the series says, "Caprica and Battlestar have two completely different feels—one is post-apocalyptic and the other is when the rise and fall of a nation are right at its peak."
The story unravels the beginning of the Adama and the Graystone family sagas while Lacy Rand herself is an integral piece of the plot. "I'm in the middle talking to both sides and things unwind and unravel and come to fruition," said Apanowicz.
Fans have already reported that the two share the same intriguing, intelligent, and provocative style however being set further in the past Caprica has the elements of a more traditional drama rather than a "space opera".
Like Battlestar, Caprica is filmed in and around the Greater Vancouver area which happens to the Apanowicz's hometown. "It gives me a happy feeling when I see things are that filmed here, not only Caprica but anything that I watch that's filmed here I can tell right away...it just makes you feel that much more connected to the piece."