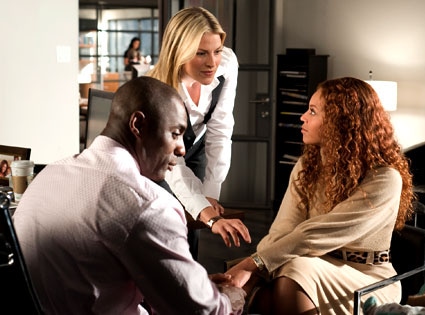 Screen Gems
The fight card: Beyoncé Knowles vs. Ali Larter. The result: Hollywood wins.
Obsessed, the new-school Fatal Attraction thriller with Knowles and Larter battling it out, amped-up Angela-and-Kelly-style over The Office's Idris Elba, dominated the weekend box office with a far bigger than expected $28.5 million, per studio estimates.
Elsewhere, Zac Efron's 17 Again aged well, grossing another $11.7 million, while Robert Downey Jr. and Jamie Foxx's The Soloist ($9.7 million) didn't play as well as the year's other disappointing grown-up movies.
Drilling down into the numbers:
• The most optimistic projections had Obsessed bowing in the high teens. In the end, the movie had its reputed $20 million budget covered by Saturday night. 
• Obsessed is Knowles' top-grossing debut since her own film debut in Austin Powers in Goldmember.
• The XX-chromosomal types who supposedly are too interested in girly things to drive box office business, except for Twilight, Sex and the City and any other number of titles, drove Obsessed, too. The opening-weekend audience was said to be 58 percent female. And in the mood for a good cat fight.
• 17 Again, last weekend's No. 1 film, slipped to second. Ticket sales were down the standard 51 percent. The Efron comedy has now grossed nearly $40 million overall.
• By opening with less than $10 million, the violin-tuned The Soloist failed to come close to the new low standard for adult dramas, non-porn division, as set by Russell Crowe's State of Play and Julia Roberts' Duplicity. The latter movies debuted in the $13-$14 million range, and boasted higher per-screen averages than The Soloist.  
• The Soloist marks Foxx's smallest wide-release debut since his breakout 2004 of Ray and Collateral.
• In its second weekend, State of Play ($6.9 million) actually held OK, with ticket sales down 51 percent. Its overall gross of $25.1 million, though, isn't going to sell many on the current viability of political thrillers. 
• Thinking may be out, but punching is in! Channing Tatum and Terrence Howard's Fighting ($11.4 million) bowed in third, but outgrossed second-place 17 Again, theater for theater. 
• The Disney nature movie Earth, which opened last Wednesday and doesn't lack for furry-style fisticuffs, upped its so-far take to $14.2 million with a solid $8.6 million weekend.
• Hannah Montana: The Movie ($6.4 million) passed the $65 million mark overall.
• I Love You, Man ($1.936 million) and former No. 1 movie, Knowing ($1.935 million), depart the Top 10 after five weekends each, and a Role Models-esque run of $67.8 million and a Vantage Point-esque run of $76.8 million, respectively.
• In limited release, the new Mike Tyson documentary, Tyson, did well, but not killer with a $85,982 gross at 11 theaters. The Manhattan nursery-school documentary, Nursery University, did killer, taking in $13,100 at one theater, for the weekend's highest reported per-screen average.
• Bret Easton Ellis source material—check. Billy Bob Thornton, Kim Basinger and Mickey Rourke brand names—check. A $622 per-screen average, per Box Office Mojo, for The Informers ($300,000)—oy.
Here's a complete look at the weekend's top-grossing films based on Friday-Sunday estimates as compiled by Exhibitor Relations:
Obsessed, $28.5 million
17 Again, $11.7 million
Fighting, $11.4 million
The Soloist, $9.7 million
Earth, $8.6 million
Monsters vs. Aliens, $8.5 million
State of Play, $6.9 million
Hannah Montana: The Movie, $6.4 million

Fast & Furious, $6.1 million
Crank: High Voltage, $2.4 million