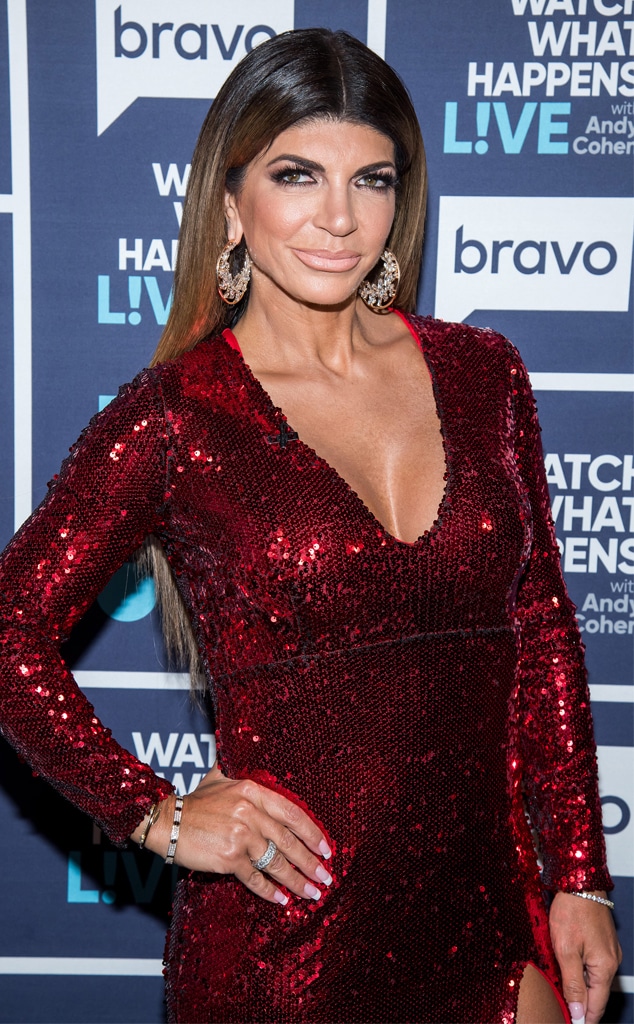 Charles Sykes/Bravo/NBCU Photo Bank
As Teresa Giudice once said in her Bravo taglines, "These days, I don't throw punches. I roll with them."
And that's exactly what the Real Housewives of New Jersey star is doing because she has officially moved on from her 20-year relationship with Joe Giudice. 
"Excited to reveal my new boyfriend," she captioned her Facebook post on Monday, Nov. 9.
And while she kept details to herself, E! News has learned that she's dating businessman Luis "Louie" Ruelas. A source explains their romance is still very new.
So who is the Bravolebrity's new man? According to Page Six, Luis is the co-founder of the ad-tech company Digital Media Solutions.
As stated in his bio, which the outlet discovered before it disappeared from the website, he has worked in the digital space for quite some time and even launched his first business in New York City at the age of 19.
"His extensive entrepreneurship experience, hustler mentality and competitive spirit culminate with his love of family and passion for community," his bio read, per Page Six. "A father of two sons, Luis spends a great deal of time advocating for children with special needs with a particular focus on Autism given his son's condition."
Along with his business savvy skills, his bio also revealed he's an "avid philanthropist."
And like Teresa, he also lives in New Jersey.
Watch:
Joe & Teresa Giudice Officially Split After 20 Years of Marriage
Teresa's new relationship comes two months after she and Joe finalized their divorce. However, she isn't the only one to move on.
Joe, who currently lives in Italy after he was deported following a 41-month stint in prison for various fraud charges, recently revealed he's single and ready to mingle.
Speaking to E! News last month, he hinted that he was casually talking to someone, but clarified "we're not really dating." He added, "We're, like, seeing each other or whatever."
He also touched on Teresa's dating life, saying, "What's she going to do, stay alone forever? That's not fair."
"Look, if I would have got out and I would have been able to go home, who knows what would happen? Maybe we'd still be in the same situation, maybe not," he continued. "I don't know. Things change after so many years."
Even though the couple went their separate ways, they are focused on co-parenting their daughters, Gia, 19, Gabriella, 16, Milania, 14, and Audriana, 11.
"She's the mother of my four daughters and she's taking care of them right now because obviously, I can't. What am I going to do, have the kids move here to a country that they don't even know the language? That would be a disaster. That'll be even worse," he shared. "So the only thing we can do is try to make things the best we can. It's a shame what they had to go through... At the end of the day... we're doing our best."