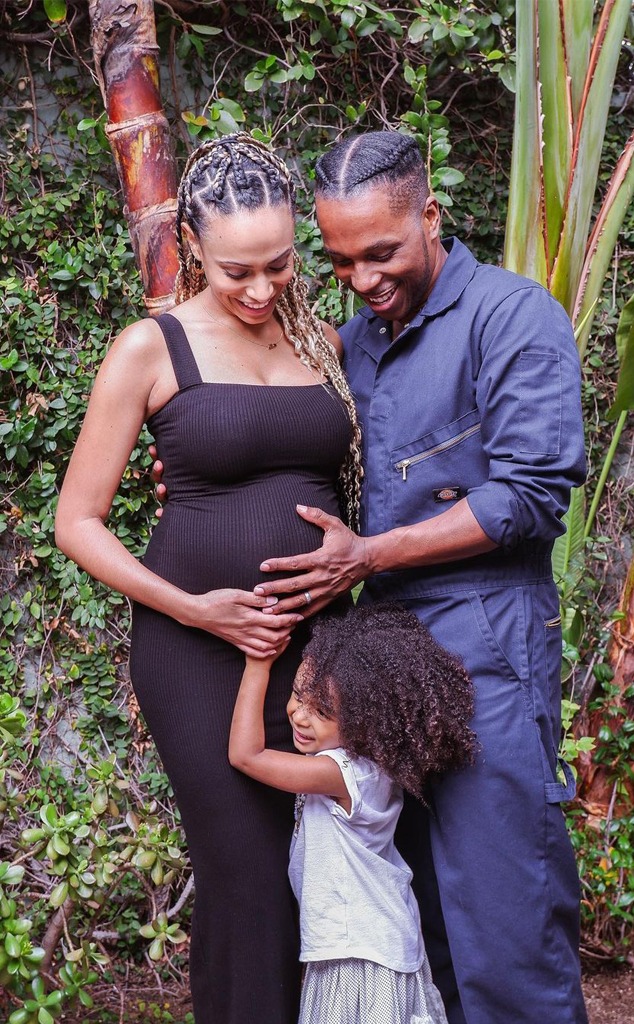 @phoebejoaquin
It's a party of four!
Hamilton star Leslie Odom Jr. and his wife Nicolette Robinson shared an exciting announcement on Monday, Nov. 9. The longtime couple revealed they're expecting their second child, a baby boy.
This will mark the pair's first son. In 2017, the duo welcomed their first child, a baby girl named Lucille Ruby.
"Lots of reasons to celebrate over here," the Broadway star shared on Instagram. "Lots of reasons for hope too. Baby boy and mama are doing swell. Praying for him and all the little ones on the way! The new class!! ... We'll make it right for you."
Nicolette shared the same sentiments in a heartwarming post about her pregnancy. "Sweet baby boy, we cannot wait to meet you," she wrote. "More reasons to love, to live, to connect, to pave the way for you and other little ones arriving in this world. We love you."
According to the actress, her little one is expected to arrive in March 2021. The couple's famous friends couldn't help but gush over the baby news.
Matthew Morrison responded, "What what?!!! Best news ever! So happy for you, my family!" Adding a red heart and crying emoji, Maddie Ziegler replied, "So beautiful. congrats!!!!" 
Insecure star Yvonne Orji commented, "Congrats!!!!!!!!" Lena Waithe also wrote, "So happy for you both."
Watch:
Necessary Realness: It's a Celebrity Baby Boom!
Back in August, the couple opened up about raising their 3-year-old old daughter, especially during the ongoing coronavirus pandemic.
"She continues to amaze us. Constantly," Nicolette raved in an interview with People. The actor added, "She wakes up every day jazzed and excited about life, and excited to get us running around, and push our buttons, and test her Lucy limits."
"I really do worry about the fact that she's not around other kids," Leslie added. "Every now and again, she says, 'Am I going to go to school today?' And we have to say, 'No, baby, you're not going to go to school today. Do you remember why?' And she says, 'Because people are still getting sick.' ... So that breaks my heart every time."
However, Nicolette shared that her daughter loves to spend time with her grandparents.
"They live very, very close to us," she explained. "So it's always Lucy's favorite thing to go to my parents' house. It's been a godsend."
Ironically, the pair starred in the Freeform series, Love in the Time of Corona, in which they played a married couple trying to figure out if they want to have another child during the pandemic and social justice protests.
Of the project, Nicolette said, "We just thought bringing 12 years of being together, we wanted to be able to utilize that and tell a story that feels like something we can connect to a little bit more during this time because it's such a unique time. It was a really great collaboration."
Now, it looks like art is imitating the couple's life.