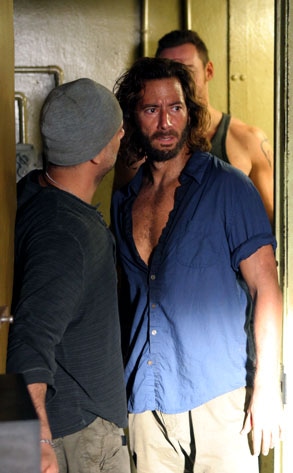 ABC/MARIO PEREZ
Desmond may be Daniel Faraday's constant for time travel, but a Lost crewmember claims he was just a constant pain in the butt.
A former ABC Entertainment employee filed a harassment and sexual battery claim against Henry Ian Cusick Friday, claiming the Scottish actor groped her and made inappropriate sounds and gestures around her in October 2007 on the Lost set.
Plaintiff Chelsea Stone alleges that on or about Oct. 16, Cusick "placed his hand on her buttocks" and then caressed her back "while making moaning sounds." He then put his face in her cleavage and wagged his head back and forth, according to the lawsuit filed in Los Angeles Superior Court. He then touched her breasts with his hands and kissed her on the mouth, Stone says.
Stone says that ABC and production company Grass Skirt Entertainment, which are also named as defendants, did nothing to keep her away from Cusick after she complained and, over the next several days, the actor and fellow employees became "very hostile" toward her.
On Oct. 28, 2007, Stone was informed that she had been fired, the lawsuit states.
Per the suit, "plaintiff suffered humiliation and severe mental and emotional distress, and suffered injury when by means of her stress Plaintiff miscarried," causing Stone to incur various medical expenses and suffer 'physical injuries, physical sickness, substantial losses in earnings" and other indignities.
A rep for Cusick would not comment on the lawsuit.
Stone is asking for unspecified damages to cover hostile work environment harassment, failure to remedy and prevent harassment, retaliation, wrongful termination in violation of public policy, intentional infliction of emotional distress and sexual battery.
(Originally published April 24, 2009, at 7:06 p.m. PT)