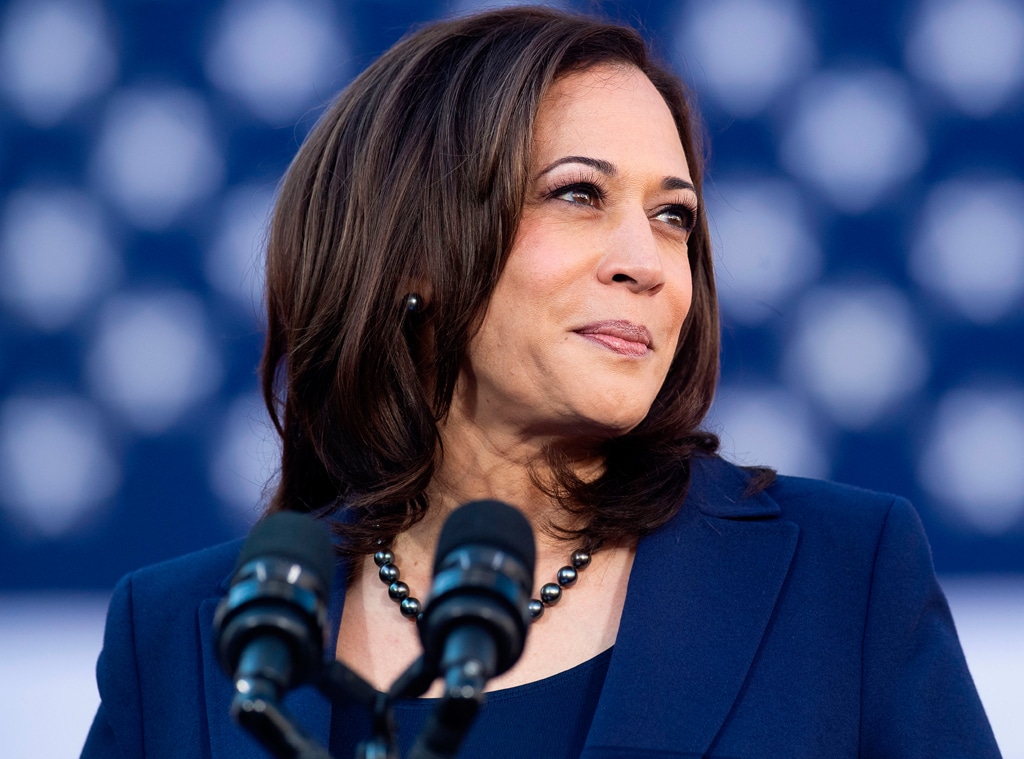 NOAH BERGER/AFP via Getty Images
Kamala Harris just earned a spot in U.S. history books!
Three days after people cast their votes, NBC News projected Joe Biden as the 46th President of the United States on Saturday, Nov. 7. Making the announcement more special? Harris became the first woman, Black person and South Asian American to become the Vice President.
Harris summed up the news best, writing, "We did it, @JoeBiden."
"This election is about so much more than @JoeBiden or me," she shared on Twitter. "It's about the soul of America and our willingness to fight for it. We have a lot of work ahead of us. Let's get started."
Biden echoed Harris' statement and posted a similar message on Twitter.
"America, I'm honored that you have chosen me to lead our great country," his caption began. "The work ahead of us will be hard, but I promise you this: I will be a President for all Americans — whether you voted for me or not. I will keep the faith that you have placed in me."
Although celebrities reacted to the presidential news, many took a moment to celebrate and reflect on Harris' historic win.
Douglas Emhoff: "So proud of you."
Maya Harris: "OMG it's happening...our next Vice President of the United States...our first-ever MADAM Vice President...my sister, @KamalaHarris!"
Karamo Brown: "This moment.... we are going to begin healing and to every little girl & woman... this moment of [sic] for you!"
Julia Louis-Dreyfus: "Madam Vice President" is no longer a fictional character... Democracy endures. Congratulations to our President-Elect @JoeBiden and our first female Vice-President-Elect @KamalaHarris. Mr. President-Elect, enjoy your ice cream today. Would you like some cake to go with it?"
Lady Gaga: "@JoeBiden @KamalaHarris and the American people, you just gave the world one of the greatest acts of kindness and bravery humanity has ever seen. Nothing but love for our new Commander in Chief and the 1ST female VP elected to the White House."
Watch:
Joe Biden Wins 2020 U.S. Election: Celebrities React
Malala Yousafzai: "Congratulations Vice President-elect @KamalaHarris!"
Michelle Obama: "I'm beyond thrilled that my friend @JoeBiden and our first Black and Indian-American woman Vice President, @KamalaHarris, are headed to restore some dignity, competence, and heart at the White House. Our country sorely needs it."
Tina Knowles-Lawson: "Yes you did it Madam Vice President and President Biden!!!! Dang that sounds so Good !!! Thanks to everyone that voted and made this happen!!!!! Thank you lord God Almighty !!!! I could not be more happy and filled with thanks and Praise!!!"
Tracee Ellis Ross: "President-Elect @joebiden and Madam Vice President-Elect @kamalaharris!!! Let's go! Let the healing begin!!"
Shangela Laquifa Wadley: "That's right Madam VP @KamalaHarris... I hope you're somewhere poppin' a fan with MAJOR PRIDE today!! Congrats to u and Prez-Elect @JoeBiden!! HALLELOO!!!!!!"
Porsha Williams: "It's [sic] new day!!!!!! Let's go @kamalaharris !! Let's keep this same energy for our Senate Race Runoffs!!! Let's get #Warnock & #Ossoff in office this January."
Just last month, Harris opened up about what inspired her career in politics. "I am the daughter of a mother who arrived in the United States at the age of 19 and believed that she and her children could do anything," she said during a virtual appearance on The Daily Show on Oct. 29.
With her groundbreaking win, it's clear Harris is opening doors and paving the way for a new American Dream.
Read about Harris' road to the White House here. Plus, take a look at all of the celebrity reactions to the presidential news.