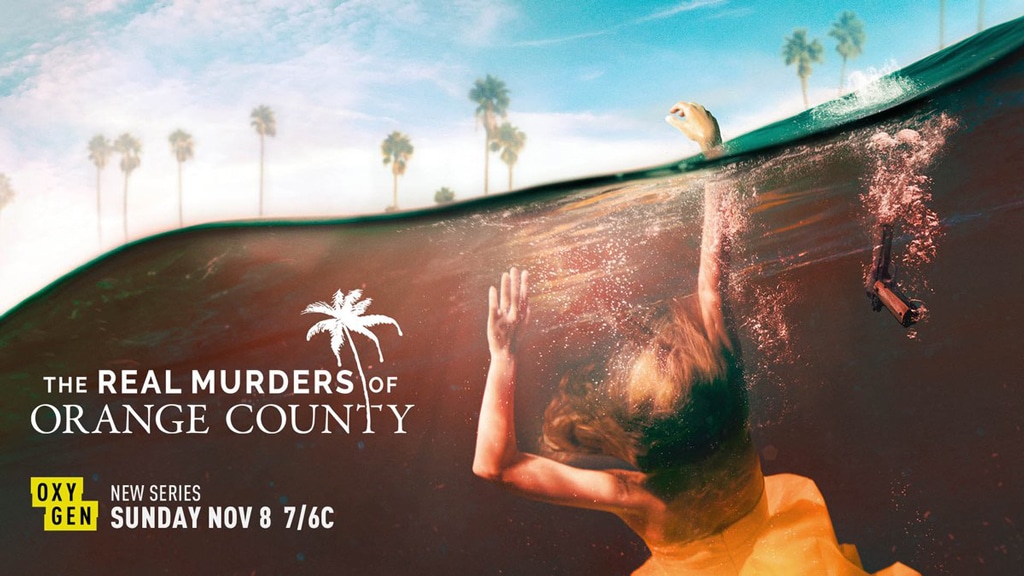 Oxygen
What happened to Jane Carver was the stuff nightmares are made of, being in the wrong place at the wrong time—and even worse, being the wrong person.
"This is the thing you see on a television show, but certainly not a crime in Orange County, California," muses one of the commentators to be found in The Real Murders of Orange County, Oxygen's cheekily named new series that delves into the darker side of the region also known for a certain soapy primetime drama, wine-sipping Housewives and the ups and downs of the hot and privileged in Laguna Beach.
Time to add murder to the list, starting with the 1995 slaying of Carver, a happily married flight attendant who was shot just yards away from her house while she was out for a jog in what turned out to be a freak case of mistaken identity that led to the uncovering of all sorts of nefarious business dealings that neither she nor her husband had anything to do with.
On the morning of June 10, 1995, a Saturday, Carver was out for her usual four-mile run around Mile Square Regional Park in Fountain Valley, a suburban O.C. enclave known for quiet streets, large homes and proximity to good schools. She didn't have her pet collie with her, as she sometimes did.
Shortly after 8 a.m., the 46-year-old was on her way back home and was just passing Fountain Valley Regional Hospital and Medical Center across the street when a car pulled up and the driver fatally shot her in the face. The car was spotted on other residential streets directly afterward, witnesses concluding he purposely tried to avoid the major thoroughfare that led out of the area.
"I'm just devastated...falling apart right now," her husband and father of her two sons, Albert Carver, told the Los Angeles Times afterward, recalling how he had heard the shot, screams and then a police siren. He ran outside toward the commotion and found his wife just a quarter-block away. "Imagine what it's like to see your wife lie dying in a flower bed...I just don't understand anything anymore." 
Police gleaned that the shooter had tried to get Carver to get in his car, and when she resisted he shot her. She was pronounced dead at the hospital that was just steps away from the crime scene.
"I don't know how anyone could stop something like this, protect themselves against something as random and senseless as this," Police Lt. Bob Mosley told the Times, noting that it was the city's first homicide of the year. "We have a very safe community and this just doesn't happen in our city."
Locals were terrified by both the shocking instance of violence and the idea that such a thing could happen literally so close to home. 
With Carver, who had been a flight attendant for United Airlines for 26 years, not having any of the apparent issues that investigators keep an eye out for—enemies, debt, a shady husband, troubled kids, etc.—police had a difficult time nailing down any suspects. More than a thousand tips poured in, but it would take almost a year before the pieces would finally fall into place in a most unexpected fashion.
Watch:
6 Binge-Worthy Shows Based on Real-Life Murders
In April 1996, James Wengert, owner of a financial investigation firm called Financial Search, was shot in his San Clemente office parking garage while walking back to his car one night. He survived, but a detective noted that he had been shot in the face—and used to live about a mile away from the Carvers.
The following month, police shared that they believed Carver's murder to be a botched hit, the killer having mistaken Carver for Wengert's wife, Margaret, who didn't jog but was known to walk her dog in the neighborhood every day. Three days before Carver was killed, Margaret Wengert had sued Premium Commercial Services Corp.—a finance company that had loaned James Wengert $400,000—alleging the owner had been aggressively trying to get her to sign over their home by way of payment.
Paul Alleyne, who had ties to Premium, was charged with attempted murder and armed robbery for his attack on Wengert. During their investigation of him and Premium, detectives unearthed another name.
Subsequently, Leonard Owen Mundy, a small business owner and father of two, was arrested and charged with murder after witnesses recognized his picture as the man who shot Carver. 
"This is a happy day and a happy moment for the family," Al Carver, standing next to Fountain Valley Police Chief Elvin G. Miali when he announced Mundy's arrest, told reporters at a news conference. "Hopefully, this will allow us to reach closure on this horrible thing that happened to my wife."
Rick Loomis/Los Angeles Times via Getty Images
At the time, however, detectives hadn't figured out who had seemingly hired Mundy to go after Margaret Wengert. "We've got weeks and weeks of work ahead of us," Miali said. "We're looking at this organization to see if there is a front there for organized crime. We're looking at the company as a whole to see who does what."
Orange County Sheriff's homicide investigator Christine Murray, the detective who connected the two cases, told reporters, "The common link was some dealing with Premium Commercial. What became evident right away was that Mrs. Carver had no connection to any of this. She was merely the tragic victim."
James Wengert told the Times that he was shocked that what happened to him had anything to do with the tragedy that had occurred down the road.
Meanwhile, back in 1995, former Premium president Coleman Allen had been sentenced to probation after pleading no contest to battering another loan recipient with a pipe during a meeting. He had since died of a heart attack, but investigators were obviously giving his business dealings a closer look.
The AP reported a few weeks after Mundy and Alleyne's arrests that Allen was the beneficiary on a life insurance policy belonging to 30-year-old Barry Skolnick, who had been shot to death in a Hollywood parking garage in January. Los Angeles Police Detective Rick Jackson told the AP that there had been speculation that Allen hired a hit on Skolnick and the investigation was pointing in that direction when Allen died.
According to police, Mundy and Alleyne had been former borrowers from Allen's firm, and their debts had been crossed off in his books as uncollectable. "He had a hit out on me," Mundy, who had pleaded not guilty, told the Orange County Register from jail, referring to Allen. "He's worse than the Godfather, man."
Rick Loomis/Los Angeles Times via Getty Images
But prosecutors argued that Mundy agreed to bump off a fellow delinquent borrower for Allen in exchange for having his own $80,000 debt forgiven, then ended up killing someone who had nothing to do with the convoluted dealings over at Premium Commercial Services Corp. 
Two years after Carver's death, Mundy was convicted of first-degree murder with special circumstances of lying in wait and killing for financial gain. On July 31, 1998, he was sentenced to life in prison without parole. (Alleyne was also found guilty of trying to kill Wengert, and was sentenced to 29 years to life in prison.)
The mother of Mundy's kids had testified that he was with her when Carver was killed, and she told the court that he was "not the monster, the killer, the murderer that they have made him out to be." And she was not a liar, she insisted, or someone who would defend a murderer.
Al Carver said he understood her position, but frankly, people could keep certain sides of themselves hidden when they wanted to. After the sentencing, he told reporters outside the courthouse that Mundy "was a hit man—a paid hit man who very coldly walked up to Janie, shot her in the head and coolly walked away."
Talking to Fox News recently ahead of the Real Murders of Orange County premiere, Murray, the now retired (as a captain) investigator who was instrumental in helping catch Carver's killer, credited all of the authorities she worked with and the members of the victim's community for refusing to give up on solving the case during the frustrating months when their efforts were leading nowhere.
"They kept Jane Carver's memory at the forefront," Murray said. "When it would fall off the radar, they'd start stirring things up again. And I think that was key in getting this case solved. They made everyone aware of what had happened to Jane Carver."
And that almost unbelievable story will be told in full on Oxygen's The Real Murders of Orange County, premiering Sunday, Nov. 8 at 7 p.m., directly followed by a second new episode.
(E! and Oxygen are both members of the NBCUniversal family.)