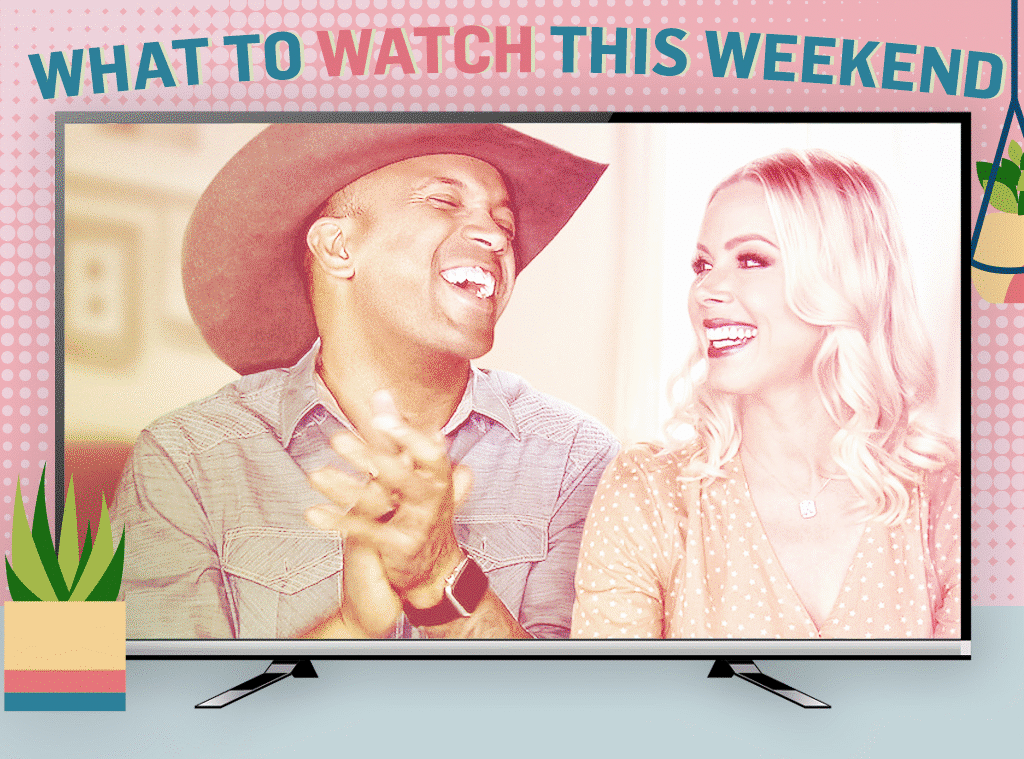 Netflix; Peacock; E! Illustration
Anyone else in need of a little comfort this weekend? 
We don't know about you but we can't think of a better way to decompress right now than spending an hour or two (or 48, if we're being honest) getting lost in a TV show or movie. Fortunately, we're fully in cheesy Christmas movie season and, like the great philosopher Iris Simpkins once said, we're looking for a little corny in my life. (Yes, we are referring to Kate Winslet's character in The Holiday, what of it?)
So for our streaming picks for this Saturday and Sunday, we decided to serve up generous helpings of comforting rom-coms, along with a much-needed binge-watch ahead of one of November's biggest TV events. Hint: You might want to start looking for a fascinator now. 
Plus, we're also recommending the return of an irresistible British drama if you're looking for a shot of adrenaline.
As always, take what you need: 
If You've Already Watched Holidate More Times Than You'd Care to Admit It: What is it about a Netflix rom-com that just hits different, you know? The streaming giant's latest, Operation Christmas Drop, will have you giving Emma Roberts' recent romp a break, as The Vampire Diaries' Kat Graham—as a by-the-book congressional aide—and The Hunger Games' Alexander Ludwig—as the big-hearted captain she just can't resist throwing away that book for—unexpectedly finding love at a tropical military base. (Where to Watch: Netflix)
If Prestigious British Dramas Are So Your Jam: Rejoice, Save Me Too is here to save you from your thoughts for a few hours. The six-episode sophomore season of the acclaimed series finally arrives in the States, picking up 17 months after Save Me's final ep left off. The Walking Dead standout Lennie James' electrifying run as Nelly—a desperate and determined father still trying find his estranged 13-year-old daughter after she's abducted into a sex trafficking ring—continues and his plunge into the criminal underworld gets even darker. Your pulse will be racing but in the best way. (Where to Watch: Peacock)
If Cheesy Christmas Movies Are Your Comfort Food of Choice: Make some hot cocoa, turn off your social feeds and wrap yourself in your coziest blanket as you take in A Welcome Home Christmas. Lifetime's latest holiday offering stars One Tree Hill alum Jana Kramer as Chloe, a woman who has always supported various military organizations, including the town's Army toy drive for Christmas. But this year will be extra special after she's paired with Michael (Brandon Quinn), a vet who recently returned home, to recruit other veterans and active military personnel to help. Yes, there's a Christmas ball. Yes, there will be kids receiving gifts. Yes, you will swoon. (Where to Watch: Saturday at 8 p.m. ET on Lifetime)
If You Love Country Music Couples: Watch out, Thomas Rhett and Lauren Akins! Make way, Tim McGraw and Faith Hill! OK, we're just kidding because those are some of our OTPS, but we are excited to spend some time with country artist Coffey Anderson and his wife Criscilla, a hip-hop dancer, with their new reality series. Country Ever After (could be a great name for a Hallmark movie, TBH!) follows the country-meets-city pair as they juggle their careers ambitions, three kids and tests of faith, including her battle with cancer. (Where to Watch: Netflix)
If You're Counting Down the Days Until Princess Diana's Debut: What better way to give The Crown's highly anticipated newcomer Emma Corin a royal welcome than by bingeing the first three seasons? Season four drops on Nov. 15, so don't worry royal watchers, you'll have plenty of time to watch the antics of the royal family to prepare for the Princess of Wales' debut, as well the arrival of Gillian Anderson's Margaret Thatcher, Britain's first female Prime Minister. Not since Prince Harry and Meghan Markle's wedding have we so eagerly awaited a major royal event. (Where to Watch: Netflix)
If You Are in Need Of Another Cup of Holiday Cheer: Listen, we'd make this entire list cheesy Christmas movies if we could, OK? And we simply couldn't resist including Hallmark's Saturday offering for a few reasons. 1. It's called Never Kiss a Name in a Christmas Sweater. 2. It stars Ashley Williams and Niall Matter, two of the network's most underrated leads. 3. Stop being a Grinch and just appreciate the two previous reasons. (Where to Watch: Saturday at 8 p.m. on Hallmark Channel) 
For everything you should be watching right now, don't miss BingE! Club hosted by Erin Lim on Snapchat!