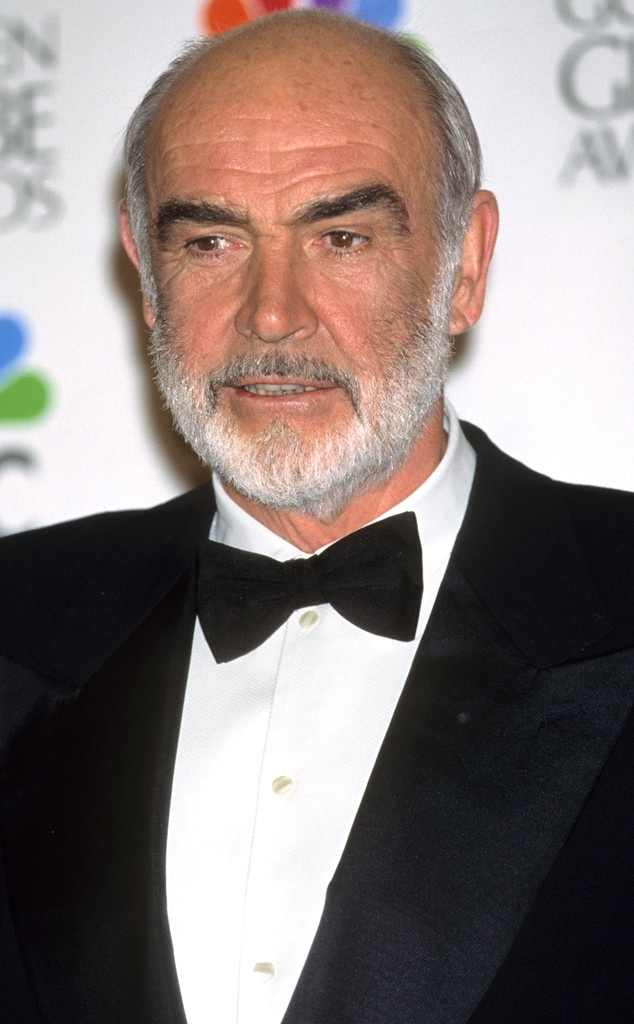 Kevin Mazur/WireImage
Hollywood has lost a legend.
Oscar-winning Scottish actor Sean Connery, the first of seven actors to play James Bond in a movie, has died at age 90.
He passed away in the Bahamas, where he had spent his final years. A statement issued on Saturday, Oct. 31 to E! News on behalf of his family said that his wife Micheline and his two sons, Jason and Stephane, confirmed that he died peacefully in his sleep, surrounded by family.
There will be a private ceremony followed by a memorial yet to be planned once the COVID-19 pandemic has ended, the statement added.
Jason said in a statement to the BBC, "We are all working at understanding this huge event as it only happened so recently, even though my dad has been unwell for some time. A sad day for all who knew and loved my dad and a sad loss for all people around the world who enjoyed the wonderful gift he had as an actor."
Producers who worked on a number of James Bond films also announced the actor's death on the hit super spy franchise's Twitter page.
"Sir Sean Connery has died at the age of 90," the post read, using the title the star received in 2000 when he was knighted by Queen Elizabeth II. He received the honor for his contribution to the arts.
"I He was the first actor to play James Bond on the big screen in Dr. No in 1962, From Russia With Love, Goldfinger, Thunderball, You Only Live Twice and Diamonds Are Forever followed," the post continued.
James Bond film producer and writer Michael G. Wilson, who worked with Connery on Goldfinger, and fellow longtime 007 producer Barbara Broccoli added in a joint statement, "We are devastated by the news of the passing of Sir Sean Connery."
Watch:
In Memoriam: Fallen Stars of 2020
"He was and shall always be remembered as the original James Bond whose indelible entrance into cinema history began when he announced those unforgettable words—'The name's Bond... James Bond'—he revolutionised the world with his gritty and witty portrayal of the sexy and charismatic secret agent," they continued. "He is undoubtedly largely responsible for the success of the film series and we shall be forever grateful to him."
Born in Edinburgh in 1930, Connery began his on-screen acting career in the 1950s with mostly TV roles before he made his debut and left audiences shaken, not stirred, as Bond in Dr. No, a film that would make him a global superstar. In 1988, he won an Oscar for his supporting role in The Untouchables.
He also starred in movies such as Alfred Hitchcock's Marnie and the 1974 film Murder on the Orient Express, and later became known for performances in films like Indiana Jones and the Last Crusade, Highlander and its sequel, The Hunt for Red October and The Rock. Connery retired from acting after starring in the 2003 film The League of Extraordinary Gentlemen, although he did some voice-over work here and there during the next decade.
In 2005, he told an interviewer that he was done with acting, less because of his age than because of the "idiots now making films in Hollywood," according to the New York Times.
The BBC quoted Connery's friend Alex Salmond, former first minister of Scotland, as saying the actor was "the world's greatest Scot, the last of the real Hollywood stars, the definitive Bond".
He said, "Sean Connery was all of these things but much more. He was also a staunch patriot, a deep thinker and outstanding human being. He added: "'Scotland Forever' wasn't just tattooed on his forearm but was imprinted on his soul."