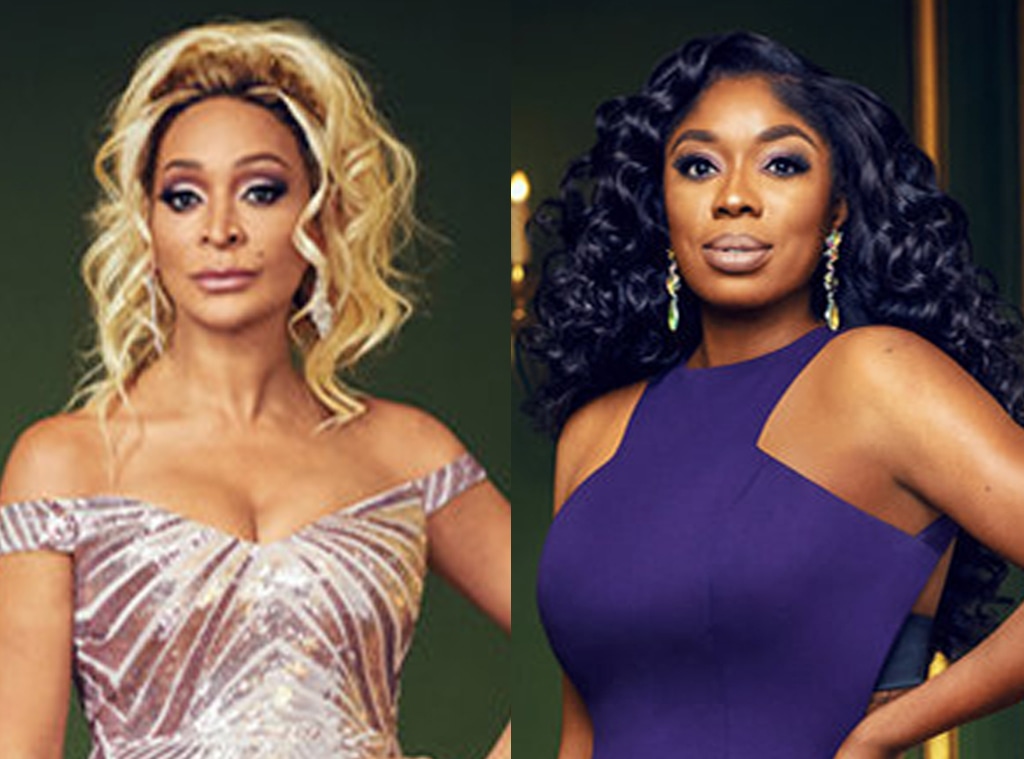 Sophy Holland/Bravo
The Grand Dame will not be gossiped about.
In this exclusive clip from Sunday's all-new The Real Housewives of Potomac, Gizelle Bryant reveals to Karen Huger what Wendy Osefo said about her. As Gizelle details it, Wendy claims Karen bailed her husband Ray out with her personal money.
"She said that you had to kind of bail Ray out with your money," Gizelle informs Karen. "And that was kind of stressful for you."
At first, Karen looks taken aback by this bit of gossip. However, Robyn Dixon reminds Karen that she expressed this sentiment during a bonding moment at Monique Samuels' lake house.
"Ok, that makes sense," Karen notes. "I said, 'I soldiered up for Ray.' That is why we are where we are today. Thank god, and it's in our rearview mirror."
Rather than dropping the subject, Gizelle once more brings up Wendy's stance on the situation.
"She felt like it was kind of a stressful thing for you," she adds. "Because you wanted the money back from him."
This appears to be news to Karen, who calls the take "a reach."
"You're saying Wendy said that?" the La'Dame Fragrance founder retorts. "Oh, well, that's not true."
Yet, in a flashback, Karen is seen joking about wanting her money back.
In a confessional, Karen sounds off, "Ray and I are going through a lot. And for Wendy to take that information, that I shared with her, back to Gizelle and make it gossip and make fun of it, it's not cool. It's not alright."
Not only does Karen assure Gizelle and Robyn that she has no "resentment" towards Ray, she writes Wendy's words off as "her interpretation."
Karen relays, "Wendy and I are gonna be fine, but it's about respecting each other."
Although, Karen does admit to recently calling Wendy "ignorant" during their conversation about Monique Samuels and Candiace Dillard Bassett's altercation.
Watch:
Candiace Dillard Sounds Off on RHOP Brawl & More! - Just The Sip
"She was like, 'No! You're straddling the fence. You saw this brutal attack,'" Karen explains. "And I said, 'For a very intelligent woman, you're extremely ignorant.' I don't know anything about black outs, I don't know anything about defensive anger, this is medical."
After reminding the women that Wendy isn't a "medical doctor," Karen alleges that the political commentator spoke "authoritatively" to her.
To further prove her point, Karen gives a priceless impression of Wendy.
Watch the conversation play out in the exclusive clip above.
The Real Housewives of Potomac airs Sundays at 9 p.m. on Bravo.
Binge past Real Housewives episodes on Peacock.
(E!, Bravo and Peacock are all part of the NBCUniversal family.)