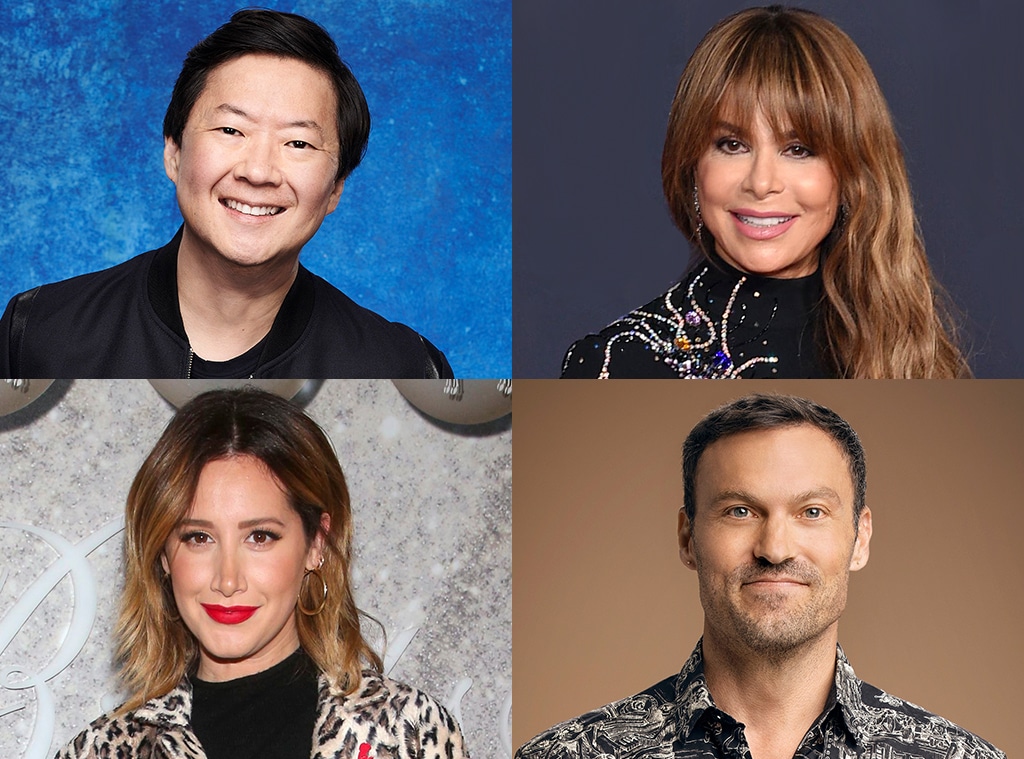 FOX; Shutterstock; Getty Images
As if the masked singing wasn't enough, get ready for masked dancing!
The Masked Dancer, spinoff to The Masked Singer, is finally almost here and somehow it sounds like even more of a fever dream than its parent show. This time, instead of singing, the masked creatures will be dancing, a la that Ellen Degeneres bit in which Howie Mandel was revealed to be a dancing pug. Ellen is also an executive producer. 
Craig Robinson is set to host the series, which is normal and delightful enough. Ken Jeong will also serve as a panelist, which is to be expected at this point. The rest of the panel? We couldn't have Mad Libbed this if we tried. 
Ken will be joined by Paula Abdul, Brian Austin Green and Ashley Tisdale. Naturally. 
While guessing a person based on their voice is already hard enough sometimes, it sounds particularly impossible to guess someone based on their dancing—unless they're literally pro dancer Derek Hough. 
Here's Fox's description of the new series: 
"The Masked Dancer will feature celebrity contestants shaking their tail feathers, while covered from head-to-toe in elaborate costumes and face masks, leaving audiences to guess their identities. Costumed celebrities will be joined on stage by masked partners and back-up dancers, as they perform a series of dances together; spanning from hip-hop to salsa, jazz to tap dancing and more. When it comes to dance styles, the sky is the limit.
Each week, a series of clues will be sprinkled throughout packages, costumes and routines, leading the panelists one step closer to figuring out which famous faces are free-styling behind the masks. Between all of the celebrity competitors on the show, they've amassed more than 38 million albums sold worldwide, 20 Emmy Award wins, 20 Grammy Award nominations, 10 World Dancing titles, five New York Times Best-Selling Author titles, four Olympic gold medals and three Broadway show appearances." 
The most interesting part of that description is the word "free-styling" after the words "masked partners" and a whole list of dance genres. Are they actually free-styling or are they performing choreographed dances? Is this just Dancing With the Stars with masks? It's unclear! 
The one thing that is very clear is the fact that we will be watching this. We're not even sure how we could not watch this.
Watch:
Hunter Hayes Reveals the Toughest Part of "The Masked Singer"
The Masked Dancer will premiere sometime in December. The actual premiere date and list of guest panelists will be announced later on.