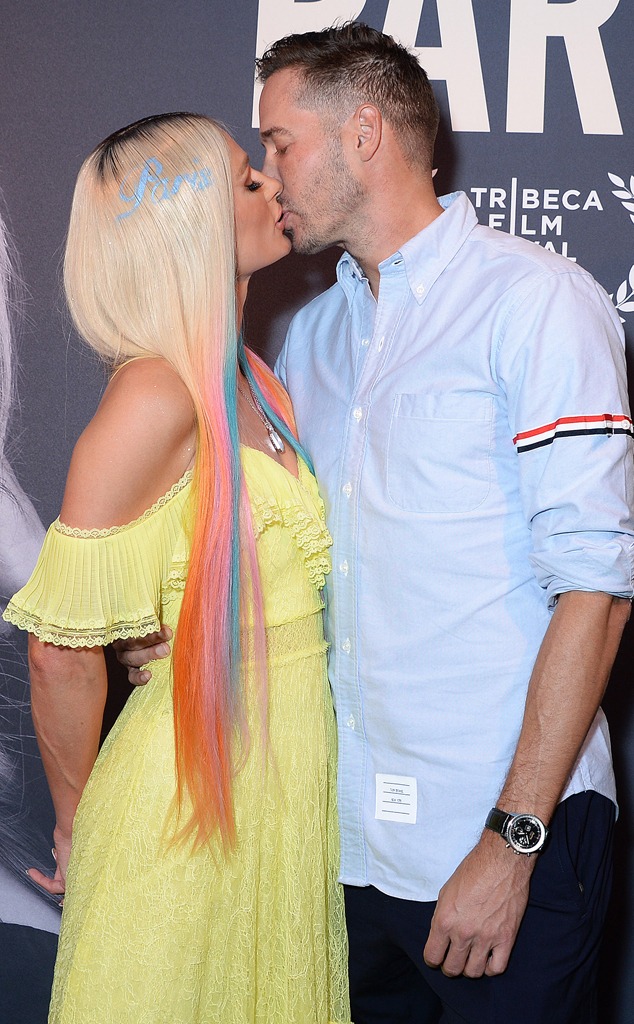 Startraks Photo
A picture says a thousand words, indeed...
Paris Hilton is making her fans' hearts race with her latest Instagram post.
On Saturday, Oct. 24, the reality TV personality uploaded a photo of her and boyfriend Carter Reum gazing into each other's eyes and smiling from ear-to-ear.
That wasn't the only romantic thing about the portrait. The couple's backdrop looked like a Disney princess castle, making this post straight out of a fairytale.
Paris' caption was just as magical. She wrote, "And they lived happily ever after." 
Given the Instagram upload, the beauty mogul's millions of followers couldn't help but gush over it. If anything, many speculated the couple took their romance to the next level with one user responding, "Are you engaged?"
Another user replied, "Yesss! Think he's the one boo! Wedding bells. I'm so happy you got hitched." Someone else commented with the heart-eyes emoji, "Did you get married."
While not everyone assumed Paris and Carter took the next step in their relationship, many expressed how much they love them as a couple. One user shared, "I've never been happier for anyone else. You deserve the world, angel. Love you so much."
Another added, "Beautiful people and a beautiful fairy tale ending!!"
Despite all of the fan speculation, a source tells E! News that Carter has yet to pop the big question and propose to the Simple Life alum. "They are forever committed but not engaged yet," the insider says.
But just because they aren't taking that step yet, doesn't mean they aren't head over heels for each other. It seems Paris has found her special someone with the tech entrepreneur, especially after she recently opened up about their relationship. Last month she shared a heartfelt anniversary message.
"Happy Anniversary my love! I feel like the luckiest girl in the world because I have you. You opened my heart in ways I didn't existed," Paris began her post in September. "You are the most extraordinary person I've ever met. You transformed my life in so many ways. I never thought it was possible to have this much love for someone."
Watch:
Paris Hilton's Heartfelt Letter to Boyfriend Carter Reum
"I will never forget our first kiss," she continued. "When we are together I feel like we are in our own world and everything disappears around us and it's only you and me. You are everything I have dreamed about and perfect for me in every single way. You showed me what true love is, you were that one missing piece of the puzzle."
In her heartwarming tribute, she also thanked Carter for being the "best, most loyal and supportive man" in her life.
"Thank you for filling my heart with so much love. We make each other whole. We are One. We are the perfect match," she concluded. "You are both my boyfriend and best friend in one and I cannot even express how grateful I am for you. I love you so much and I am so excited for our future together!"
The couple first fueled romance rumors in January 2020 and made things Instagram official a few months later. "They are very happy together," a source told E! News at the beginning of the year. "They met through friends, and everyone is saying what a great couple they make."
From the looks of Paris' latest post, it's clear they certainly do make a great couple!