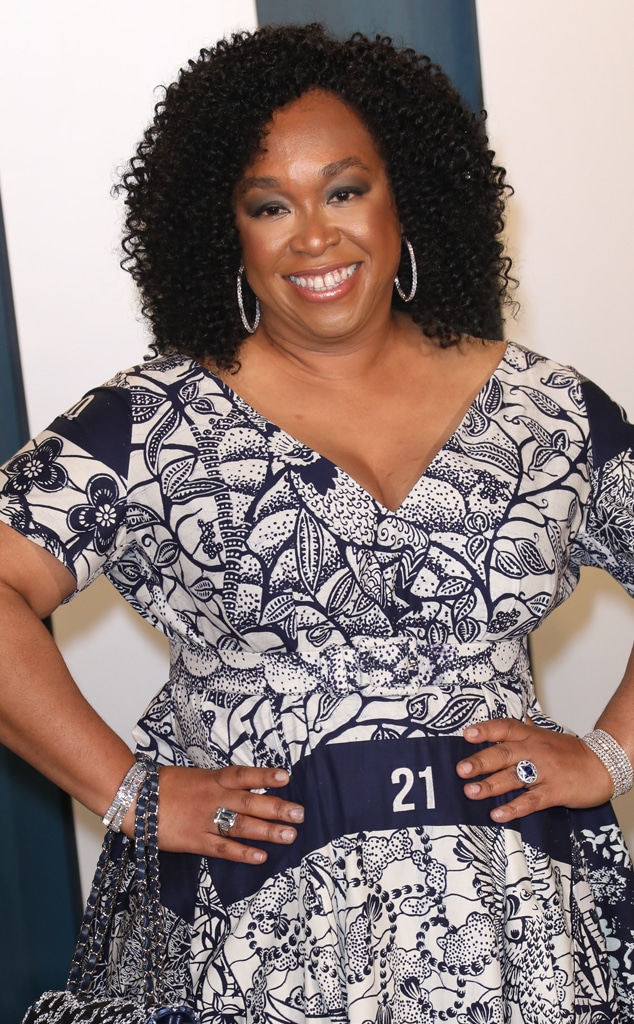 Toni Anne Barson/WireImage
Shonda Rhimes is revealing new details about her ABC departure.
In August 2017, the beloved television producer and writer shocked the world of entertainment when she announced her Shondaland production company was moving to Netflix. Now, she's opening up about her decision to leave ABC, the place she called home for nearly 15 years.
In a candid interview with The Hollywood Reporter for its October issue, the Emmy winner explained the limitations of network TV and its overwhelming pace, saying, "I felt like I was dying... Like I'd been pushing the same ball up the same hill in the exact same way for a really long time."
That wasn't the only thing pushing her towards Netflix, where she struck up a multi-year deal with the streaming service. The Grey's Anatomy creator revealed the unexpected incident that made her ABC departure less difficult. According to Shonda, the straw that broke the camel's back was a debacle over a Disneyland pass.
As THR pointed out, Shonda had been given an all-inclusive pass to Disneyland and she had negotiated for a second pass to give to her nanny. On the day the family had planned to attend the theme park in Anaheim, Calif., Shonda realized her sister would need one as well.
While Shonda wasn't going to Disneyland that day, she learned that the passes weren't interchangeable. According to the Year of Yes author, getting a pass for her sister proved to be a headache. "We never do this," Shonda claimed she was told more than once when asking for another pass.
Watch:
Shonda Rhimes & Her Daughter Talk Inspiring Women in Hollywood
After some back and forth, her sister was eventually given a pass. However, once the family arrived at the theme park, only one pass worked. Shonda assumed she could get things settled after calling a "high-ranking executive," but instead she was apparently met with some pushback.
"Don't you have enough," the executive allegedly told Shonda.
Once her phone call ended, Shonda said that she dialed her lawyer and urged that they find a way to get her to Netflix.
In August, she announced her new deal with the streaming service, saying, "Shondaland's move to Netflix is the result of a shared plan [Netflix CEO] Ted Sarandos and I built based on my vision for myself as a storyteller and for the evolution of my company."
Her statement continued, "Ted provides a clear, fearless space for creators at Netflix. He understood what I was looking for—the opportunity to build a vibrant new storytelling home for writers with the unique creative freedom and instantaneous global reach provided by Netflix's singular sense of innovation."
Three years following her Netflix deal, Shonda's first two projects will soon hit the streaming service: a documentary about Hollywood icon Debbie Allen (releasing on Nov. 27) and a period drama Bridgerton (releasing Dec. 25).
The producer's very own creation, Inventing Anna, will drop a few months later. At this time, there isn't a release date.
And don't expect the Emmy winner to pump out any other shows similar to Grey's Anatomy. "The first thing I said was, 'You're not going to get another Grey's Anatomy—not Grey's Anatomy in a cornfield, Grey's Anatomy on a baseball field or Grey's Anatomy at an airport, that's just not happening,'" she recalled telling Ted.
"'I'd never expect it to,'" he responded, according to Shonda, to which she replied, "'I just want to be in a place where I can make stuff and no one's going to bother me or make me feel like I'm beholden.'"
Ted added, "That sounds great to me."
However, Shonda admitted that it's hard for her to not be back in network television mode, which is go, go, go.
"I spend a lot of time going, like, 'We should have made 50 shows by now','" she expressed. "And not for the audience so much as, like, 'What do the bosses think?' And I know they don't think I should have made 50 shows by now, but it's very hard for me to not be the perfect storytelling machine." 
But the way she looks at things now is much different. As she put it, "My legacy is set, I'm writing now because I love to write."