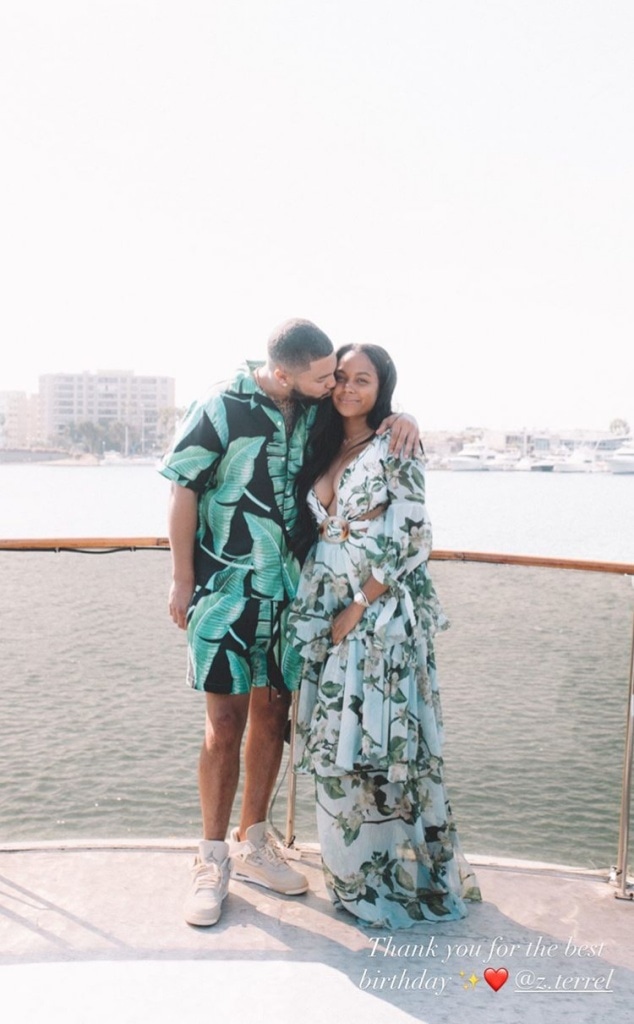 Instagram
Cheyenne Floyd is kicking off a new year with an old flame.
While celebrating her birthday on Oct. 19, the Teen Mom OG star appeared to confirm on Instagram that she is back with her ex-boyfriend, known to fans as Zach.
"Blessed & Highly Favored," Cheyenne captioned a snap of her kissing Zach on the lips. "Can't believe I woke up to this. Thank you @z.terrel."
So how did Zach spoil his love? As seen on Instagram Stories, Cheyenne's man managed to pick out 28 dozen roses and a brand-new tennis bracelet. They also appeared to enjoy a boat ride together around sunset.
"Thank you for the best birthday @Z.Terrel," Cheyenne wrote after celebrating with three-year-old daughter Ryder, who she shares with ex Cory Wharton. 
Fans may recognize Zach from old episodes of Teen Mom OG. Back in October 2018, Cheyenne's boyfriend briefly appeared on the MTV reality show.
At the time, Cheyenne admitted that there was tension between Zach and the father of her child. "Cory is great with me when Zach and I are bad," she shared on the show. "And Zach is good with me when Cory and I are fighting…I seriously feel like I'm going to be a single mom forever."
But in another clip, Cheyenne's mother admitted that she loved Zach "to death" and was a great friend to her daughter. 
Relationships aside, Cheyenne appears to be celebrating a new year of life without any drama. In addition to a new relationship, the MTV star is in a good place with Cory as they co-parent and grow their non-profit titled Rage Regardless Ry.
"It's definitely one big, weird, blended, dysfunctional family," Cheyenne told E! News back in March. "Our biggest thing since day one of Cory coming into Ryder's life was what kind of dad he wanted to be and what kind of parent he wanted to be. I wasn't going to allow him to be a Disneyland dad or an Instagram dad or just in the moment."
Watch:
"Teen Mom OG" Stars Give Updates on Their Men
She continued, "He had to be 100 percent. I think from the beginning, he saw my mindset and appreciated it so that's why we co-parent so well."
During this week's birthday celebrations, Cheyenne also received plenty of love from her MTV family.
Mackenzie McKee wrote, "Wait is our birthdays only a few days apart. What..." Maci Bookout added, "Happy Birthday mama! Hope it was wonderful, Love u."