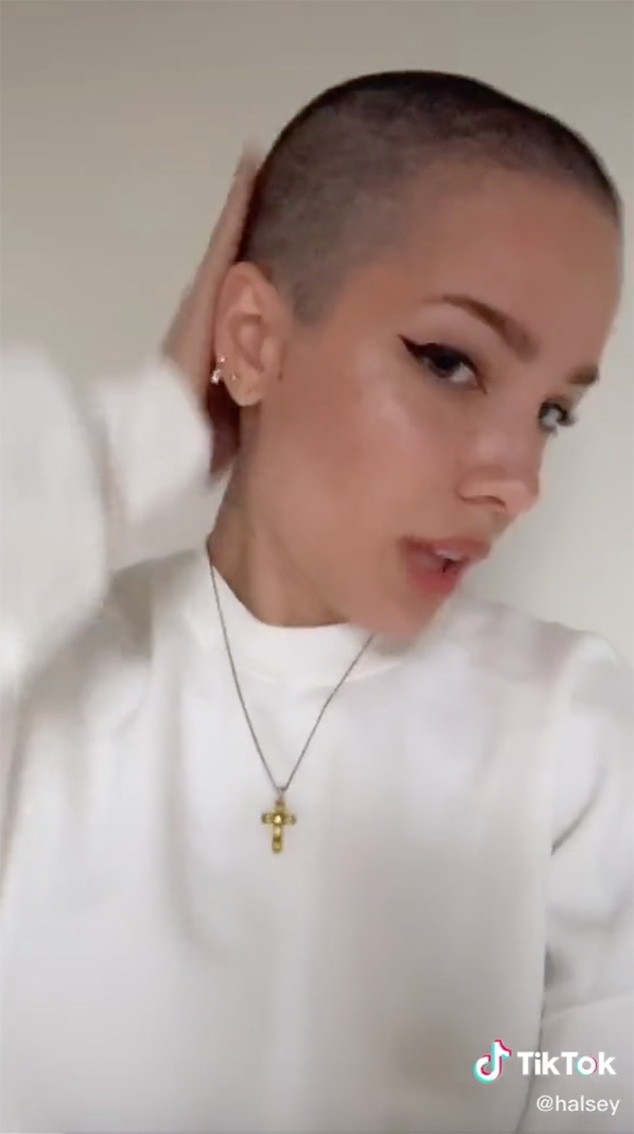 Instagram
Halsey is rocking a new 'do.
The 26-year-old singer took to TikTok on Monday, Oct. 19 to debut her buzz cut. The two-time Grammy nominee started off the video by sporting long locks. But with a flip of her hair, she showcased her clean-shaven scalp. Many fans were excited about the change, too.
"Ugh it looks absolutely amazing," one follower wrote in the comments section. 
Added another, "WE LOVE BALDSEY." 
When a Twitter follower asked about her decision to go bald, Halsey replied, "I was growing it out for so long and I told myself I wouldn't shave it till I saw what it was like healthy and long and then I saw it healthy and long and said 'Mm this is nice but I miss bald' and then so I did it!"
Halsey had actually hinted she was ready to switch up her style last week. "When I was bald everybody was so damn mean to mean [sic]," she tweeted on Oct. 15. "Now every hot girl ever has a bald head does that mean I can go bald again or what."
Of course, this wasn't the first time fans had seen Halsey with a shorter style. The "Without Me" artist has modeled the look a few times, including in 2017 and 2015.
In fact, Halsey has made a number of hair transformations over the years. From coloring her tresses a rainbow of colors to playing with a variety of lengths, the star has done it all.
She also gave fans a rare look at her natural curls in 2018. When a follower expressed shock over Halsey not shaving her head in over a year, the singer explained, "That's why I've been wearing wigs! So my hair can grow underneath them!"
And while the artist received numerous compliments from her fans, she also had to shut down a few followers. "I can't believe I spent a whole damn year growing out my curls under those wigs for y'all to say my natural hair looks like a wig," she tweeted at the time. "Some f--ked up s--t lmao."
Watch:
Halsey & More Looks Tie-Die For - What the Fashion (S2, Ep43)
In addition, she opened up about shaving her head in a 2016 interview with Nylon. "Hair has also been a big indicator of racial issues in my life," Halsey, who is biracial, told the outlet. "It's one of the ultimate symbolic struggles for women of color. Shaving my head was important to me because I needed to be able to prove that I could still love myself if I did it."
As for the haters who disliked her short hair, Halsey had a few words for them, too: "I'm like, 'That's cool dude,'" she told the magazine. "I really could not care less about what you think."