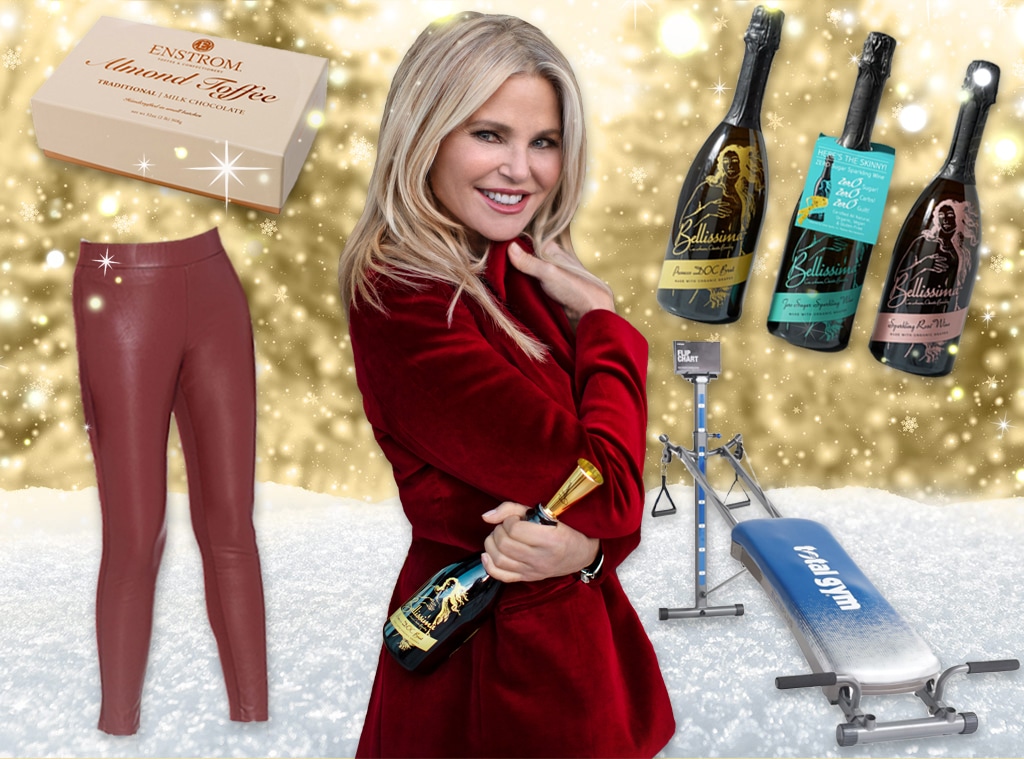 Myrna Suarez; E! Illustration
We love these products, and we hope you do too. E! has affiliate relationships, so we may get a small share of the revenue from your purchases. Items are sold by the retailer, not E!.
Let's toast the start of holiday shopping!
With less than 60 days to go until Christmas, Christie Brinkley is preparing to enjoy all of her favorite traditions with family. 
"I am looking forward to singing Christmas carols all together," she exclusively told E! News. "I love singing Christmas carols with my family by the light of the Christmas tree and making Christmas cookies. There is just a special vibe at the holidays, maybe because the carols remind us of all the cozy feelings of togetherness, love and good cheer."
But before the singing begins, Christie is sharing her holiday gift picks with E! News readers. From transformative exercise equipment to delicious sparkling wine, the supermodel has just the items to say goodbye to 2020 and hello to a brand-new year. Keep scrolling for more picks! 
Bellissima Prosecco and Sparkling Wine
"My Bellissima makes the perfect holiday present! Whether it is a bottle or a case, they already look like they are gift wrapped. You just add the ribbon and you are done! They are festive and fun and we deserve to pop a bottle after all we have survived in 2020!"
Bellissima Sipper
"I don't know about you, but I do not put my champagne glasses in the dishwasher, and that means extra cleanup! If you bought the Bellissima bambinis, it's so much easier to throw a sipper in the dishwasher than washing those glasses by hand! If the rambunctious kids knock over the bambini and sipper, they are not going to break like a delicate glass!"
Total Gym
"With a Total Gym, now your News Year's Resolution can be to learn a new language—not lose the 10 extra pounds of holiday weight gain!"
Brooke Shields Timeless Faux Leather Legging Pant
"Now that we have you looking so fabulous, why not grab a pair of Brooke Shields Timeless Faux Leather legging pant in black [or oxblood]. You are going to want that fabulous selfie next to your Christmas tree showing off your Total Gym figure holding that zero sugar Bellissima! Watch the compliments come pouring in! Especially with Item No. 5 on my list!"
StyleList by Micaela Leopard Scarf
"Everyone needs a Leopard scarf! It can change an entire outfit just by wearing it. Use it as a sarong, shall, knotted around the neck…Anyone can use a little touch of animal print!"
Sheldrick Wildlife Trust Adopt an Elephant
"I have adopted Elephants for so many of my friends and they have always loved this gift! They are able to follow their Elephant baby grow up in the loving and caring hands of The Sheldrick Wildlife Trust before its return to the wild. It is important to help these animals facing extinction."
World Food Program
"A gift certificate in the name of the World Food Program, the organization that just won this years Nobel Peace Prize. Who doesn't want to know that in their name, a person in need is getting a warm meal. During this global pandemic, who doesn't want to be part of the solution?"
Enstrom Toffee
"For those on your list who love sugar, this is sugar at its finest and in its finest form, in my opinion! Be warned...beware of opening while you are alone, you will definitely want to share this with your friends and family!"