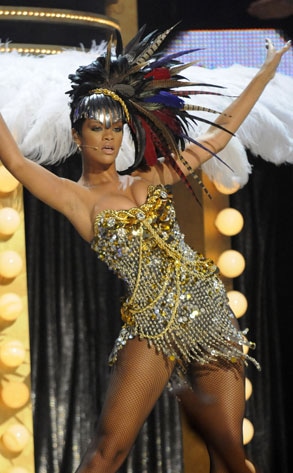 Kevin Mazur/Getty Images
Is Rihanna going on a girls-only road trip?
We just got word that the singer is planning a North American tour.
A source insists that the "Disturbia" songstress hopes to kick things off in September. Details of exactly where and when are still being worked on, but our source says that Rihanna may not be alone when she hits the road...
Ciara and Keyshia Cole are in negotiations to join the tour, according to the source. "Rihanna wants strong women to join her," the source says. "This is a 'women empowerment' type of tour."
Just last week, E! News confirmed the star will make her first solo stage appearance since her altercation with ex-boyfriend Chris Brown, next month in Dubai.
Shortly after the Grammy Eve incident, Rihanna canceled a Feb. 13 concert in Kuala Lumpur, Malaysia. Her last concert was Jan. 29 in L.A.
Rihanna's rep did not immediately comment, nor did Ciara's. Coles' rep insists she's not in talks to join Rihanna because she is busy working on several other projects, including her own headlining tour.
—Additional reporting by Dahvi Shira