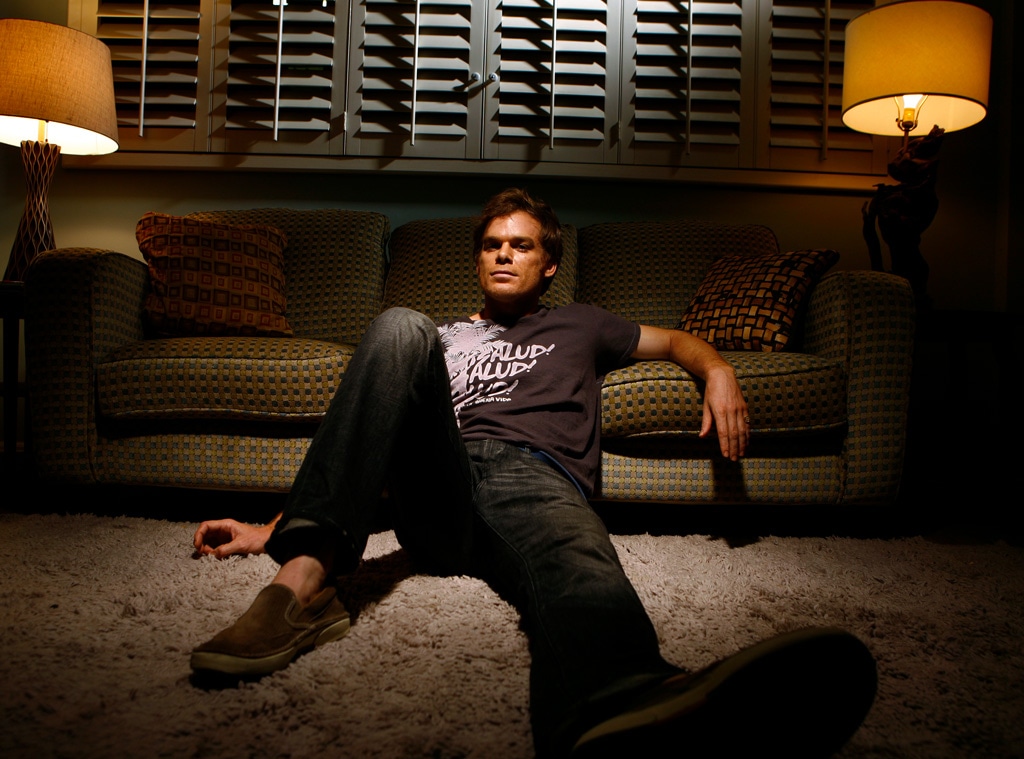 Jay L. Clendenin/Los Angeles Times via Getty Images
Breaking news: Somebody somewhere has apparently been really missing Dexter. 
Showtime just announced that they're reviving the series for 10 episodes, with Michael C. Hall reprising his role as the titular plastic wrap-loving serial-killer-turned-lumberjack. We have approximately 40,000 questions about this news. The main one is "Why?" The second one is "Is he still a lumberjack?" The third one is "Why?" again. 
In case you've somehow gotten that finale out of your mind, Dexter ended in 2014 with the lovable murderer pulling the plug on his dying sister Deb (Jennifer Carpenter) then appearing to die in a boat explosion after sending his girlfriend Hannah (Yvonne Strahovski) and young son Harrison (Jadon Wells) off to Argentina. 
In the final moments of the episode, Dexter was revealed to be alive and working as a lumberjack, living in the woods. As you might be able to guess, the finale was very poorly received, but clearly they had a reason for sending that very obvious criminal off to Oregon instead of killing him. 
The 10-episode revival is set to begin production in early 2021 and might even air later in the year. Showtime's Co-President of Entertainment Gary Levine offered a bit of an explanation as to why the show is coming back in a statement. 
"Dexter is such a special series, both for its millions of fans and for Showtime, as this breakthrough show helped put our network on the map many years ago," he said "We would only revisit this unique character if we could find a creative take that was truly worthy of the brilliant, original series. Well, I am happy to report that [showrunner] Clyde Phillips and Michael C. Hall have found it, and we can't wait to shoot it and show it to the world!"
Dan Littlejohn/CBS via Getty Images
In the original series, which premiered in 2006, Dexter was a blood splatter analyst for the Miami Police Department by day and serial killer by night, but the catch was that he only murdered people who "deserved" it, which mostly meant other murderers. He was known for wrapping his victims in plastic wrap and dismembering them before throwing them into the sea. 
Dexter earned 24 Emmy nominations and four wins over the course of its run, but no award will top the prestigious yet unofficial and occasionally arguable win for "Worst Series Finale of All Time." 
The good news is that Phillips, who is running the revival, was an original executive producer on the series. He left in 2009, but after the finale aired, he told E! News the ending he had envisioned for the show. It was much better, and you can read it below: 
Watch:
Michael C. Hall's Eight Years on "Dexter"
"In the very last scene of the series, Dexter wakes up and everybody is going to think, 'Oh, it was a dream.' And then the camera pulls back and back and back and then we realize, 'No, it's not a dream,'" Phillips said. "Dexter's opening his eyes and he's on the execution table at the Florida Penitentiary. They're just starting to administer the drugs and he looks out through the window to the observation gallery.
And in the gallery are all the people that Dexter killed—including the Trinity Killer [John Litghow] and the Ice Truck Killer [Christian Camargo], LaGuerta [Lauren Velez] who he was responsible for killing, Doakes [Erik King] who he's arguably responsible for, Rita [Julie Benz], who he's arguably responsible for, Lila [Jaime Murray]. All the big deaths, and also whoever the weekly episodic kills were. They are all there.
That's what I envisioned for the ending of Dexter. That everything we've seen over the past eight seasons has happened in the several seconds from the time they start Dexter's execution to the time they finish the execution and he dies.  Literally, his life flashed before his eyes as he was about to die. I think it would have been a great, epic, very satisfying conclusion."
Better than a lumberjack, that's for sure.