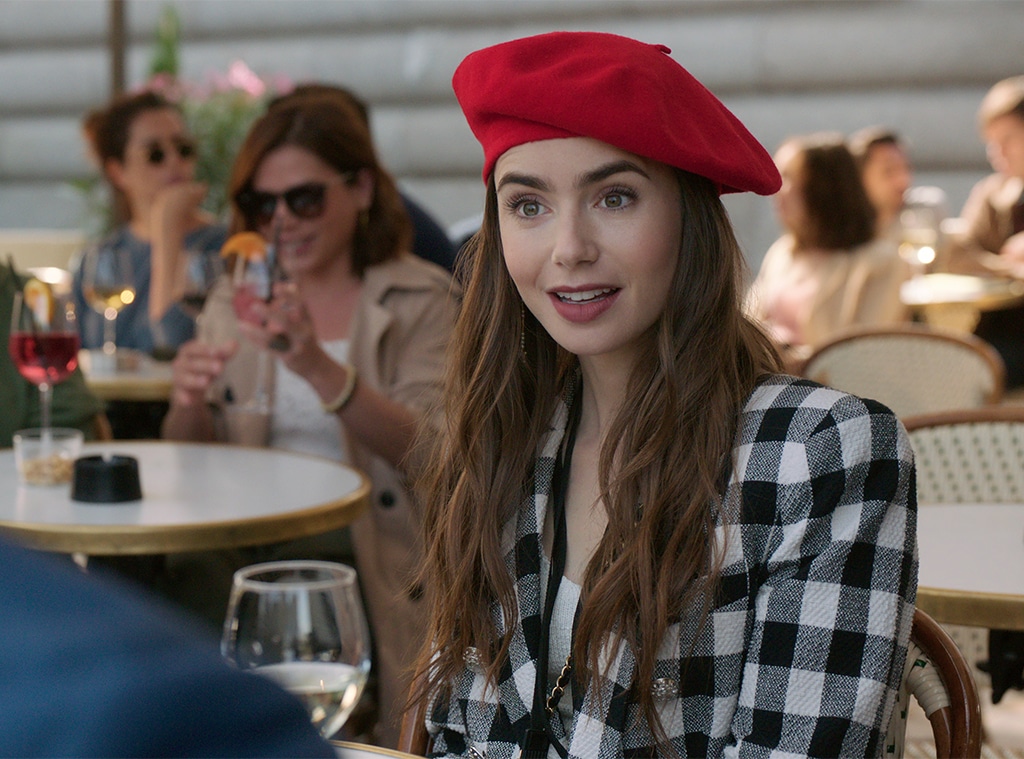 Netflix
Two words: Très chic!
Emily in Paris star Lily Collins has already mastered the art of French girl beauty. But luckily for those who haven't, the actress is giving fans of the hit Netflix television series a peek inside her daily routine by sharing the products she uses to achieve the ultimate Parisian lewk.
Filming a 13-minute tutorial for Vogue, the 31-year-old star raves, "I'm gonna walk you through my skincare routine and I'm gonna take you through a clean day-to-night look with a little nod to Parisian glamour."
Lily surprisingly kicks things off with a throat spray and follows up with an essential oil, which she describes as a "little touch of magic." She adds, "It's a good way to start the day!" 
Of course, the actress understands the importance of using skincare products before diving into makeup. That's why she preps her skin with a cleanser, a toner, a serum that she applies with a luxurious emerald green jade roller, a face mist, a lip scrub and a lip balm.
Plus, she also stresses how essential sunscreen is for her routine, saying, "I wear it every single day."
Giving her that "je ne sais quoi, kind of no-makeup, makeup look" is none other than Lancôme's cult-favorite tinted moisturizer, which she blends with the brand's Advanced Génifique Youth Activating Concentrate.
As she explains, "This actually makes it more of a medium coverage and it adds back that healthy, radiant glow. It's just kind of the ideal combo."
While Lily is an ambassador for the cosmetics company, there's no denying how luminous her skin looks once she's dabbed on her complexion products. "I've always loved fresh, clear skin. I've always been someone who is about less is more," she mentions, adding, "I've always said, 'The less you have on your face, the less there is to go wrong throughout the day.'"
Now, that's an Emily in Paris quote if we ever heard one!
Watch:
Lily Collins on How "Emily in Paris" Differs From "Sex and the City"
Once her foundation is done, Lily dusts on loose powder, applies a touch of blush and taps on a light contour. For her favorite feature, her brows, she approaches things in a truly effortless way.
She enhances the shape of her brows by swiping on a subtle highlighter in her brow bone area and then brushes them out with a clean spoolie. Voila!
As it turns out, Lily's eye makeup is just as simple as her brows. To make her eyes pop, she coats her lashes with the Lancôme Monsieur Big Mascara and separates any clumps with a spoolie. Of course, her eyes aren't complete without a dainty cat-eye. 
Last but not least, the actress puckers up and glides on a peach-colored lipstick that she tops off with a nude gloss.
In the words of Emily during a beauty influencer event, "Smudge-proof... Even when you're berry hungry!"
Watch Lily's full video above so you too can channel Emily in Paris! Plus, find out the fragrance that reminds her of the Netflix series.