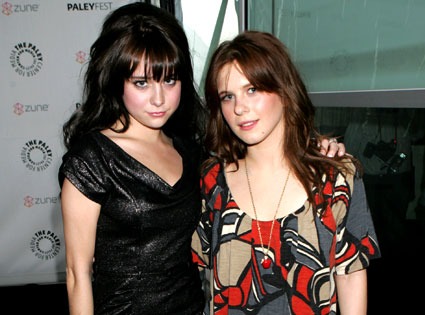 Evans Ward/Sci Fi Channel
Caprica, which launches today, is rich with killer robots, theological twists and psychological wilds, but in the tradition of Battlestar Galactica before it, it's also stocked with some serious babes.
If you're caught up on the Caprica movie (grab it on DVD and iTunes if you haven't seen it yet), come on in, because we just caught up with the two of the show's young stars, Alessandra Torresani and Magda Apanowicz, as well as their fabulous boss, Caprica show runner Jane Espenson, to find out what's in store for these Colonial beauties...
Even with the show's emphasis on such weighty topics as artificial intelligence, Caprica offers a lot of emotional intelligence about the good ol' human condition.
Says Espenson, "Science fiction provides this amazing lens through which we can look at real-world problems." Including the problems of pretty girls such as Torresani's Zoe and Apanowicz's Lacy? "We will be exploring the sorts of problems that all girls have, pretty or not, as pretty as our girls are. But, yes, teenage girls have a rough road. A sci-fi show like Caprica allows you to look at those in a way that's not "Lifetime movie I can't eat another bite because I'm anorexic" but in metaphorical way, so that you can really get into the meat of them."
And Alessandra tells us, "There are a lot of flashbacks" to young Zoe's life before she was blown up by her religious-fanatic boyfriend, but Espenson says that a young woman's unwise entanglement with a killer is almost familiar ground for her: "Buffy's boyfriend was a vampire—several vampires, even." Indeed.
In addition to "live" Zoe, we'll be seeing at least two other Zoes. According to Alessandra, "Zoe A is in the club, and Zoe R is robot Zoe...Centurion Zoe. There's a lot of Zoe to come—a lot of different hair colors, a lot of different outfits. Robot Zoe is amazing actually. They're having me take miming classes. We're going to get the robot to do exactly what I can do. They really want me to feel as if I am a Cylon and that I'm living this."
As for Zoe's other half, Lacy, Magda reveals that they are tied together by their very dark secrets: "Lacy and Zoe stay connected because Zoe has no one else to turn to but Lacy, but there are going to be a lot of ups and downs with us—a lot of hard situations, a lot of drama." And that includes some serious time tangling with Polly Walker's formidable Sister Clarice, about whom Magda says, "Sister Clarice knows what she's doing. She's very manipulative, and Lacy has no idea what she's doing. She has no idea she's even in the game."
Something tells me she might catch on eventually, but until then, then show is guaranteed to be as emotionally messy and as metaphorically tight as its predecessor, Battlestar Galactica. But what did you think about Caprica? It's your turn to share, so post in the comments!