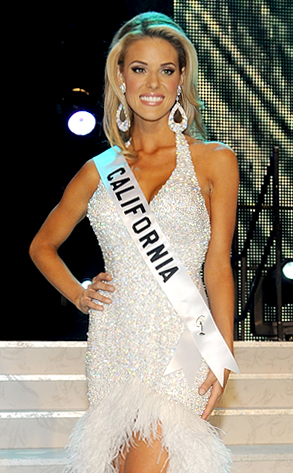 Denise Truscello / Getty Images
Needless to say, Miss California's special talent was not the ability to read a room.
Miss USA first runner-up and bona fide YouTube sensation Carrie Prejean popped up on the Today show this morning to defend her crown-costing response to the gay-marriage question posed midpageant by out-and-proud blogger Perez Hilton.
"I was ready for my question, and when I heard it from him, I knew at that moment after I'd answered the question, I knew that I was not going to win because of my answer," she said. "Because I had spoken from my heart, for my beliefs and for my God."
Who knew the self-proclaimed Queen of all Media could thwart a fellow coronation?
While Prejean's response to the equal-rights query—"In my country, in my family, I think that I believe that a marriage should be between a man and a woman"—by all accounts cost her the sash, the 21-year-old said she sticks by her controversial reply.
"I wouldn't have answered it differently. The way that I answered it might have been offensive to people, and I said, 'No offense to anybody.' I did not want to offend anybody.
"It's not about being politically correct, for me, it's about being biblically correct."
(Originally published April 21, 2009, at 11:02 a.m. PT)