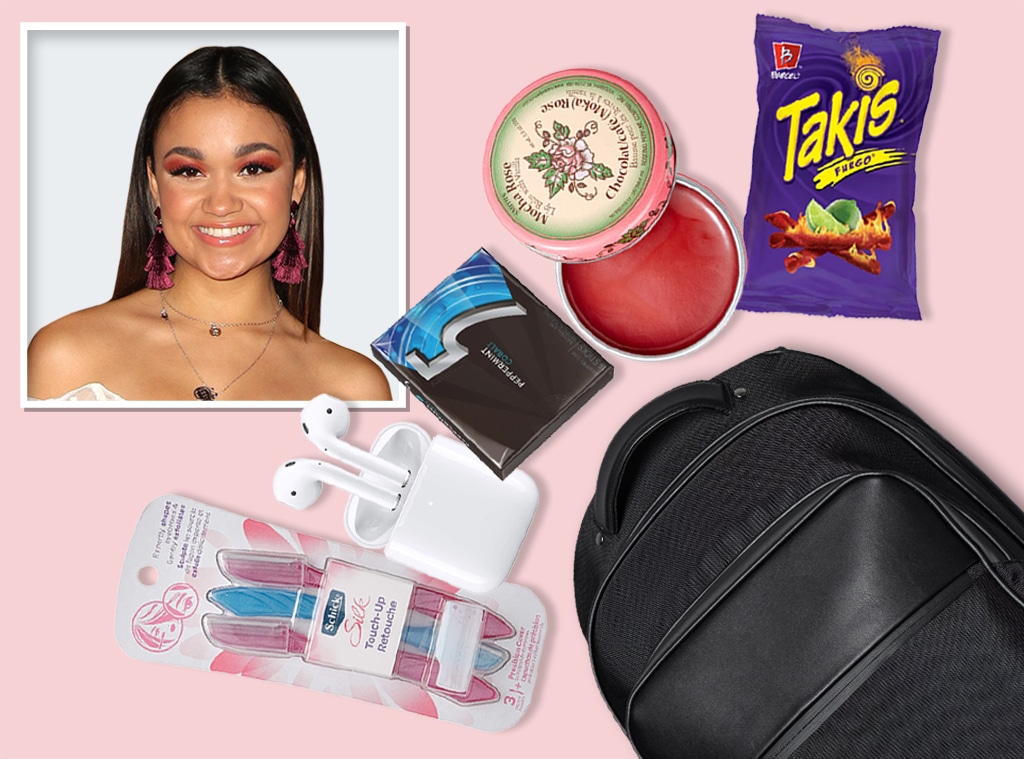 Chelsea Lauren/Shutterstock, Backpack: Getty Images, Amazon, Walmart, E! Graphic
We interviewed this celebrity because we think you'll like their picks. The products shown are from the celebrity's own product line or a brand they are paid to endorse. E! has affiliate relationships, so we may get a commission if you purchase something through our links. Items are sold by the retailer, not E!.
When it comes to accessories, Madison Bailey doesn't always follow the rules. 
Whether heading to the set of Outer Banks or documenting her life on Instagram to her 3.8 million followers, the 22-year-old actress would much rather carry a specific bag over anything else. 
"I have a ton of handbags, but I use the same black book bag everywhere I go," Madison exclusively shared with E! News. "It's just more convenient to have a book bag over a purse!"
Watch:
Madison Bailey Teases "Outer Banks" Season 2
Hydro Silk Touch-Up
"The Hydro Silk Touch-Up has been a total game changer for me," Madison shared with E! News. "It's super easy to use, and it makes keeping my brows in their natural shape so much more convenient because I don't need to go to the salon—I can literally do it from the trailer on set, in the car (LOL), you name it!"
"You can also use it on other parts of your face (lips, cheek, forehead) to remove hair and gently exfoliate," the actress added. "It leaves your skin feeling really smooth and helps create the perfect canvas for your skincare and makeup."
Five Gum
Feel confident that you have fresh breath all day long with Five Gum. Best of all, this chewing gum has no sugar. 
Takis
Need a delicious snack in the middle of the day? Madison has a suggestion. Fans of spicy food will absolutely love the hot chili pepper kick enhanced with citrus from the lime that makes it feel even hotter.
Apple Airpods
Listen to your favorite music and podcasts on the go with Apple Airpods. Plus, phone calls just got easier with these powerful headphones that are easy to recharge. 
Rosebud Mocha Rose Lip Balm
Keep your lips hydrated and fresh with Smith's Rosebud Perfume Company's product that is a blend of essential oils with mocha, vanilla, and chocolate.
Reusable Metal Straws
Whether you're drinking smoothies, iced coffee, water or your favorite beverage, reusable metal straws make sipping safe, easy and fashionable. 
-Originally published on Thurs., Oct. 15, 2020 at 4:00 a.m. PST.