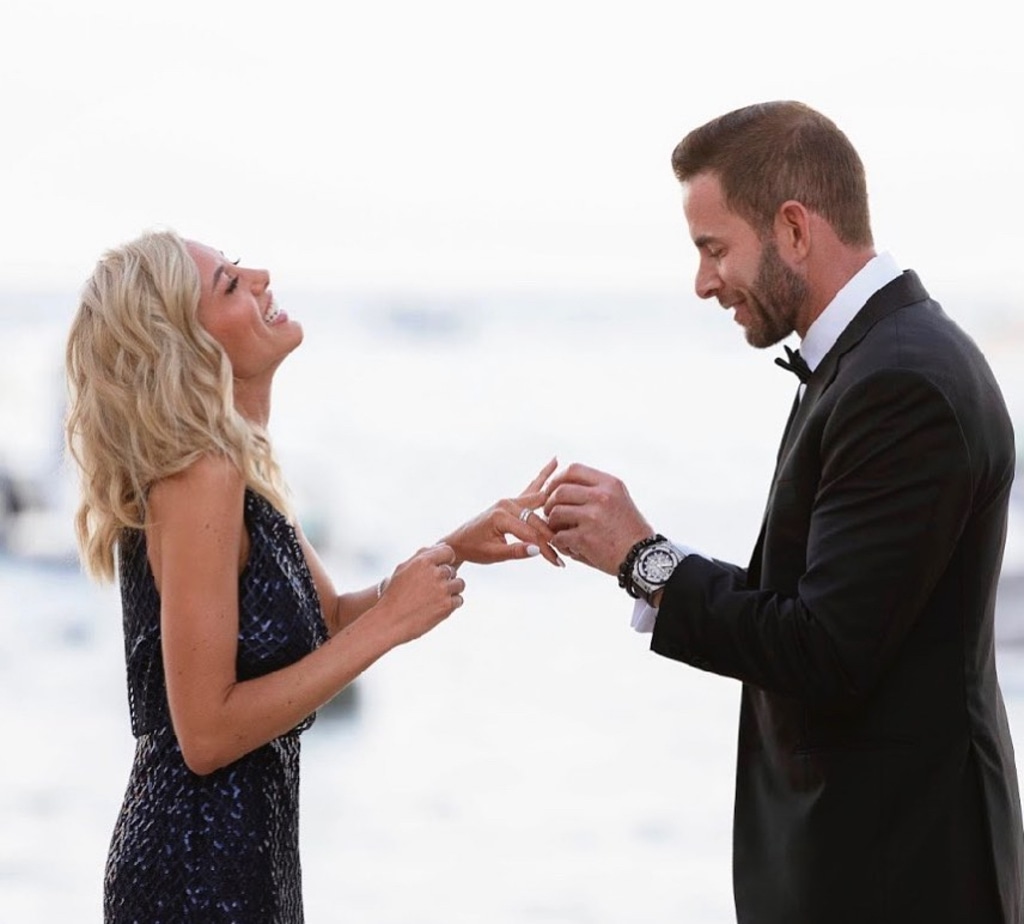 Duke Images
It's been a little over two months since Tarek El Moussa and Heather Rae Young got engaged. But HGTV fans finally saw the big proposal on the Oct. 8 episode of Flipping 101 With Tarek El Moussa.
As followers will recall, the Flip or Flop star and the Selling Sunset celeb began their relationship in July 2019. In fact, Tarek told viewers the two moved in together after a week of dating. So, he decided to pop the question on California's Catalina Island, a favorite place for the couple, on their one-year anniversary.
"Heather and I just love having adventures together," the 39-year-old said. "She's my best friend in the world. And since we've been working together, our bond is just so much stronger. I think it's time to take the next step." 
During the episode, viewers saw a lot of the proposal planning process, including Tarek shopping for Heather's eight-carat diamond ring. They also witnessed the sweet moment when he told his 10-year-old daughter Taylor and his 5-year-old son Brayden, who he shares with his ex Christina Anstead, that he was going to ask Heather to be his wife.
"Heather, like, she's just my best friend in the world. I adore her," he shared at one point. "I'm so in love with her, and she really changed my life. And I'm a different man today because of her."
The proposal wasn't the only surprise Tarek had in store. In fact, he had a full day planned. He took the 33-year-old real estate agent off-roading, treated her to a spa day and brought out her glam squad. 
Finally, it was time for the major moment. Tarek secured a private spot on the beach and lined an aisle with rose petals. He then read a card Heather had given him on his 38th birthday but had asked him to save until their one-year anniversary. The sweet words brought them both to tears.
Then, he dropped down on one knee. "So on July 3rd, I was a broken, lost, sad man. July 4th, you stepped onto my boat, I saw you, my heart stopped and I fell in love with you right away," he said. "You're my best friend in the world. So, Heather Rae Young, will you marry me?"
Of course, she said yes and the two celebrated with a romantic dinner overlooking the ocean.
"I'm feeling amazing, actually," the future groom said. "So, like, earlier, I was super confident, I wasn't nervous, I was more excited. Like, she took the turn and I saw the dress, I saw her smile. And right away, I started shaking. I started getting nervous. And the entire way she was walking to me, I don't remember anything. And I got down on my knee. And the good news is she said yes."
But did the bride-to-be have any idea a proposal was on the way? "I mean, I was, like, thinking in my head, like, I would love if he proposed," Heather said, "but I just thought you were being super extra romantic for our one-year anniversary."
She also couldn't help but gush over her new fiancé. "Pretty much no one knows the real Tarek, and the real Tarek is so sweet and so romantic, at least to me," Heather shared, "But, like, the romance has been from the very beginning, and it's going to be the rest of our lives."
Watch:
Tarek El Moussa Dotes Over Daughter for Her 7th Birthday
The lovebirds have since been planning their wedding, and Heather has even found her dress.
Watch the video to see the stars get engaged.