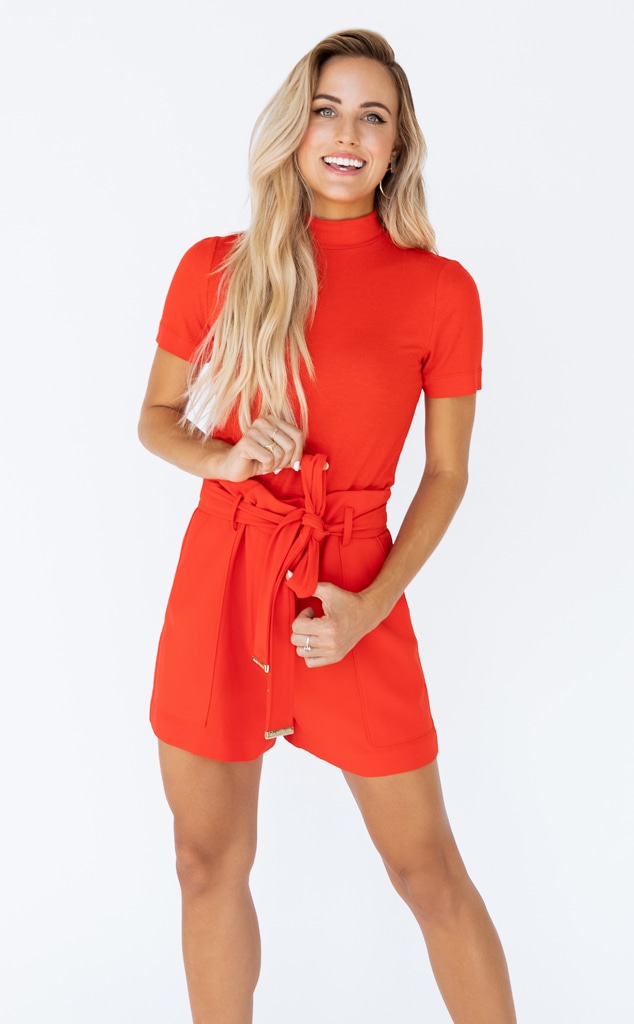 Brett Erickson
Bachelor Nation's Kendall Long is ready for the next chapter in life... quite literally!
With the upcoming launch of her new book, Just Curious: A Notebook of Questions, the former Bachelor in Paradise star can officially add "author" to her resumé.
Speaking to E! News, Kendall exclusively shared details about her latest project, which she reveals was something she created "over quarantine."
"It kind of started because I brought it on The Bachelor... to talk to the girls and have some fun conversations," she explains of her time during Arie Luyendyk Jr.'s season of the ABC dating competition series.
"I took one on the dates with Arie and it kind of blew up," she adds, "and from there I was always saying I really want to publish this. So quarantine was the perfect time to really push through with that."
Along with her book, Kendall also opened up about how she's feeling following her split from Joe Amabile, the advice she'd give Bachelorette stars Clare Crawley and Tayshia Adams and so much more.
Read our interview with the reality TV personality-turned-author below!
Watch:
Bachelor Nation Stars Who've Dated Celebrities
E! News: What went into formulating the questions for your book?
Kendall Long: "There's some questions I put in there because there's so many serious things I want to talk about with people on first dates, but it's so awkward to bring up. So that's where I got some of the more hard-hitting questions and other ones were just funny. It's... something that's been on my mind. So I feel like maybe I'm an expert at questions at this point."
E! News: Speaking of hard questions, how have you been feeling following your split with Joe?
KL: "It's one of those things you can't really avoid. It's a part of the public, but Joe and I are... still really close and we're good friends. And it definitely comes with this challenge, but he's a great person. I see him as somebody that, occasionally, I'll still go to for advice. We still want the best for each other... that's where we are now. And he's absolutely killing it with what he's doing, so I'm just happy to see that he's happy."
E! News: Do you have any regrets about the relationship or anything you would've done differently? 
KL: "I definitely don't have any regrets—it's one of those things that I learned so much from. It was one of the first relationships that I ever saw a marriage with, so you can never regret that. With us, it was just where we wanted our lives to be... and where we saw ourselves. That was something that turned out to be so much more important than I had ever anticipated. Looking back, I would have wanted to ask more about that. But with where we are now, I feel really good."
E! News: Knowing you are both in a good place, is there any chance for reconciliation?
KL: "I don't know if I can see a future where that would be possible. We've definitely talked about it a lot... It's not a foreign conversation for us. But as of now, I don't know if we could see a future. We're both trying to be individuals and grow separately. But, of course, I'll always love him in my own way."
E! News: Following your public breakup, do you hope your future relationships will be more private?
KL: "Well, it's interesting because our relationship was so public it really expedited a lot. We had so much more trust and transparency because we knew that every moment could, and might, be out there. We really checked in with each other emotionally, and it made for a strong relationship. I almost feel like all relationships should be put through something like that because you feel more depth with the person you're with. That being said, I'm definitely a little more shy to be public again. I'm not in a relationship, but even if I was with somebody, I don't know if I'd be so quick to share it."
E! News: I know you said you're single, but are you ready to get back out there? What would be your ideal match?
KL: "Definitely... I'm putting myself out there. It's been one of those things where I question if I'm ready to date again, but other times, I feel you have to put yourself out there to find out. I think humor is one of the most important things. You can get through anything with humor and I've learned that through my parents and my last relationship. I'm someone that can stick up for themselves and... I tend to be really hard-headed. So I love when somebody can correct me in a graceful way, but then also have their own voice."
E! News: Would you ever date anyone from Bachelor Nation again?
KL: "Everyone I know from Bachelor Nation, I knew when I was in a relationship with Joe. So, in my mind, they were all just friends—it's kind of like a high school. I'm not opposed to it, I guess. I just haven't looked at The Bachelor world in a while."
E! News: Do you have any advice for Bachelorette stars Clare and Tayshia?
KL: "I'm so excited because a lot of the guys are older and, fingers crossed, that means they're more mature and that they know more about themselves. The one thing would be for them: Ask weird questions. Those are the ones that really get you to know somebody and it would be in a situation where it's so quick and you have to expedite love. Everyone in Bachelor Nation is no stranger to the fact that you have to put yourself out there quickly or else you can fall behind. I would say, explore every relationship and take advantage of every curiosity because you probably won't have that chance... again."
E! News: Is there any chance that you would film with the Bachelor franchise again?
KL: "I thought about it and... I'm not opposed. To be in that world, you have to be single, so I'm not holding myself off. You know, it worked out last time. So I feel like it's a really great way to meet somebody and to create a relationship, and it's one of those experiences that you can't experience any other way."
You can officially shop for Kendall's book on Amazon starting Nov. 18. Special edition hardcovers are currently available for pre-order here.
This interview has been condensed and edited for clarity.