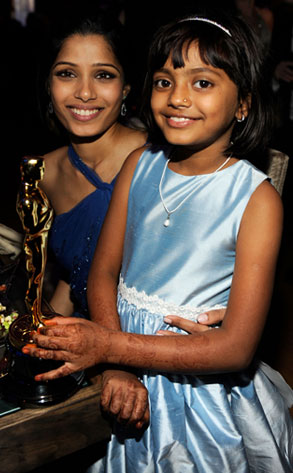 Kevork Djansezian/Getty Images
UPDATE: Rafiq Qureshi has flatly denied that he attempted to sell his Oscar-caliber daughter, saying he was the victim of a "dirty" undercover operation by a U.K. tabloid and that the media had used his family's economic status as a punch line and "made fun of our poverty."
"They tricked us into this fakery, but we came out unscathed," he told the BBC, adding that they trapped him in a situation of "great temptation" which he managed to resist.
Qureshi said that he received a phone call from people claiming to be a wealthy Arab couple who wanted to help his daugher, Slumdog Millionaire star Rubina Ali. After several meetings, Qureshi became aware that "they were making a deal on my child."
He refused, but returned home to find reports of his dealmaking on TV.
"They played dirty with us, but we didn't accept any money from them. My daughter is not for sale."
————————
In an attempt to escape the real-life slums of Mumbai, the father of Slumdog Millionaire sweetie Rubina Ali reportedly tried to illegally sell his 9-year-old daughter for roughly $300,000.