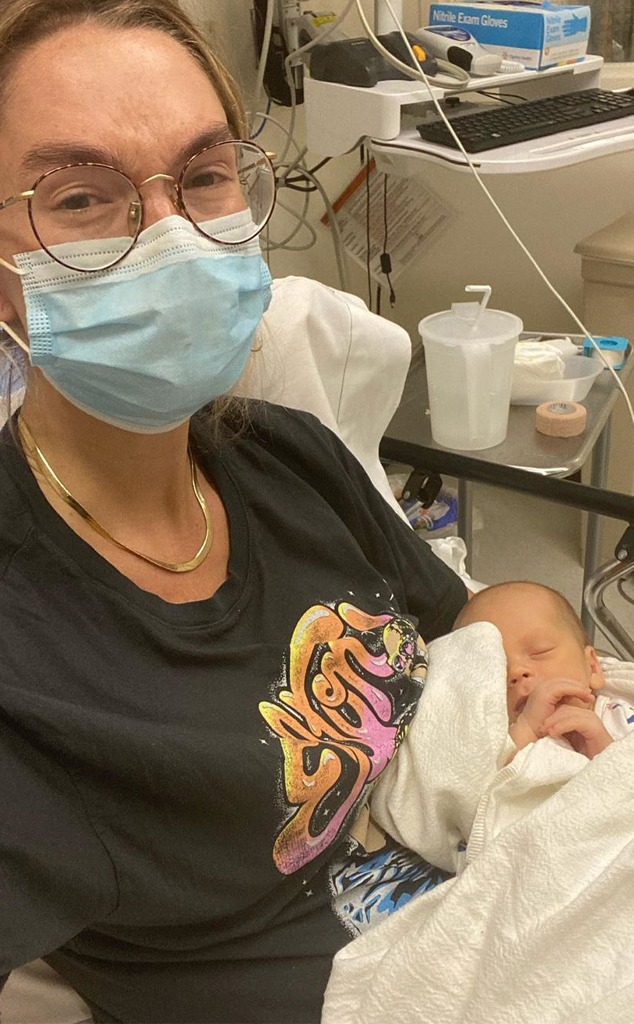 Instagram
American Idol alum Casey Goode took to Instagram on Sunday, Oct. 4 to share that her newborn son, Maximilian, has tested positive for coronavirus.
"Max tested positive for COVID-19 early Saturday am," Goode, otherwise known as Quigely, informed her followers. "Took him into the ER after he was running a fever in the middle of the night. We had confirmation that he was exposed from direct contact with a medical professional who had cared for him earlier in the week."
The season eight star noted the news was a "total shock to us."
"I am currently quarantining with baby Max in the PICU," she continued. "They are treating me as if I have been exposed and are likely positive as well, although I am showing no symptoms yet."
Near the end of her post, she asked for good energy to be sent "to our little bub so he recovers fast." 
"Not sure what happens next from here..." Goode concluded, "but I expect to be offline for a while as we recover. Love, Quigs."
In addition, the content creator posted a few photos of herself at the hospital with her baby boy. Her husband, Alex, also wrote about his son's health.
"His fever has come down since being admitted, but he has been put on oxygen as a precaution," he shared in part of his post. "We are in good spirits but we could also use some positive vibes, so please keep Mad Maxi & Mama Quigley in your thoughts tonight."
Goode and Alex welcomed Max two weeks ago on Sept. 18. In an Instagram post, Goode shared how she went into labor at 37 weeks, just as she and Alex were returning from their babymoon in Ojai, Calif.
"As we were making the drive back, I got some alarming blood work results back stating that I had a condition called cholestasis that put me and baby at risk," she wrote at the time. "We decided to labor at home for a while to see if I could still have my planned home birth but baby's movements stopped so we decided to go to the hospital."
When the couple arrived, Goode learned she also had preclampsia. "My blood pressure was skyrocketing so they quickly put me on an IV of magnesium to prevent me from having a seizure," she continued. "I labored for under 12 hours and pushed for about 30 minutes before baby's heart rate dropped quite low wouldn't come back up. My OB got into the room and immediately had to vaccum him out. It got really scary at the end as he wasn't crying or moving much when he came out. They took him for some tests and I only got to see him for about three seconds before he went to the NICU."
Watch:
Justin Bieber, Katy Perry & More React to Coronavirus
Max spent eight days in the NICU before Goode and Alex took him home, which the influencer described as "one of the best days of my life." In a separate post, Goode also shared the significance behind Max's name, noting she and Alex had originally considered two others. 
"There was a third name, Max, that Alex and I had talked about. It was the name of his baby brother," she wrote. "Most of you probably don't know this... but my husband was not always an only child. When he was 12, his brother was born and was only on this earth a short while before he passed of a heart condition."
"My head was at war deciding between two names... but deep down in my soul, I was starting to feel there was another choice... one choice," she continued. "And that choice stemmed from the purest, most abundant form of love I've ever felt in my life. No need to fight a war in my head, when there was clarity in my heart. After a series of bizarre and unexpected twists and turns this week, I asked the Universe and God to show me the answer. And boy did they respond. I had so many signs pointing me to Max, it was impossible to ignore."