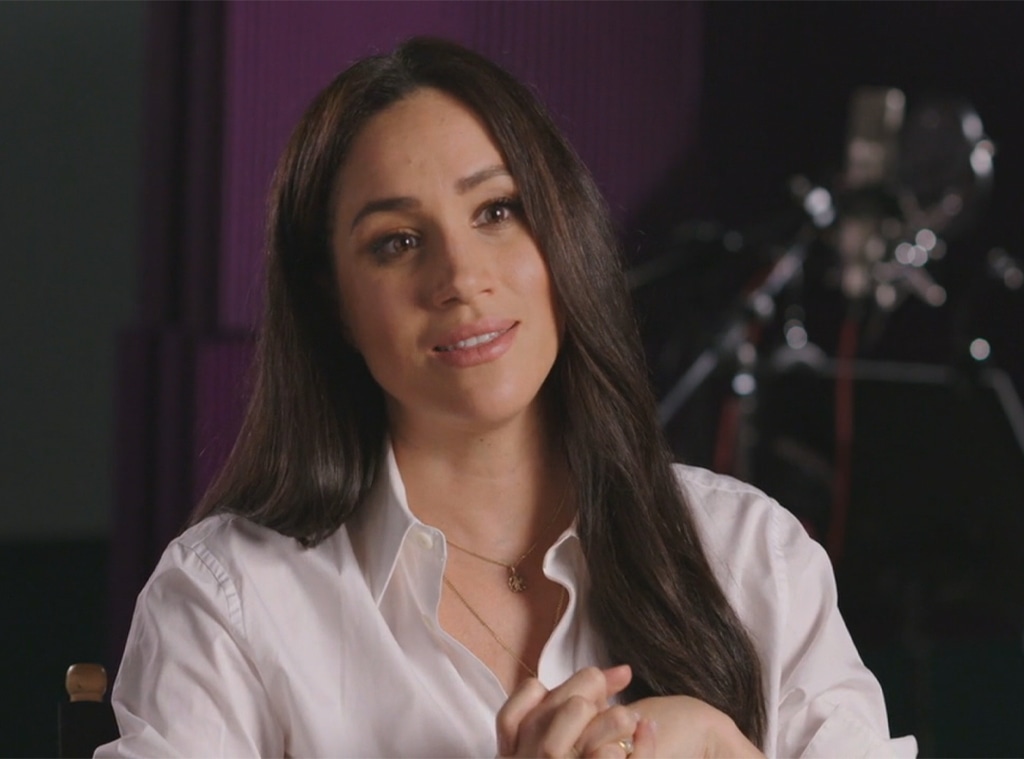 Getty Images
In the history of time, no one has ever accused Chrissy Teigen of being closed off. Or Meghan Markle, for that matter, though the constraints of senior royalty certainly had her trying to maintain a stiff upper lip during times when you could tell she really wanted to shout her truth from the rooftops.
And now they share an experience that belongs to so many but which most suffer through silently.
In a devastating New York Times op-Ed, Meghan revealed Nov. 25 that she had a miscarriage in July while pregnant with her and Prince Harry's second child together, the unmistakable realization dawning on her before she had even made it to the hospital.
While it wasn't an unprecedented revelation for a member of the royal family, Harry's cousin Zara Tindall having lost two pregnancies in past years, the Duchess of Sussex wanted to use her platform to remind people everywhere that you never really know what's going on behind closed doors, even when it comes to the most public of figures—let alone the lone distraught woman you may pass by on the street one day.
"We have learned that when people ask how any of us are doing, and when they really listen to the answer, with an open heart and mind," Meghan wrote, "the load of grief often becomes lighter—for all of us. In being invited to share our pain, together we take the first steps toward healing."
An oversharer by nature, meanwhile, Teigen has hooked more than 13.4 million dedicated Twitter followers with an unfiltered candor that sometimes has her telling tales from her and husband John Legend's life in Hollywood's innermost circle or just riffing on say, why, 80 percent of her phone's camera roll is images of boobs. 
So when she learned this summer that she'd become pregnant with her third child, quite unexpectedly, the model and cookbook author long since having given up the dream that one of her monthly tests would yield a positive result, she invited her fans along for the whole intense, chaotic, thrilling journey. 
Even as her updates transitioned from the relatively mundane (how her insatiable cravings for sour candy straws and Blow Pops was actually damaging her tongue) to the decidedly alarming (continued heavy bleeding had forced her into an extreme bed rest), she didn't let up. 
Watch:
Chrissy Teigen Pens Powerful Essay on Pregnancy Loss
Admitted to L.A.'s Cedars-Sinai Medical Center in late September, the mom to Luna, 4, and Miles, 2, posted confessionals from her hospital bed explaining that a "really, really weak" placenta meant her growing boy was "the strongest coolest dude in the s--ttiest house. His house is just falling apart." Still, she shared, she was feeling really good and hopeful they could get through this scary stretch. 
Then—in the waning hours of Sept. 30—came the news her followers had been fearing: Teigen and Legend's baby, a son they had named Jack, hadn't survived. "We were never able to stop the bleeding and give our baby the fluids he needed, despite bags and bags of blood transfusions," Teigen shared in a heartbreaking post. "It just wasn't enough."
Some 10 million remarks came pouring in, the responses—disregarding the cruel remarks from those intent on proving what a horrid wasteland the Internet can be—were overwhelmingly filled with gratitude, celebrities and lay people alike noting just how invaluable it was for Teigen to let us all in on something so deeply personal.
Many of her followers were feeling, as Busy Philipps put it, "In awe of your bravery and selflessness in sharing as you have, which is going to help so many women and families."
Because while pregnancy loss is heartbreakingly common—particularly miscarriages that occur in the first 20 weeks of pregnancy—for years it's gone largely undiscussed, parents forced to deal with their grief in private, adding a dose of isolation to an already painful, and often guilt-ridden, time. And so each time a celebrity raises their voice to challenge that stigma, it helps reinforce the notion that you're never truly alone and, perhaps most importantly, you didn't do anything wrong.  
On Oct. 2 it was Kate Beckinsale adding her story to the growing chorus of voices. Horrified that anyone dare challenge how Teigen was grieving ("As if there's some protocol during soul-scouring calamity that, if not observed, emboldens people who do not know her or her family to say how she should be handling the unimaginable") Beckinsale opened up about why she was so moved by Teigen's bravery. 
"Years ago, I lost a baby at 20 weeks," she revealed. "I had managed to keep my pregnancy quiet and I absolutely collapsed inside and no one would have known. There is grief, shame and shock so often that come with an experience like this, plus the heartbreak of your body continuing, after the loss, to act as if it had a child to nurture."
At the time, that overwhelming mix of emotions led her to stay quiet. "It can be the loneliest, most soul destroying period of time," Beckinsale wrote. "I think it's an honour to be allowed into another persons grief, especially with a subject like this which so often puts a woman into that hall of mirrors state of life continuing as if the world hasn't, for you, come to a bloody and terrible halt."
And while this isn't a misery loves company situation, another person's burden not necessarily helping to alleviate your own, sometimes it helps to know, quite simply, that you're not alone. As Claire Holt, now a mom of two, noted after her 2018 miscarriage: "Support is everything." 
(Originally published Oct. 5, 2020, at 1 p.m. PT)