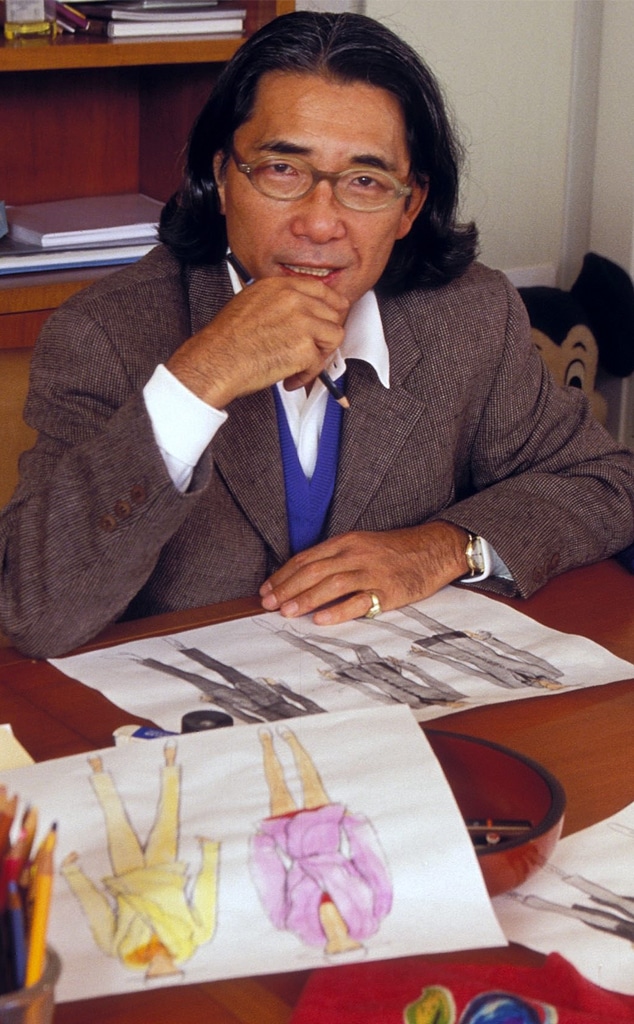 Alain BENAINOUS/Gamma-Rapho via Getty Images
The world of fashion has lost an icon.
Japanese-French designer Kenzō Takada has passed away at the age of 81. The fashion visionary, who founded the whimsical and effervescent label Kenzo, died in in Neuilly-sur-Seine, France after suffering from complications related to coronavirus, a spokesperson for Takada's luxury K-3 brand said in a statement to E! News.
"It is with immense sadness that the brand K-3 announces the loss of its celebrated artistic director, Kenzo Takada. The world-renowned designer passed away on October 4th, 2020 due to Covid-19 related complications," a statement read in part. 
Moreover, the fashion mogul's Instagram account confirmed his death, writing, "It is with great sadness that we have learned that our dear friend Kenzo Takada passed away today."
"He was an inspiring and prodigious creator and we were proud to collaborate with him," the message continued. "We will always remember his smile and joie de vivre. The fashion, design world and all of us are mourning him tonight and extend our sincere condolences to his loved ones."
Takada took over the fashion industry in 1970 with the debut of his eponymous brand. From the very beginning, the designer created bright, bold and vivid pieces that were not for the faint of heart. His creations weren't limited to clothes, either as Takada had previously launched his fragrance line, according to Women's Wear Daily.
Watch:
In Memoriam: Fallen Stars of 2020
In 1993, the Kenzo founder caught the eye of luxury conglomerate LVMH, and by 1999, Takada left his namesake label. Last January, the designer introduced K-3, a luxury homeware and lifestyle brand.
"Kenzo Takada was incredibly creative; with a stroke of genius, he imagined a new artistic and colorful story combining East and West—his native Japan and his life in Paris," Jonathan Bouchet Manheim, CEO of Takada's K-3 brand, said in a statement shared with E! News.
"I had the chance to work alongside him for many years, always in awe, admiring his curiosity and his open-mindedness. He seemed quiet and shy at first, but he was full of humor," the K-3 CEO continued. "He was generous and always knew how to look after the people close to his heart. He had a zest for life... Kenzo Takada was the epitome of the art of living."