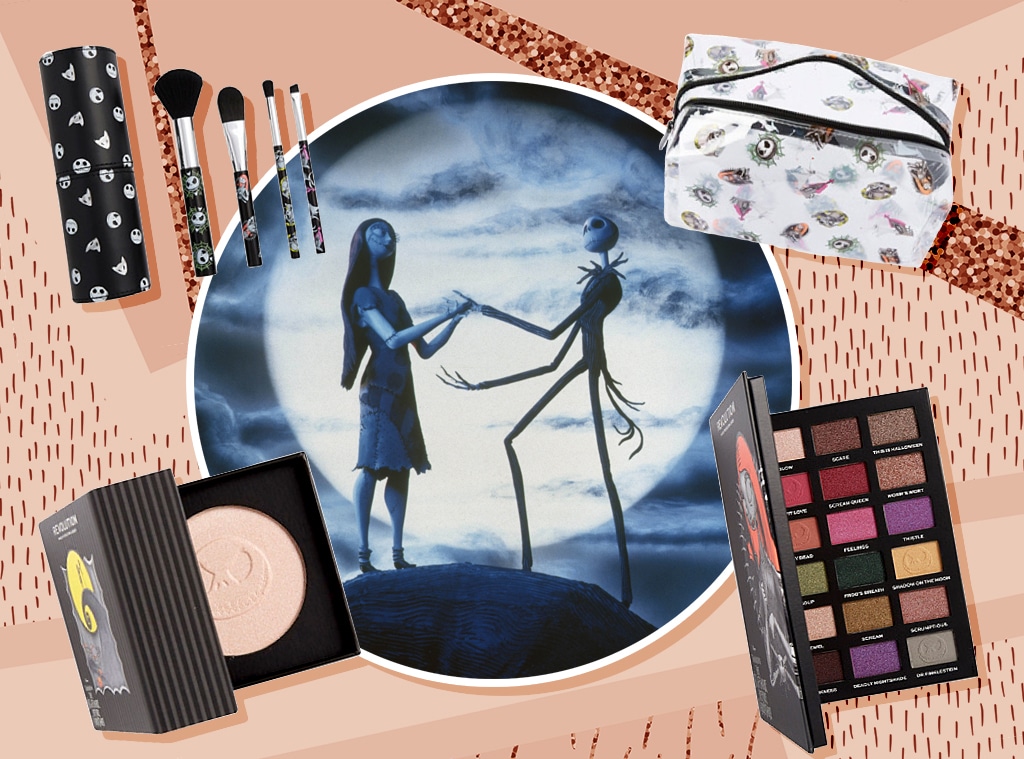 We love these products, and we hope you do too. E! has affiliate relationships, so we may get a small share of the revenue from your purchases. Items are sold by the retailer, not E!. 
A certain mayor with a megaphone just gave us the most fantastic news: Makeup Revolution just released a Nightmare Before Christmas makeup collection!
Say it once, say it twice, take a chance and roll the dice, 'cause this collection is frightfully good. Created in partnership with Disney, the collab features character-inspired lip glosses that double as toppers, mega-sized eyeshadow palettes so you can recreate your best Sally look, highlighters that will help you glow by the light of the moon, and more.
But you don't have to kidnap the Sandy Claws to get it. Just hit up Ulta to grab it before it sells out! Just in case Lock, Shock and Barrel tied you up, we've shared some of our faves from the collab below!
Revolution x Disney Nightmare Before Christmas Moonlight, Mischief & Madness Highlighter
When the glow of moonlight isn't enough, this highlighter is here to pick up the slack. It's a peachy pink highlighter that imparts a pearlescent hue, best made for cool undertones. And to remind you of who rules Halloween Town, the face of the Pumpkin King himself is embossed on the surface of the highlighter. Plus, it's vegan and cruelty free.
Revolution x Disney Nightmare Before Christmas Jack Palette
Revolution x Disney Nightmare Before Christmas Sally Palette
Sally is known for having terrible visions, but we're willing to bet this eyeshadow palette isn't one of them. It also features 36 matte and metallic shades, half in tones of oranges, pinks and browns, while the other side has neutrals, purples and pinks. And the formula is cruelty free. Just don't forget to sew your arm back on so you can apply it properly!
Revolution x Disney Nightmare Before Christmas Oogie Boogie Lip Gloss
Well, well, well... what have we here? A lip gloss inspired by Oogie Boogie? Ooh, we're really scared! This is just one of four shades inspired by characters from the movie, but it's our favorite, offering a metallic bronze gold that works solo or swiped atop another color for a multi-dimensional look. Just don't wind up on his Boogie List, unless you have the means to get out of town...
Revolution x Disney Nightmare Before Christmas Clear Cosmetic Bag
You can't exactly keep your makeup collection in a tomb, so why not use this clear cosmetic bag instead? It features images of Oogie Boogie, Jack and Sally, with a zip-shut top to keep everything safe until next Halloween... or at least, until the next time you decide you want to decorate your tearaway face.
Revolution x Disney Nightmare Before Christmas Brush Set