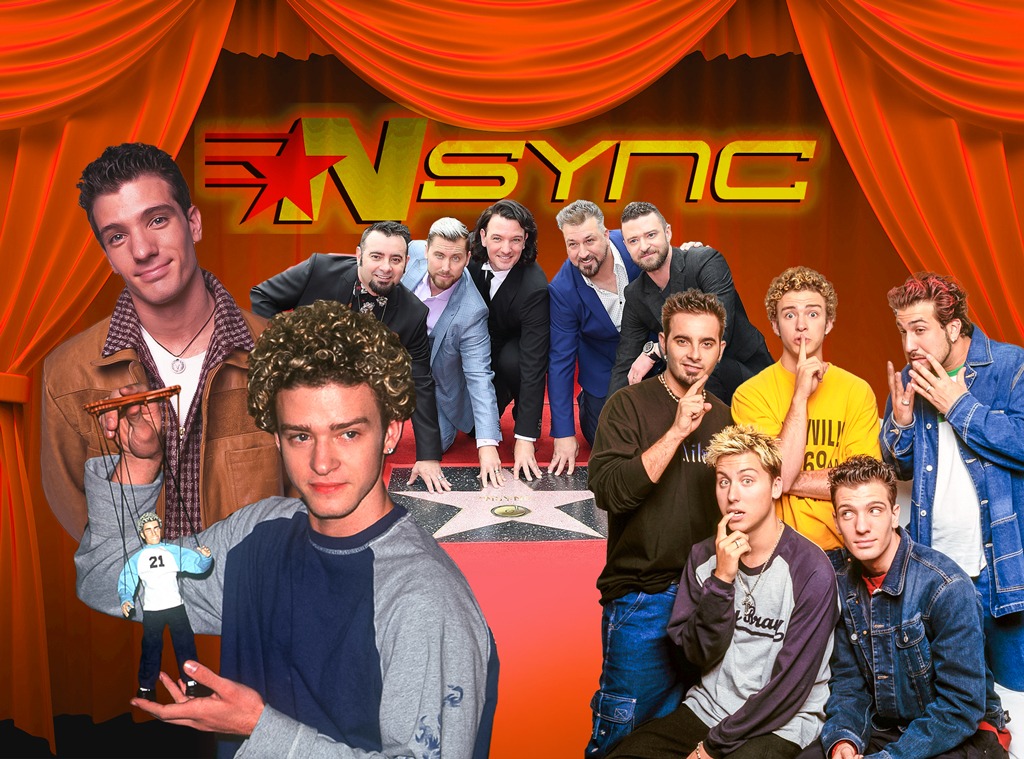 Getty Images; Melissa Herwitt/E! Illustration
It's been more than 25 years since Lance Bass met those four "jackasses"—and we don't mean Johnny Knoxville and Steve-O.
Rather, Oct. 1 is the day—back in 1995, when he was 16—that Bass met JC Chasez, Joey Fatone, Chris Kirkpatrick and Justin Timberlake in Orlando, Fla., and was accepted into their fledgling boy band right away. As 'N Sync, the five lads would embark on one hell of a ride that resulted in not only global fame, fortune, eight Grammy nominations and millions of records sold, but which also altered the course of pop music history forever.
And all in just a few short years—though, obviously, it feels as if 'N Sync has always been a part of the fabric of our lives.
"It changed my life," Bass told EW.com in 2015, recalling the fateful day he got the call from Timberlake (who got Bass' name from his voice coach). In 21 days he went from putting the finishing touches on the homecoming float at his Mississippi high school to performing at Disney World's Pleasure Island, 'N Sync's first real gig, on Oct. 22, 1995.
Not that global superstardom happened overnight.
"Every record exec out there turned us down," Bass recalled on ABC News' 20/20. "They were like, 'Nothing like this would ever work in America. This is way too cheesy.'"
So, he told EW, "We were a German band the first two years for our career and immediately in Germany we were an overnight sensation. It was crazy because we would have thousands of fans chasing us down the street and we'd be on the cover of every magazine, but we would come back home to America and no one knew who we were at all."
Watch:
'N Sync Receives Hollywood Walk of Fame Star
Eventually, he knew they'd made it when they performed on The Rosie O'Donnell Show, which was all the rage at the turn of the century. Never mind that 'N Sync had already performed at the Super Bowl by then, but... the heart wants what it wants. "I was obsessed with her show, it was my favorite show," Bass explained. "Finally, she invited us on and I was like, 'We've made it.'"
But you could drive yourself crazy thinking too much about what 'N Sync did and when, and how it all came about, so we've done the heavy lifting for you, no strings attached.
Just sit back and celebrate Chasez's birthday with these 25 facts about your favorite boy band:
"When our fans go off to college, I don't think they'll have our posters on the wall, but that's not to say they won't like our music," Chasez, apparently not having been in a college dorm room in quite some time (though that was probably a good thing), told Rolling Stone in 2000. "We'll be older, too, and talking about different things. Grunge was mad in six years ago, but Pearl Jam is still making and selling records."
He paused before adding, "You know, the good groups stick around, and the other stuff fades away."
'N Sync stopped making music together, but the image of them never went away, their six years in existence and three-year reign as princes of pop having left an indelible mark. 
Cue the excitement when four of them backed up Ariana Grande at Coachella in 2019 ("You guys killed it last night," the absent Timberlake wrote on Instagram), or check out the response to four members of the Seattle Seahawks—burly grown men—celebrated a touchdown last season by doing the "Bye Bye Bye" dance on the sideline.
And there was no time like mid-pandemic to find out that they were all having Zoom happy hours in quarantine—because perhaps it's simply easier for everyone to get together when no one is going anywhere.
Even Timberlake, generally the most reluctant of the bunch to rehash the old days, is starting to feel the siren's song of the chance to set the record straight.
"This isn't a click-bait conversation, this is two friends talking over a crazy experience that we had and I really appreciate it man," he told Bass during a May appearance on the latter's podcast, The Daily Popcast. "You've got to figure out a way to get all four of us in a room with you."
Um, yes, please. They know we want 'em back.
This story was originally published on Thursday, October 1, 2020 at 4 a.m. PT.