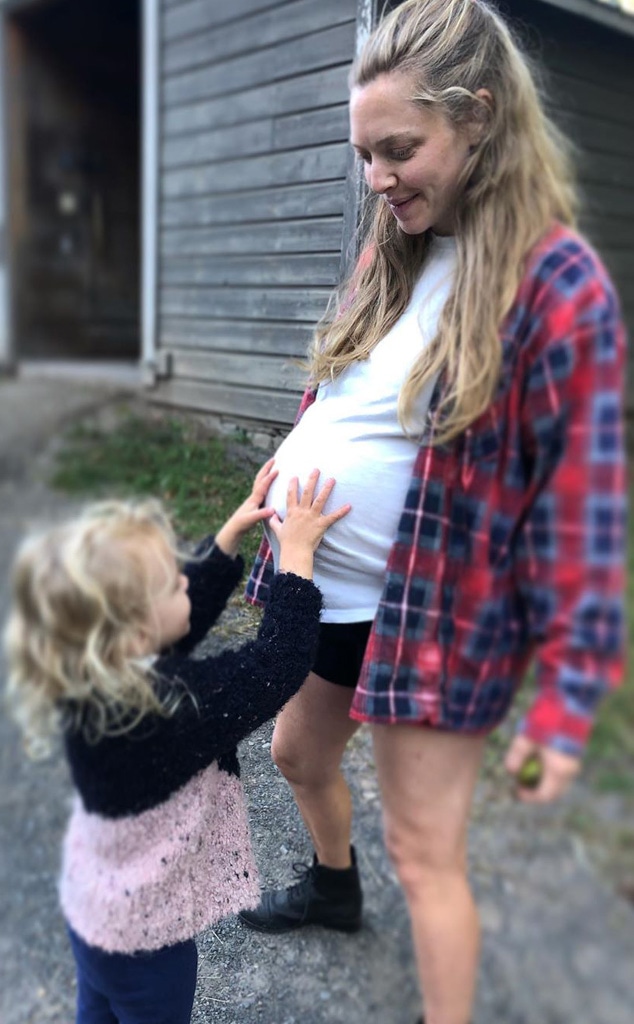 Amanda Seyfried/Instagram
A picture says a thousand words, indeed! 
Amanda Seyfried took to Instagram on Tuesday, Sept. 29 to share a never-before-seen pregnancy photo. "The Before," the Mamma Mia star captioned her candid image, which featured her and husband Thomas Sadoski's 3-year-old daughter Nina.
In the sweet snapshot, the actress was all smiles as her toddler held onto her growing baby bump. The timing of Amanda's family photo comes only one day after she and her husband confirmed they quietly welcomed their second child together, a baby boy.
"We are so happy to join with @warchildusa to be the first to announce that our board members @mingey and @thomas_sadoski welcomed their second child into this world," INARA shared on Instagram on Monday, Sept. 28.
In the post, the couple also announced the exciting news in a joint statement.
"Since the birth of our daughter 3 years ago, our commitment to the innocent children that are so brutally affected by conflict and war has been a driving force in our lives," the pair expressed. "With the birth of our son, the work of INARA and War Child has become our North Star."
At this time, the couple is keeping the details of their newborn to themselves. They have yet to publicly share their little one's name or the exact date he was born. 
Watch:
Amanda Seyfried Gushes Over Life as a New Mom
In fact, the pair kept the pregnancy under wraps. Earlier this year, Amanda opened up about how she was navigating life in quarantine amid the coronavirus pandemic. During that interview, she didn't give away any hints that her family was expanding.
"My mom lives with us—she's our nanny," the actress shared in a virtual chat on Molner's Table in August. "My life is awesome because she is the third parent for us. I am so lucky—I know I am."
Amanda added that she and Thomas's marriage has felt "stronger than ever," and it's easy to see why.