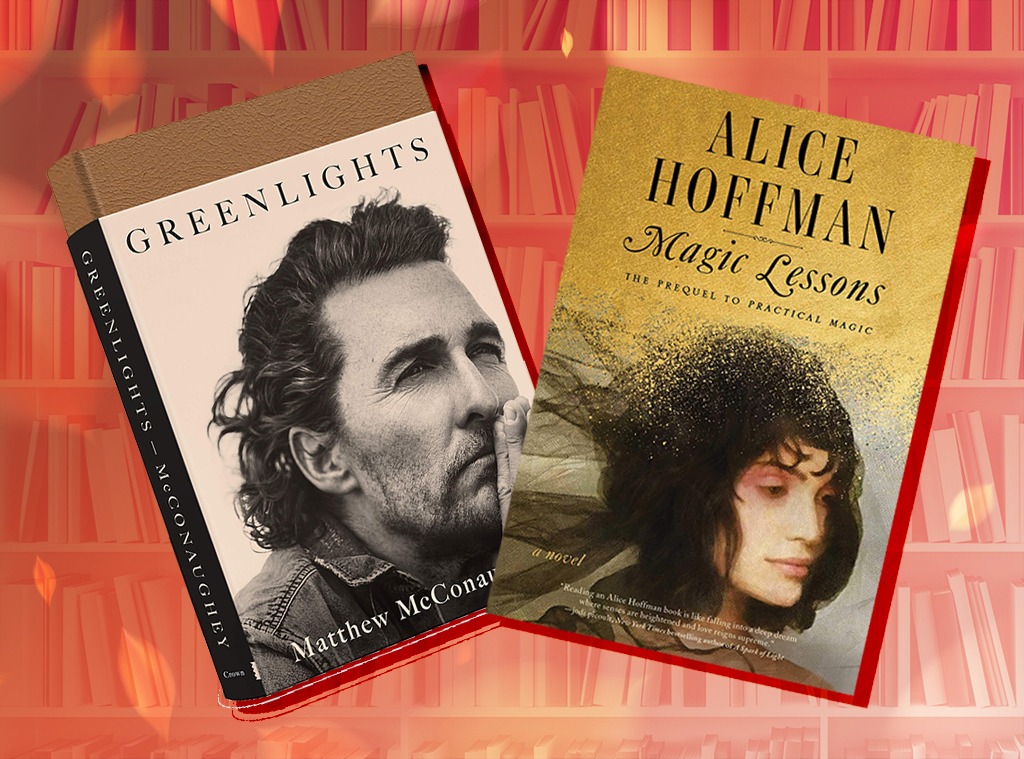 We love these products, and we hope you do too. E! has affiliate relationships, so we may get a small share of the revenue from your purchases. Items are sold by the retailer, not E!
Ready to put the "boo" in books?
As we turn the page on our calendars to October, it's also time to refresh our reading lists. And E! is here to help, providing a monthly rundown of the new releases that you should check out. From celebrity memoirs—Did you ever think you'd be getting intimate with both Matthew McConaughey and Lenny Kravitz?—to the buzzworthy novel that's already slated to become the next big TV show, we've got you covered, no matter what you're into. 
And if you're ready for some Halloween fun, we've included the highly anticipated prequel to Practical Magic and another story about some bad heroines brewing up some trouble. Plus, if you're feeling like stirring up some magic of your own, we also have just the cookbook to satisfy your cravings. 
So grab a PSL, wrap yourself up in your coziest blanket and get lost in one of our 21 book picks for October...
Leave the World Behind: A Novel by Rumann Alam
October kicks off on a literary high note with the Rich and Pretty's third release, which has already been longlisted for the 2020 National Book Award in Fiction and attracted no less than Julia Roberts and Denzel Washington to star in the Netflix's adaptation. Like we said: high note. The premise is simple—two families who don't know each other are forced to live together for a weekend on Long Island after an alleged blackout in the city—but the prose is provocative and powerful. (October 6)
Modern Comfort by Ina Garten
What's that sound? Oh, it was just the shelf containing your cookbooks already making room to add the Barefoot Contessa's cozy new release to the mix. These 85 recipes—including a cheddar and chutney grilled cheese sandwich and a banana rum trifle—are sure to satisfy your soul. And if you want to make yourself a Garten-size cocktail while reading it over, we won't judge you. (October 6)
Troubles in Paradise by Elin Hilderbrand
So you thought Hilderbrand was just the queen of beach reads? Silly, silly reader. The Nantucket-loving writer is taking one last tropical vacation, bringing fans to the Caribbean for a final outing in her Winter in Paradise trilogy. SPF is not optional. (October 6)
The Searcher by Tana French
You can call off your search for the next thriller that will keep you up late reading because you just have to know what happens. One of the top modern mystery writers is back in action with the story of a damaged and divorced former Chicago police detective who heads to a remote Irish enclave to start over. But he finds himself engrossed in the small town's secrets after a young local convinces him to look into his older brother's disappearance.(October 6)
Good Mourning by Teresa Caputo
Hold on, we're having a vision. We see you, maybe over a cup of cawfee, getting lost in the Long Island Medium star's latest book about recovering from daily losses and how to use the Spirit to handle the grief you may not even realize you're holding on to. (October 6)
Fire Cannot Kill a Dragon: Game of Thrones and the Official Untold Story of the Epic Series by James Hibberd
After spending a decade religiously covering the HBO fantasy hit series, the Entertainment Weekly writer delivers all of the behind-the-scenes secrets of Westeros in a must-read for fans. With over 50 interviews to offer new insights and never-before-seen photos from the secretive set, Hibberd might just become King in the North (Pole) this holiday—if that, to put it politely, polarizing final season didn't completely turn people off. (October 6)
In a Holidaze by Christina Lauren
Get ready for the rom-com of the holiday season as leading lady Maelyn Jones—having acquired the triple-threat no one wants: living at home with a job she hates and a love life she just f—cked up royally—gets stuck in a time loop at the snowy Utah cabin she's spent every Christmas at with her family since she was born. Think Groundhog's Day but with two dreamy brothers and mistletoe magic. (October 6)
Magic Lessons: The Prequel to Practical Magic by Alice Hoffman
It's the season of the witch and we're celebrating by diving into this spellbinding prequel that delivers the origin story of that centuries-old curse. Yes, we're going back to the start of the family bloodline in 1600s Salem, introducing readers to Maria, the first Owens witch to learn the most important lesson of all: Always love someone who will love you back. (October 6)
The Invisible Girl by Lisa Jewell
Ah, there's nothing quite like the satisfaction of starting a Jewell novel, always knowing you won't be disappointed by the thrills awaiting you. The latest from the Then She Was Gone author centers on three strangers whose lives unexpectedly but irrevocably intersect in the wake of a girl's disappearance. In classic Jewell fashion, it's unputdownable. (October 13)
The Butterfly Effect: How Kendrick Lamar Ignited the Soul of Black America by Marcus J. Moore
The esteemed music critic delivers the first cultural biography of the 13-time Grammy winning rapper, who, in 2018, became the first non-classical or jazz musician to win the Pulitizer Prize for music. Did we mention he is only 33? But Moore dives deeper than just the accolades in this book, providing insight into how the elusive Lamar became a beacon of change and ignited political conversations through his music. (October 13)
Plain Bad Heroines by Emily M. Danforth
There's just something about reading a novel set at a cursed New England boarding school for girls in October that just feels right, you know? The Education of Cameron Post author transitions from YA to adult fiction in this gothic-comedy that follows the making of a horror film about the founding of the Plain Bad Heroine Society at Brookhants School For Girls in 1909 and the tragedy that followed. One part wicked, one part whimsical and completely engrossing, we're calling for a limited series ASAP—just crossing our fingers it doesn't end up haunted. (October 20)
The Silence by Don DeLillo
It's Super Bowl Sunday in 2020. Five people are having dinner at an apartment in Manhattan. A catastrophic event happens, effectively severing their digital connections. But who are they without them? Ironically, the award-winning author finished The Silence just weeks before the emergence of COVID-19, but the deeply human story would've packed just as much of a punch even without the somewhat relatable hook. (October 20)
Accidentally Wes Anderson by Wally Koval
We've all wanted to visit at least one of the locations featured in the famed filmmaker's visually pleasing movies. And now you can, thanks to this tome inspired by the signature Anderson aesthetic. Koval, who runs the popular @accidentallywesanderson Instagram account, assembled a travel list of over 200 pop-pastel places and the unique stories behind them in this book authorized by the Moonrise Kingdom director himself. Get ready for a visual feast that will fully ignite your wanderlust. (October 20)
Greenlights by Matthew McConaughey
Alright, alright, alright, leave it to the Oscar winner to deliver one of the most unusual and unconventional memoirs we've gotten our hands on in some time. The 50-year-old star is opening up his diaries, which he's written in for the last 35 years, to share the lessons he's learned and how he's just kept livin' despite any yellow or red lights he's hit along the way. (October 20)
Hallmark Channel Countdown to Christmas: Have a Very Merry Movie Holiday by Caroline McKenzie
While it may seem too early to kick off the holiday season, the network's annual Countdown to Christmas programming actually begins on Friday, Oct. 23, so this keepsake is coming out right on time. Behind-the-scenes stories about some of the most popular Christmas movies, interviews with their go-to leads (Lacey Chabert, Cameron Mathison and Danica McKellar, oh my!), seasonal recipes and a heartfelt forward from the queen of Christmas herself, Candace Cameron Bure, this might just be the perfect gift to snag for the Hallmark Channel lover in your life. We all know one. (October 20) 
Where the Wild Ladies Are by Aoko Matsuda
It may by the spookiest month of the year but this isn't your usual collection of ghost stories. Translated by Polly Barton, Where the Wild Ladies Are is a modern retelling of traditional Japanese folktales. Matsuda provides a feminist twist to the surreal short stories, adding her unique brand of wit, weirdness and wonder. (October 20)
The Cold Millions by Jess Walter
The bestselling author is trading a love affair on the Italian coast in the 1960s for the complicated dynamic between two orphaned brothers in Spokane, Washington in 1909. Walters' highly anticipated sophomore outing—after his wildly popular Beautiful Ruins in 2012—is his most ambitious yet,  shining a light on a less documented era of American history: the early labor movement. The novel also includes a memorable array of fictional characters and real-life figures, most notably Elizabeth Gurley Flynn, a 19-year-old union organizer who came to be known as the Rebel Girl. (October 27)
Love Your Life by Sophie Kinsella
What happens when you swear off dating apps for good and head off to an anonymous writer's retreat in coastal Italy? You find love, of course. The Confessions of a Shopaholic author does what she does best in Love Your Life, delivering an irresistible romantic comedy about what happens you try to make your too-good-to-be true vacation love work IRL. (October 27)
Memorial by Bryan Washington
Family is complicated—especially when your live-in boyfriend has to fly across the world to say goodbye to his dying father just as his acerbic mother arrives for a visit. That's the unusual situation Benson finds himself when he ends up in 2020's version of The Odd Couple with his partner Mike's Japanese mom, Mitsuko. But all three will be forever changed by the experience in this hopeful novel. (October 27)