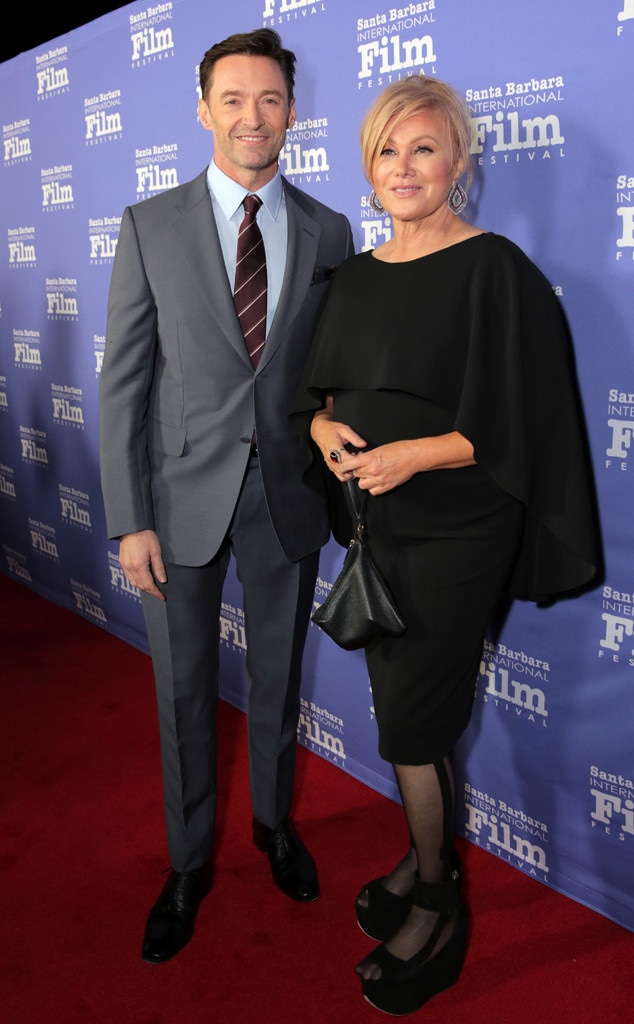 Rebecca Sapp/Getty Images for Santa Barbara International Film Festival
Hugh Jackman's wife, Deborra-Lee Furness, is calling out the tabloids.
During the Sept. 29 episode of Anh's Brush With Fame, the 64-year-old actress addressed rumors about her husband's sexuality, suggesting she doesn't pay attention to the "mean-spirited" tabloid reports and noting "it's all made up."
"He's been gay so many years," she said with a laugh in a video shared by The Daily Mail. "I was gay, too. You know when I did Shame? I was gay. They were shocked when I got married."
When asked if the speculation was annoying, Furness replied, "It's just wrong. It's like someone saying to Elton John, 'He's straight.' I'm sure he'd be pissed."
Furness and Jackman met on the set of the Australian TV show Correlli in 1995. According to Furness, the two had an "instant connection." In fact, she said Jackman knew she was the one after just two weeks.
"We just had this amazing connection," she said. "And I feel blessed that I experienced, that I feel like I met my soulmate, whatever that is."
By 1996, they were married, with Furness calling their vows the best wedding she'd ever been to. And, their romance has only gotten better.
"When you find a partner in crime that you share and you grow together—and life is tough as we know it, it's not all good—and when you have someone there that is so supportive…you can really stand buck naked. You have to," she said. "When you've got kids and life and whatever, you stand there buck naked, authentic, warts and all, this is who it is, and you're loved, there's nothing better."
However, she admitted she gets tired of people saying she's "lucky" to be with the 51-year-old actor. "Lucky? Like I won a chook raffle." she said. "People don't realize that it's actually rude to say that. But yeah...[that's]because he's the stud muffin. But that's show biz and Hollywood and the brand of Hugh Jackman."
Watch:
Why Hugh Jackman Loves Doing Good for Others
Even after Jackman was named People's "Sexiest Man Alive" in 2008, Furness didn't let this get to his head and told her husband to continue doing his chores. As she put it, "Hey, Sexy, your turn for the garbage."
Watch the video here to see other parts of the interview, including the portion where she explained why she initially advised Jackman to turn down the part of Wolverine. As she put it, "That's the only time in our relationship I've ever been wrong, OK?"