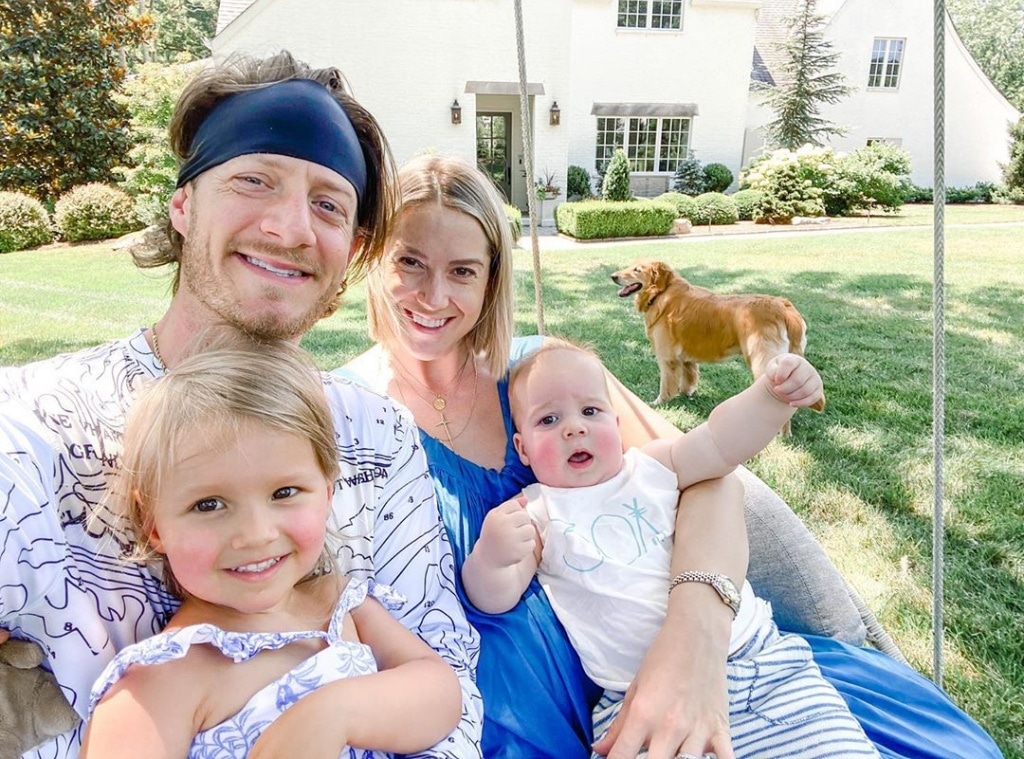 Instagram
Tyler Hubbard and his family are counting even more "blessings."
E! News confirms the Florida Georgia Line member and his wife Hayley Hubbard welcomed a baby boy, Atlas Roy Hubbard, into the world on Thursday, Sept. 24. The couple's third child joins Olivia "Liv" Rose, 2, and Luca, 1. 
"Atlas stands for strength. For us, this name also represents our family's passion for travel and experiencing different cultures," the couple told People.
Tyler explained further, "Roy was the name of my dad, who passed away when I was 20. Getting to name our son after him is so special to us. Atlas will carry on my dad's legacy and will always be a reminder of how well he loved everyone."
The happy announcement comes after Hayley documented much of her pregnancy journey through the coronavirus pandemic on Instagram.
In addition to safely working out with celebrity trainer Erin Oprea, the proud mom was able to create plenty of family memories in quarantine. And yes, Hayley also got creative with date night thanks to a few assists from Tyler.
"The other night we got out our fold out camping 'couch' & Tyler's guitar and pulled over on the side of the road for a little date night and then ordered take out," Hayley previously shared on Instagram from Colorado. "It'll be one of my most memorable nights for sure."
And while a pandemic made this pregnancy a bit different, Hayley continued to look at the positive as she prepared to expand her family.
Watch:
Florida Georgia Line Reveals What Makes Them Country
"This pregnancy has flown by but is also feeling like eternity with all of the quarantine and no travel," she shared back in July. "Missing friends and travel and going out to restaurants but SO loving our family time together! We're learning to love our new normal (and are very eager for the day we can get back to normal)!"
As for Tyler, he's continued to work on music including Florida Georgia Line's most recent EP 6-Pack and Chris Tomlin's latest album.
But ever since announcing his wife's pregnancy in March, the country music superstar has been his wife's biggest cheerleader.
"One thing I've learned over the last few years is that God doesn't let men have babies because I doubt we could actually endure all the physical and mental challenges that come along with it," Tyler previously shared on Instagram. "I'm so amazed as I watch my hero @hayley_hubbard take on 3 pregnancies in less than 4 years as she continues to take on motherhood with such grace. I don't know she does it but I'm thankful to have her as a teammate."
As for having more kids after baby No. 3, never say never. As of now, however, a party of five is perfect.
"In a weird way, I think we're looking forward to the challenge," Tyler previously told People. "The whole experience of having a child is like none other. It's a rush of emotion and love that can hardly be explained. We're looking forward to experiencing that again and then just knowing we're going to be finished. This is our family, and let's grow together."