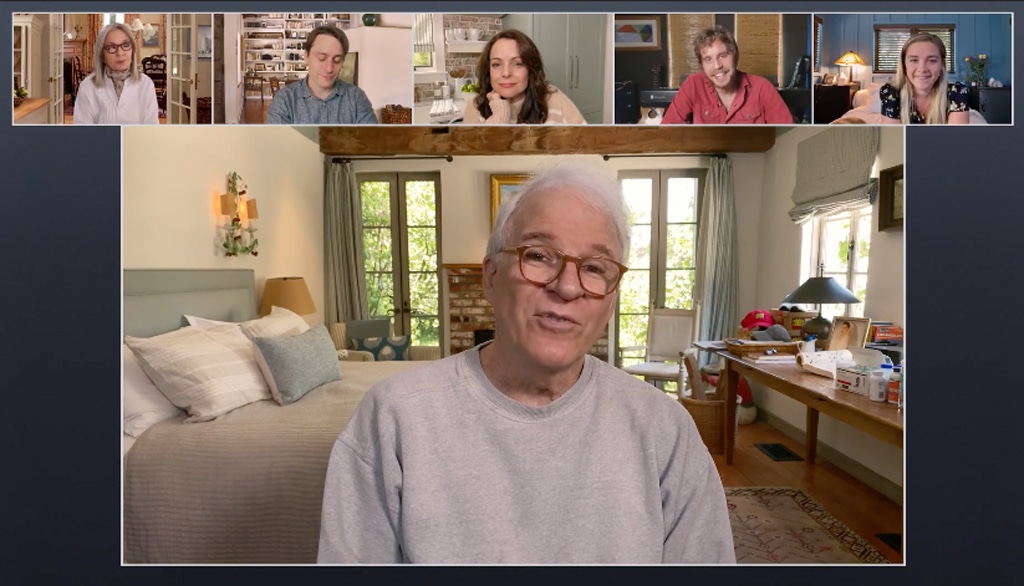 Netflix
In the words of Franck, every party has a pooper and that's why we've invited you!
On Friday, Sept. 25, Steve Martin, Diane Keaton, Kieran Culkin, Kimberly Williams-Paisley and more Father of the Bride stars virtually reunited to film the Father of the Bride Part 3 (ish). 
Reese Witherspoon introduced the emotional Nancy Meyers film and her somewhat sequel before Diane, Kieran and Kimberly, a.k.a. the Banks family jumped on a Zoom conference call. Plus, Florence Pugh was introduced as baby Maggie all grown up, with Ben Platt playing Annie's son Georgie.
As per usual, George Banks is the obsessive father running around trying to ensure nobody contracted COVID-19.
What else has happened since we last caught up with Banks? Well, Matty reveals that he's met a girl online and he's ready to pop the question and get married all on the same day!
This is happy news for everyone but George, who is upset that Rachel (a.k.a. the bride's family) won't be footing the bill for the ceremony as George did 30 years ago. 
Once George is reminded not to spoil this moment as he nearly did all those decades ago, the bride joins the Zoom call. "This is joyful, George," Nina scolds him.
And in typical Nancy Meyers fashion, Matty goes into a long and emotional speech asking for her to say yes. 
"Rachel, I don't want to not be married to you for one more day. And I don't know how or when we are ever having that wedding in Tuscany. And lately I don't think any of that actually matters, it's just us that matters. It's you and me being together forever," he tells her. " I knew almost immediately after meeting you that we would get married. I didn't necessarily think it would be on a Zoom during a pandemic but I knew that we were the ones that were supposed to meet and find our ways to this moment. So I was thinking, everyone's here, let's seize that moment. What do you say we get married right here, right now?"
But before Rachel can say yes, she admits that she wishes her father could be there for the big moment. Fear not, for Matty has it all figured out and her dad (Robert De Niro) is already on Zoom waiting for his chance to give his blessing and surprise her with her mother's wedding ring.
With everyone present for the big moment, they ask a special guest to join and officiate the wedding... and it's none other than Franck (Martin Short) the party planner zooming in from an idyllic Tuscan setting.
After the ceremony, George Jr. brought even more nostalgia while playing "The Way You Look Tonight," which fans will remember was the same song that George and Nina danced to at the end of Father of the Bride part one. 
Watch:
Steve Martin Is Ready for a Roast at AFI Tribute
It's been over 25 years since the Nancy Meyers sequel was released and there is no better time than now for all the cast to reunite, albeit virtually. 
Part three (ish) of the beloved franchise was coordinated by Meyers, the cast and Netflix to raise proceeds for the World Central Kitchen, which is working to provide meals for kids and families impacted by the coronavirus pandemic. 
To see the reunion and catch up with the Banks family, check out the video above!