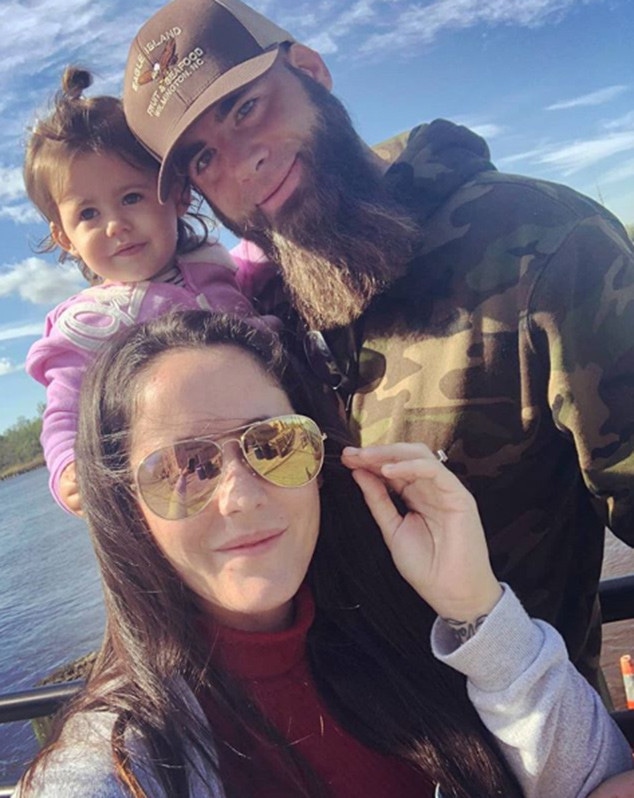 Instagram
Jenelle Evans appears to be back on track with David Eason.
On Sept. 25, the Teen Mom 2 alum shared several throwback photos on Instagram of her wedding day. And, at the same time, the reality star set the record straight on where she stands with her man.
"This day was perfect," Jenelle shared on social media. "From start to finish, everyone was having a great time! I'm so happy we decided to work through the hard times for our family. Through thick and thin, you're my best friend. I don't want it any other way. @easondavid88."
And for those who wanted even more proof that these two are together, Jenelle reiterated her love for David earlier in the week when marking their anniversary.
"No one will ever understand our relationship, but that's ok," she explained online. "I don't expect them to. Here's to 3 years married #happyanniversary @easondavid88."
It's no secret that Jenelle and David have had their ups and downs including a temporary restraining order. But the parents to 3-year-old daughter Ensley appear to be moving forward together despite skepticism and even criticism from followers.
Watch:
Exclusive: Jenelle Evans Talks Jace & Mom
"The wedding that was built on problems and fights," one user wrote in the comments section of Jenelle's latest post. "Classic love story…NOT."
The former MTV star replied, "Have you ever seen Bridezillas? Of course I was stressed out and going crazy trying to make our big day perfect. That's bound to happen, get over it."
And when one follower went on to accuse Jenelle of not knowing "what true love is," she replied, "Girl…you believe everything on the media and that's sad! Watching an edited version of my life isn't 100% accurate."
Back in March, Jenelle participated in a Q&A with fans and was asked why she became open to the idea of reconciling with David, who she split from in October 2019. As it turns out, the Read Between the Lines author made the first move. 
"While I was in Tennessee, I'm not gonna lie, I contacted David first and I told him, I said, 'I'm sorry,' and he contacted me back and he said, 'For what?' and I said, 'I think we just ended things abruptly and I think we need to try to work things out for our family and our marriage,'" she recalled. "And he said, 'okay.' So once we started talking again, you know he did come visit two or three times and when he did, before I moved back to North Carolina, I told him, I said, 'Things have got to change. We cannot be so unhappy. We have to start communicating with each other about our problems and we have to sort it out and we can't let the same thing keep happening or the same topic for an argument keep occurring.'" 
Jenelle continued, "I distanced myself for a little bit and I realized that's not what I wanted and I needed to work out my marriage. And I didn't want another failed marriage and I just wanted the kids to be happy."