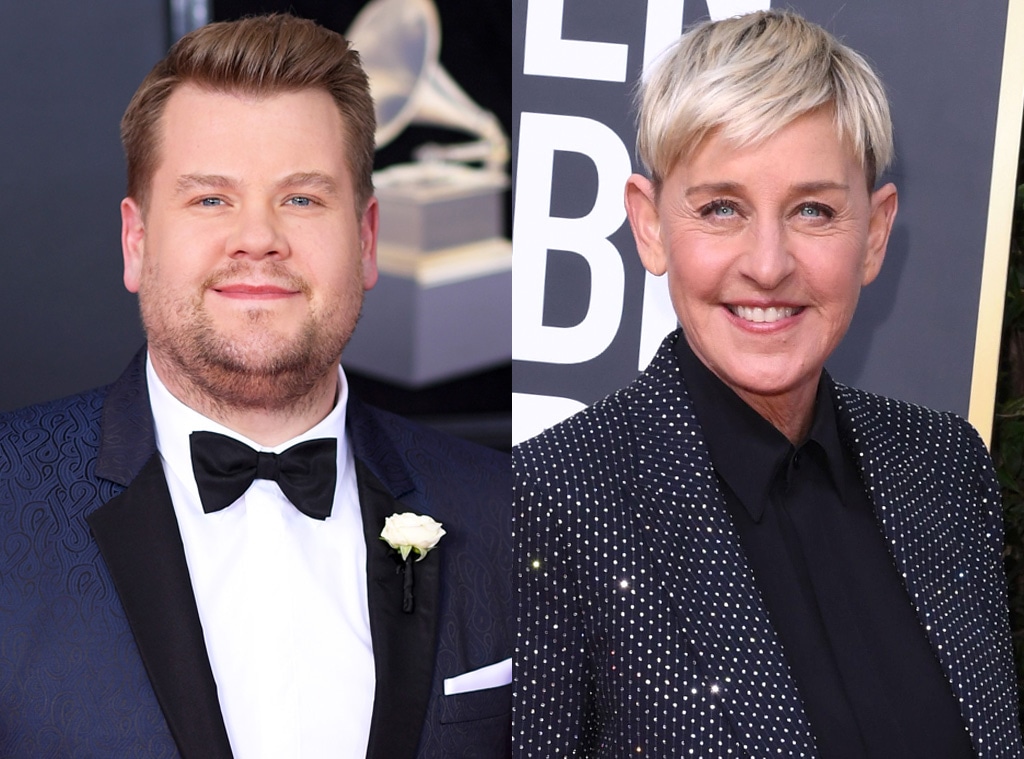 Dimitrios Kambouris/Getty Images for NARAS, Shutterstock
James Corden is speaking out about those Ellen DeGeneres replacement rumors.
After reports surfaced this summer that the late-night host, 42, would be replacing the talk show star, 62, Corden addressed the claims for the first time during the latest episode of The Late Late Show with Alicia Keys.
"Genuinely, I have no idea where that even came from," he admitted. "I think somebody started a rumor somewhere and someone jumped on the thing. There is absolutely no truth in that story at all. Zero. As far as considering it, I think it would be a really crazy thing to take over from someone who I think has done the job so outrageously well for, like, 18 years. It's not true. And I think when the day comes to end this show, [it] will be the day to probably stop hosting a show every day. So, no I wouldn't."
Earlier this week, DeGeneres returned to hosting her show following a summer break, which was plagued by scandal. During the season 18 premiere, she addressed allegations of a "toxic" work environment, which were first published in a BuzzFeed News report in July, and apologized "to the people who were affected." 
"We have made the necessary changes," she said, which included firing three producers, "and today we are starting a new chapter."
The topic of DeGeneres came up during a game of "Spill Your Guts or Fill Your Guts." However, she wasn't the only celebrity Keys and Corden discussed during the game. The 39-year-old singer also asked the Carpool Karaoke star to rank previous Grammy hosts: Corden, Keys or LL Cool J. As fans are well aware, if a player in the game doesn't answer a question, then they have to eat an unsavory item. Turns out, Corden was more willing to fill his guts than spill his guts this time around, and he downed a glass of hot dog juice. He also ate pork tongue and blood jelly to avoid revealing whether Harry Styles or BTS's Jimin was his favorite friend.
As for Keys, she answered almost every question. She even ranked the singing voices of her former The Voice coaches, noting one of them didn't have her phone number.
"I'll just put him last," she said. "Gwen Stefani is best, Adam Levine is second and Blake Shelton is the worst."
Watch the video to see them play the game.