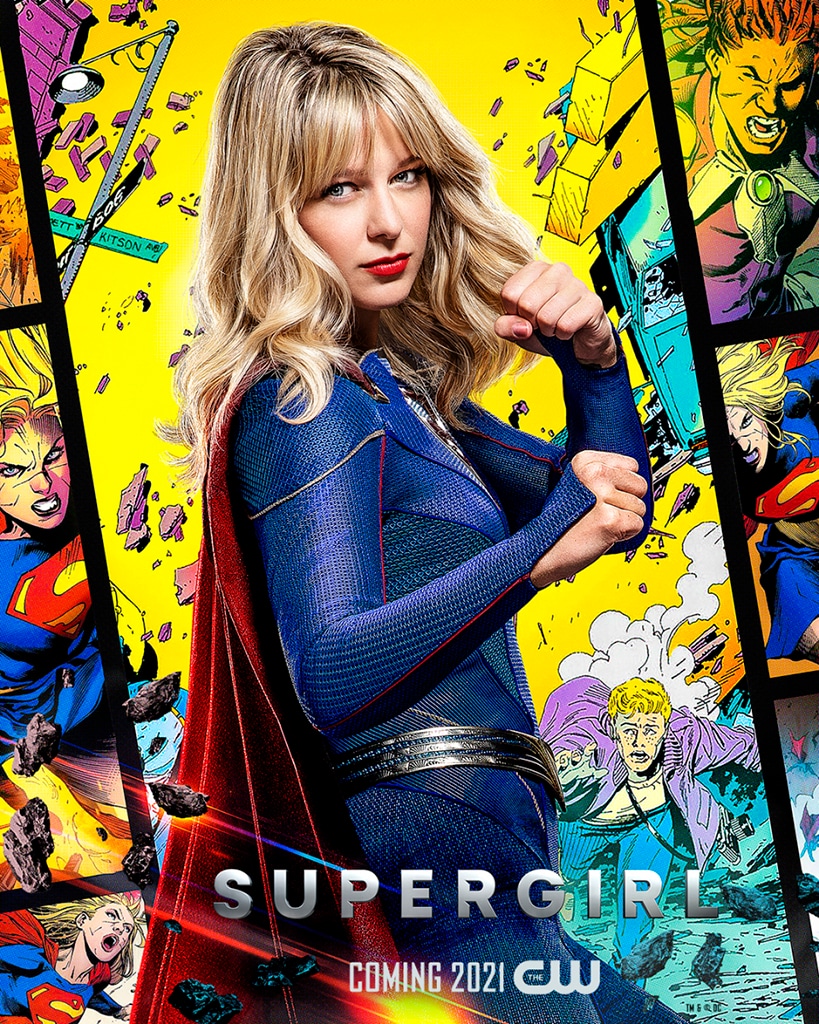 The CW
Another Arrowverse show is saying goodbye. 
Supergirl will end after its upcoming sixth season, the CW, Warner Bros. TV and Berlanti Productions announced on Tuesday. Production will begin later this month and scripts are currently being worked on for the final 20 episodes, which will debut later in 2021. 
The series, which began on CBS in 2015 before moving to The CW for season two, will join the rest of the CW's usual fall lineup in debuting next year. It had already been set for midseason—a move which likely had at least something to do with Supergirl herself Melissa Benoist expecting a baby with husband and occasional costar Chris Wood. 
Supergirl did not get to finish out season five as intended due to the coronavirus pandemic, but they managed a finale that was pretty finale-ish anyway. Kara and her team—including Lena (Katie McGrath), finally—faced off against Leviathan and saved billions from a virtual reality death while Alex (Chyler Leigh) debuted her new vigilante look. 
The end of Supergirl comes unexpectedly soon after the end of Arrow, which took a bow in January 2020 after eight seasons. It feels a little too soon to say goodbye to another superhero if you ask us, but at least we've got 20 episodes and many months to prepare ourselves for this goodbye. 
Plus, Superman & Lois is soon coming to The CW, and that means there's plenty of opportunity for Kara to occasionally visit her cousin on that show. Tyler Hoechlin and Bitsie Tulloch made their debuts as Clark/Superman and Lois Lane in the world of Supergirl, and now they get to continue the legacy on their own series. 
The other good news is that the latest CW crossover Crisis on Infinite Earths put all of the Arrowverse shows in the same universe, meaning any Supergirl character could reasonably appear on any other Arrowverse show! (We're just trying to make ourselves feel better about this goodbye over here.) 
Watch:
Classic TV Reboots We're Totally Hyped About
The Flash, Batwoman and Superman & Lois are all scheduled to premiere new seasons on The CW in January. Supergirl also stars Nicole Maines, David Harewood, Jesse Rath, Jon Cryer and Staz Nair. 
Benoist posted on Instagram after the news broke, promising to "make it one helluva final season." 
"To say it has been an honor portraying this iconic character would be a massive understatement," she wrote. "Seeing the incredible impact the show has had on young girls around the world has always left me humbled and speechless. She's had that impact on me, too. She's taught me strength I didn't know I had, to find hope in the darkest of places, and that we are stronger when we're united. What she stands for pushes all of us to be better. She has changed my life for the better, and I'm forever grateful."