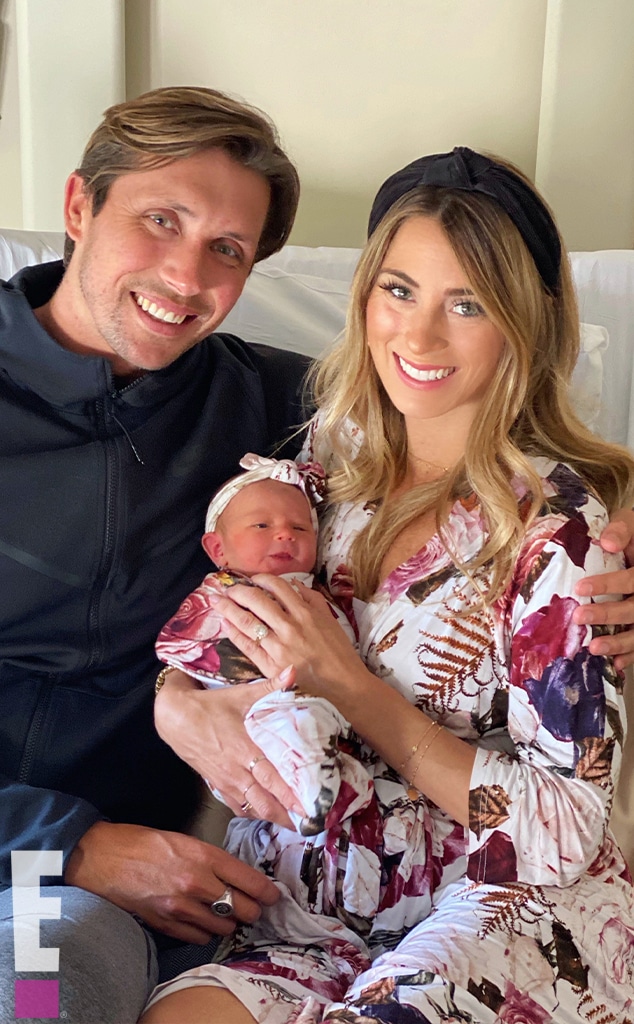 Tenley Molzahn
Bachelor Nation just got a little bigger!
E! News can exclusively reveal that Tenley Molzahn has given birth to her first child. The Bachelor alum welcomed a baby girl with husband Taylor Leopold on Sunday, Sept. 20 at 4:08 a.m. 
Tenley and Taylor named their daughter Rell Jaymes Leopold. Baby Rell weighed 6 pounds, 14 ounces at birth and was 20 and a quarter inches long. 
The meaning behind Rell's moniker? The couple tells E! News, "We were inspired with the unique name, Rell, by a beloved legendary female Hawaiian surfer, Rell Sunn. She was known as a joyful light to her community, and we have been praying for this for our girl since the day we found out we were expecting her."
She's also named after both of her grandfathers: Jay and Robert James. 
Tenley may have hinted that the little one was about to arrive in an Instagram post on Saturday, Sept. 19.  "Let's bring some magic into this world, babe!" she wrote alongside a photo of herself baring her baby bump and holding hands with her husband.
Of course, this should come as no surprise to her fans. After all, the couple has kept followers updated on the pregnancy ever since they first shared the news in March.
"We can't hold this magical little secret in anymore!!" Tenley wrote on Instagram at the time. "Baby Leopold will be joining us in September! We've already been having a ton of fun with our little sidekick joining us on memorable worldwide adventures, and now keeping us hopeful in 'Quarantine life.' We pray that this special bit of news brings a little bit of joy & hope during a time of chaos and uncertainty our world is facing right now. And to any longing, & hopeful hearts, our hearts are with you, and prayers are for you. God's plans are always greater than we can ever imagine! Ephesians 3:20."
Rell's debut came about two and a half years after Tenley and Taylor tied the knot. As fans will recall, the duo said "I do" just a few months after Taylor popped the question.
Watch:
Chris Harrison Explains How They Pick "The Bachelor" & "Bachelorette"
Fans had previously watched Tenley's journey to find love unfold on The Bachelor. The reality star first appeared on Jake Pavelka's season, which aired in 2010. While she ended up in the final two, the pilot ultimately decided to give his final rose to Vienna Girardi. They broke up just a few months later. 
Tenley then went on to appear on the first season of Bachelor Pad, which debuted in 2010. There, she formed a connection with Kiptyn Locke. However, they called it quits for good in 2014. She then starred on season two of Bachelor in Paradise in 2015.