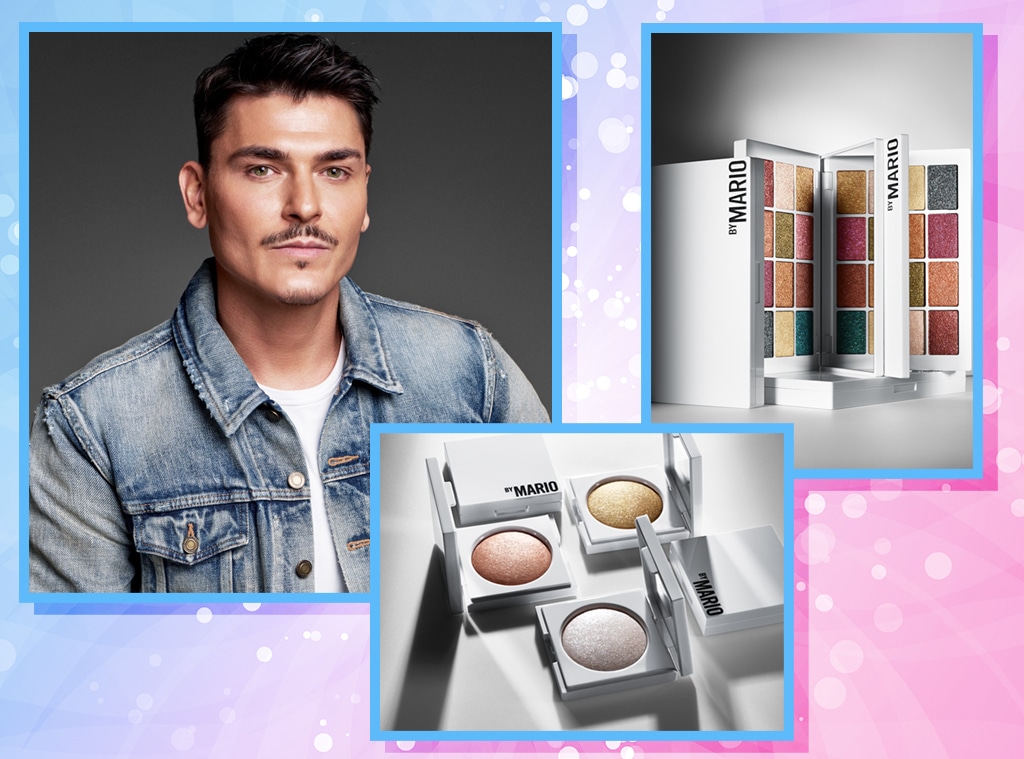 Jason Kim
We love these products, and we hope you do too. E! has affiliate relationships, so we may get a small share of the revenue from your purchases. Items are sold by the retailer, not E!.
Kim Kardashian's makeup artist, Mario Dedivanovic, has become a household name for his iconic contour, glamourous eye looks and more. Now, he's ready to take on his next role: beauty mogul.
With the launch of his brand, Makeup by Mario, the 36-year-old tells E! News it "feels surreal, incredibly rewarding and like a dream come true."
"I've been working on this every day for years," he notes. "And all the products and elements are so personal to me."
Mario's latest endeavor is, in a way, all thanks to Kim. After all, their bond is something he holds near and dear to his heart. "Her support throughout the last decade of my career has been immeasurable and really life-changing for me," he raves. "I strongly believe that had she not been apart of my life, I would not be where I am today."
"It's hard to describe in words, but I hold a very high regard for her that is unmatched," he adds. "I will feel forever indebted to her."
And yes, Kim has already gotten her hands on his new products. Says Mario, "I wanted, ultimately, to make her proud."
Unlike many first-time releases, in which a cosmetics company like Fenty Beauty and Rare Beauty will typically release complexion products for its initial launch, Mario approached things differently. For his debut, it's all about the eyes.
"As an artist, I always like to start looks with the eyes," he explains, "because I like to shape the eyes first and frame the face. For me, it was a natural instinct to shape the collection in the same order I approach applying makeup to the face."
Watch:
How to Get Mario Dedivanovic's Signature Makeup Look
Luckily, E! News received the products ahead of Makeup by Mario's release—and we have the honest details about which products are worth every penny and which ones you might want to think twice about buying.
Read our review below!
The Master Metallics Palette
With dazzling jewel-toned shades of blue, green, pink and gold, the Master Metallics Palette is all about the wow factor. The shimmer shadows glide onto the lids seamlessly and offer intense pigment with one swipe. And unlike some shimmer shadows, these don't feel like you're rubbing sandpaper all over. To get the best color payoff, your fingers are the best tools.
The downside? The color fades after three to four hours of wear and, in some areas, the shadow is completely gone. So while the shadows are blinding in the beginning, the pigment does lose its flicker. This also happened with or without using the Master Eye Prep and Set Kit ($28), which was designed to prep and prime the eyes before applying shadow.
The Master Mattes Palette
The Master Mattes Palette is designed with everyone in mind. Mario actually developed this product first and was inspired to create a palette that matched human skin tones from light to deep. With a variety of brown, cream and black matte shades featured, this product is simple yet practical.
Despite the wearable color range, most of the hues aren't as vibrant or pigmented when applied. While the shadows are meant to be sheer, it's still hard to see if you've applied any product at all—and this goes for all shades. And yes, the shadows are buildable, but it takes a lot of effort to see its intensity, and by that time, the eyelid is irritated and red from all of the blending, even if you don't have sensitive eyes. No matter if you're using the Master Eye Prep and Set Kit ($28) or not, the shadows just aren't lively.
Master Metals Palette
The Master Metals Palette takes eyeshadow to another level with its unique design and concept. Featuring a removable tray to better help mix the shadows with the Master Metal Manipulator ($14) and spatula, this product will have you tapping into your creative side.
Although the idea behind this product is unlike anything else, there are a few flaws. Be warned, when scraping off your shadow of choice and stirring it with the Master Metal Manipulator (it's recommended to use more product than liquid) know that it applies watery. Yes, your lids will look glossy and gilded like the gods, but since the texture is so liquid-y, it takes a while to dry and can fall into your eyes. Plus, the product does crease after a few hours of wear.
However, when used as is, the shadow applies effortlessly. One tap into the product is all you need to make your eyes pop. From the silky texture to the pearl-infused formula and the electrifying hues, the product alone goes a long way. You'll find that your fingers are the best tools.
Master Crystal Reflector
Add some razzle-dazzle to your lewk with these sparkle shadows. One swipe with your fingers or favorite flat brush is all you need to get the full effect of the glitz and glamour on your lids. Each Master Crystal Reflector offers high-shine, intense pigment and bewitching color. Find it in Quartz, a frosty white, Bronzite, a rich copper and a glimmering gold Citrine.
Out of all the shadows offered in the lineup, these last the longest. In fact, when wearing Quartz during a 2-mile run it never lost its luster. It stayed glued on and looked as fresh as when first applied. Now, that's what we'd call magical.
Master Secret Glow
Dubbed "the expensive glow" by Mario, according to a press release, the Master Secret Glow is an interesting multi-purpose product. If you want to achieve the "glass skin" effect, this tiny translucent balm will give you just that. 
And while the packaging is small, this product is mighty. All you really need is a little dab of this clear emollient to get a dewy finish. Apply it on your lids, cheeks or lips—anywhere that could use an extra dose of moisture. But be warned: Because the texture is similar to Petroleum jelly, it does feel sticky and thick on the skin.
Master Mattes Liquid Liner
With so many liquid eyeliners on the market, the Master Mattes Liquid Liner falls somewhere in the middle. Let's start with the pros: The flexible brush and super sharp felt tip makes it easy for you to flick on a cat-eye. No matter if you're an eyeliner pro or a beginner, the brush is user-friendly. Plus, the lightweight packaging allows for control and precision.
Now, for the cons: While the ink is jet-black when first drawn on, it slowly dulls into a charcoal color after a few hours of wear. Moreover, the formula breaks apart and flakes off by the end of the day. The biggest drawback, however, is that the liquid takes a while to dry down. If you blink too soon or have hooded eyes, you'll most certainly have random lines and strokes left on your crease.
Master Pigment Pro Pencil
The Master Pigment Pro Pencil is a certified 10. This creamy, gel-based eyeliner glides on like butter—a.k.a no tugging or pulling necessary! Along with the intense color payoff and rich formula, this pencil eyeliner lasts all day.
Unlike most pencil liners, the Master Pigment Pro Pencil comes with a small flat brush. This addition gives you room to play and have fun with your lewks. Whether you want a smoky eye or feel like blending out your wing, the brush makes it easy and fuss-free.
The Master Mattes Brightening Pencil
The Master Mattes Brightening Pencil is not a need... but it is a want. One swipe in the lower lash line will enhance your eyes. The magic in this product lies in its enchanting pinkish nude hue. Because it resembles the color you see in the waterline, it creates an illusion that your eyes are wider and brighter.
It isn't only intended for the waterline either—apply it on the tear ducts and brow bone. Best of all? The color and formula stay put all day, so you don't have to worry about any fading away.