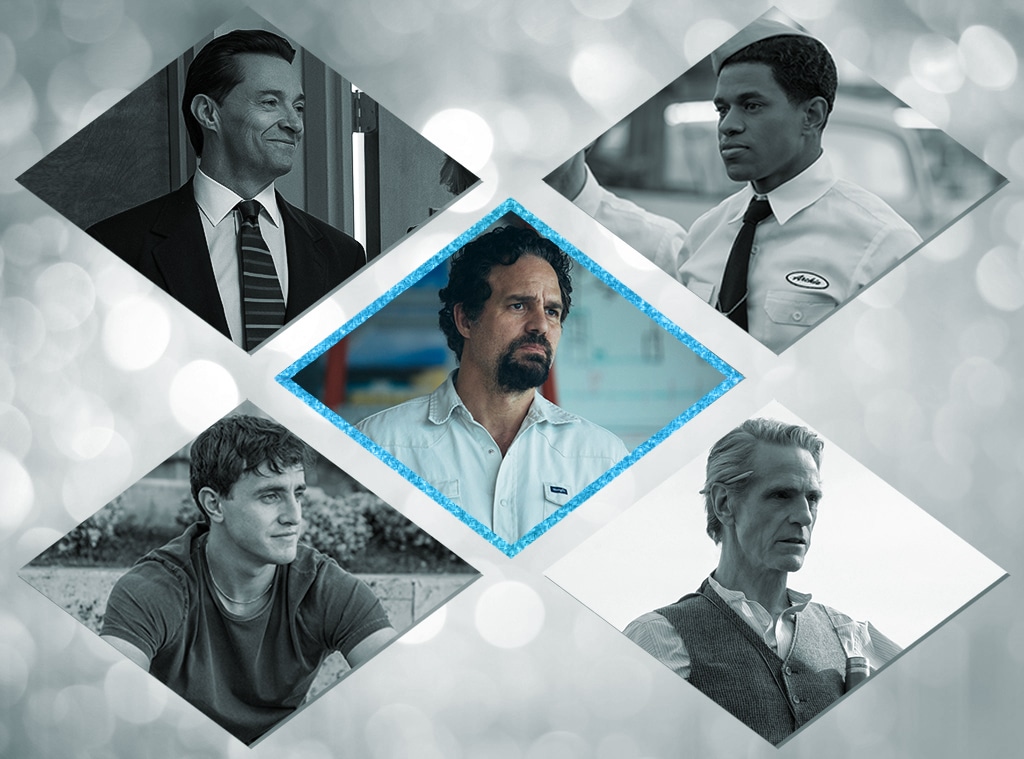 Mark Ruffalo put in twice the work playing twins in I Know This Much Is True. And now he wants everyone to put in the work heading into Election Day.
Sitting on a couch with wife Sunny on what he called "ancestral land" in upstate New York, the winning actor and veteran activist was full of gratitude at the 2020 Emmy Awards, making sure to pay tribute to his fellow nominees for Outstanding Lead Actor in a Limited Series or Movie, before launching into a heartfelt plea to vote in November.
"Our story...was about a man who is fighting for his brother, who is living with mental illness," Ruffalo said of his dual role as brothers Dominick and Thomas Birdsey, the latter of whom has schizophrenia, in the HBO limited series based on the 1998 novel of the same name by Wally Lamb.
"It's a story that is common throughout so much of the United States and the world today," the actor continued. "And I ask a big question: How are we going to deal and honor and take care of each other and our most vulnerable people?"
Ruffalo brought some answers.
"And we do that with love, and we do that with compassion, and we do that by fighting for them," he continued. "And that's what we have to do today. We have to come together with love, for each other. And if you have privilege, you have to fight for those who are less fortunate and more vulnerable. And that's what's great about America, our diversity. I know one thing I've learned in my family, from my wife Sunny and my son Keene and [daughters] Bella and Odette, is that we are stronger together when we love each other and we respect each other's diversity."
The Marvel star, a previous Emmy winner as a producer of the 2014 HBO movie The Normal Heart and known to blockbuster audiences as the Incredible Hulk, got increasingly emotional.
"So, we have a big, important moment in front of us," he continued. "Are we going to be a country of division, hatred, and a country only for a certain kind of people? Or are we going to be one of love, and strength, and fighting for those—all of us—[to] have the American dream and the pursuit of life and liberty and love and happiness in this great country of ours? That's what we're facing right now. So get out and vote, make a plan, and vote for love and compassion and kindness. I love you all. Thank you so much, and God bless you!"
His wife cheered heartily, as did his fellow nominees (minus Jeremy Irons, who apparently couldn't make it to the Zoom fest tonight), watching from their respective set-ups.
While the circumstances of the ceremony may have been highly irregular, the competition was formidable, as usual.
Ruffalo's fellow actors in his category included Hugh Jackman as Dr. Frank Tassone, a Long Island school superintendent who got caught up in a massive embezzlement scam in the real-life story told in HBO's Bad Education; Paul Mescal as one half of an epic (and epically frustrating) coming-of-age romance in Hulu's Normal People, based on Sally Rooney's bestselling novel; Jeremy Pope as an aspiring screenwriter determined to not let being Black or gay hold him back in Netflix's Hollywood, Ryan Murphy's revisionist take on movie-making's so-called Golden Age; and Irons as the mysterious Adrian Veidt in HBO's Watchmen, Damon Lindelof's critically lauded take on the beloved comics that combines superheroes and all-too-real racial strife (and which fans are hoping won't end up being limited, despite Lindelof's insistence that he's one and done).
Host Jimmy Kimmel, clad in a tuxedo and firing off quips at a rapid pace, held court from Los Angeles' Staples Center—the closest the 2020 Emmys got to "normal" aside from E!'s rain-shine-or-pandemic live red carpet coverage before the show—while most of the presenters and nominees participated from home (or other comfortable remote location).
Some chose to ride out TV's biggest, weirdest night in chic pajama sets; while some chose to send a message, as Regina King did with a "Say Her Name" t-shirt honoring Breonna Taylor, worn under an electrifying pink suit; and still others actually got fairly glammed up for the occasion.
Ruffalo grabbed a black blazer over a blue shirt, while his wife wore a white sundress with a black polkadot print.