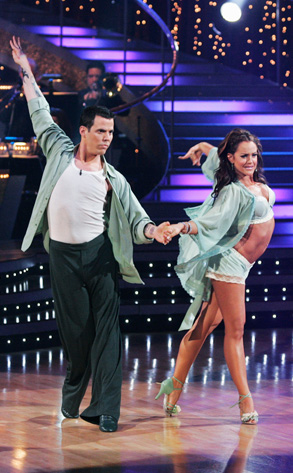 ABC/KELSEY MCNEAL
Rascal Flatts sang. Carmen Electra sorta danced—auditioning for next season, perhaps?
And on Tuesday another celebrity was eliminated from Dancing With the Stars in an unusually adamant dismissal—no chance to redeem oneself with a dance-off tonight.
Steve-O was in last place after Monday's performance show, scoring only 16 on his rumba, and Vegas oddsmakers had him as the overwhelming favorite, at 1-3, to be the one to have to pack his shoes and go.
But Ty Murray and Lawrence Taylor, who was in the bottom two last week, didn't do that great, scorewise...and while you can do the math, the numbers just love to lie.
They didn't this time, however.