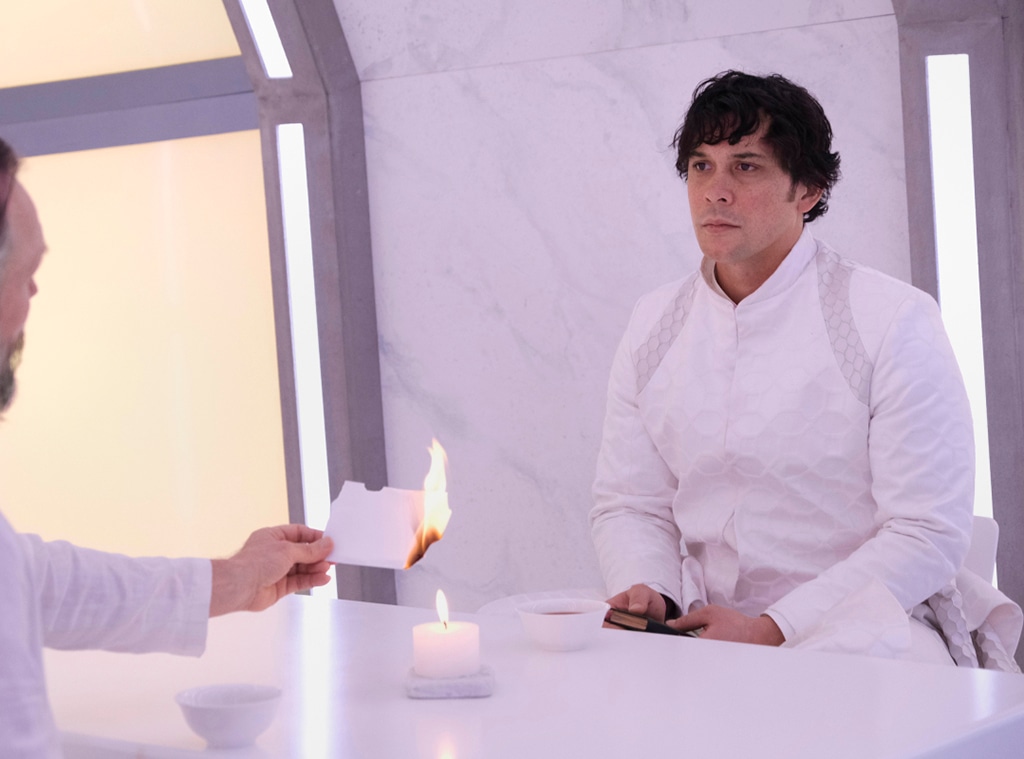 The CW
It's a rough time to be a fan of The 100. 
The long-running CW series is coming to an end in just a few weeks and while we never believed all the main characters would make it to the end, we didn't see this one coming so soon. 
At the very end of the Wednesday, Sept. 9 episode, Clarke (Eliza Taylor) shot and killed her best friend Bellamy (Bob Morley) before following the rest of her friends through a bridge to another planet, all in an effort to protect her adopted daughter, Madi (Lola Flanery). 
Bellamy was already believed to be dead early on in the season, but just two episodes ago, it was revealed that he had actually ended up on the desolate planet Etherea with Doucette (Jonathan Scarfe), one of the Disciples. The two slowly became allies as they made their way to Etherea's anomaly stone at the top of a tall, steep mountain. 
They nearly died several times and Doucette slowly convinced Bellamy to start praying to the Shepherd, leading to visions of both the Shepherd and Bellamy's mother. By the time the two men finally got back to Bardo, Bellamy was ready to pledge himself fully to the Shepherd Bill Cadogan (John Pyper-Ferguson) and betray his friends, starting with Clarke. 
He immediately told Cadogan that Clarke did not, in fact, have the Flame, the AI device that apparently contains the code to starting the Last War. He negotiated to keep Clarke and the others alive, but made it very clear that he was firmly on Cadogan's side and would do anything to help his new boss get ahold of that code. 
Clarke led everyone back to Sanctum and gave Cadogan the broken Flame and it all would have worked out if Gabriel (Chuku Modu) hadn't decided to destroy it completely, leaving former Commander Madi and her drawings as the only remaining source of the code.
Bellamy told Clarke he knew she wouldn't shoot him and he just had to hand over the drawings to Cadogan, so Clarke apparently had no choice other than to actually shoot him in order to protect her daughter. 
Then she shot the Disciple guards, but she ran out of bullets for the last one—the one closest to the fallen notebook filled with drawings—so she just ran off into the anomaly to follow her friends, leaving the notebook behind. The notebook was apparently important enough to kill her former best friend, but not important enough for her to risk her own life to grab? Clarke, what? 
Bellamy's lifeless body was bleeding on the floor as Clarke cried inside the swirling green anomaly like it was a scene from an early 2000s music video. And then it ended, leaving us to contemplate what on earth just happened. 
Executive producer Jason Rothenberg was ready with a statement on Twitter to help with that contemplation. 
"For seven seasons, The 100 has been a show about the dark things that humanity will do to survive and the toll those deeds take on our heroes' souls," he wrote. "We knew Bellamy's death had to go to the heart of what the show is all about: Survival. Who you're willing to protect. And who you're willing to sacrifice." 
"His loss is devastating," he continued. "But his life and his endless love for his people will loom large and affect everything that comes after, to the very end of the series finale itself. We thank Bob for his beautiful work over these long years and wish him all the best in his future endeavors." 
Bellamy was barely an enemy for two episodes before Clarke murdered him over a notebook that she didn't even recover afterwards. There's no way this death—and that notebook—won't play heavily into the final three episodes of the series, but it may take us all a little longer than three episodes to really come to terms with Clarke's decision. 
Watch:
Classic TV Reboots We're Totally Hyped About
The loss of Bellamy also wasn't the only major goodbye this season. Just a few episodes ago, Diyoza (Ivana Milicevic) sacrificed herself to save everyone in Bardo, and it feels like this is not going to be the last devastating death we'll be faced with this season. It would be surprising, at this point, if Clarke even makes it out of the series alive. 
We've done a lot of mourning when it comes to this show, but this is a big one. It does not bode well for a happy ending. 
The 100 airs Wednesdays at 8 p.m., and the series finale airs Wednesday, Sept. 30 at 8 p.m. on The CW.