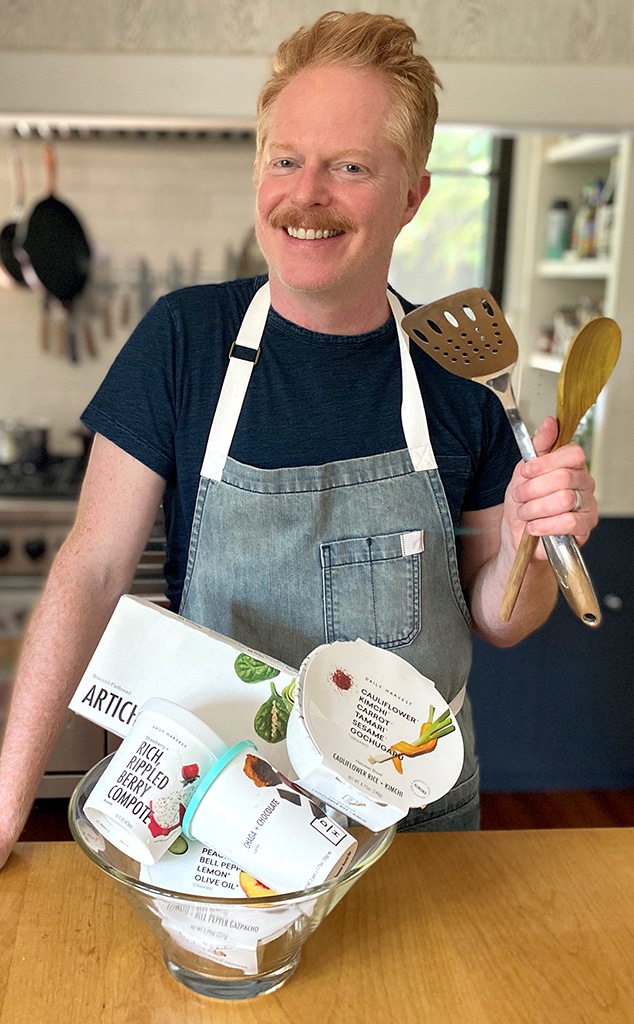 We love these products, and we hope you do too. E! has affiliate relationships, so we may get a small share of the revenue from your purchases. Items are sold by the retailer, not E!.
Just because you have more free time during quarantine doesn't mean you've necessarily turned into a top chef overnight. So "Give Cooking The Finger" along with Tabitha Brown, Jesse Tyler Ferguson, Action Bronson, Chloe Fineman and Kira Stokes by ordering Daily Harvest meals to your doorstep.
Below, hear about what they've been up to during quarantine, plus shop their top picks from the Daily Harvest site.
Tabitha Brown
"In addition to keeping my family well-fed and healthy, I've been up to my eyeballs homeschooling my eight-year-old son, Quest and making Tik Toks cooking and dancing with my daughter, Choyce (I'm still trying to learn the renegade lol). Then, Daily Harvest became a fifth member of the Brown family. They have over 75 items to keep it exciting and everything is pre-prepped and ready in minutes. MINUTES BABY! The best part? I share DH with my kids—they love the decadent smoothies, scoops, and bites…little do they know, they're eating REAL fruits and vegetables. During the pandemic, us moms and dads have been asked to take on a lot. Stop being so hard on yourself, because you are enough! Take things one day at a time, day by day, step by step. And let Daily Harvest stock your home with clean, delicious food."
Jesse Tyler Ferguson
"My husband Justin and I welcomed our first child, Beckett into the world on July 7! I don't know if you've heard this about newborns, but they take a lot of work and a lot of sleep away from you! As the cook in the family, I have been feeling a bit overwhelmed whenever mealtime approaches. It's not always easy to come up with a healthy and delicious option that I haven't already made 39 times since being in quarantine! Enter Daily Harvest: a new parent's dream come true. Our freezer is stocked with clean, delicious bowls, flatbreads, smoothies, lattes and snacks. Plus, it's 100% free of refined sugars, gluten, fillers, preservatives, or artificial anything so we can take on our new role as dads with clear heads and full stomachs. We are just waiting for them to introduce breast milk smoothies onto the menu for little Beckett."
Action Bronson
"Before I was a rapper, I went to culinary school and was a full-time chef. I love food, but I was on a path that leads straight to the graveyard. I'm committed to eating differently and exercising. I've lost 100 pounds so far, but haven't forgotten my love of the culinary world. Eating nourishing, clean food can be f*cking delicious and easy. I've been self-isolating at my home in Brooklyn and cooking A LOT. When I need a reprieve, Daily Harvest is my lifesaver. Their chefs and nutritionists craft thoughtful recipes with interesting flavor combinations and unique ingredients. Everything is sourced from the very best farms from around the world and frozen within 24 hours of harvest to lock in nutrients and flavor. That's beauty."
Chloe Fineman
"I actually haven't even attempted to turn on my oven during this pandemic. I resorted to take out...until I actually overdosed on pizza. When I couldn't bear the thought of looking at another slice, I turned to Daily Harvest."
Kira Stokes
"Less time in the kitchen means more time to move, create and stay STOKED. Daily Harvest finds a way to combine vegetables, grains and fruits in ways I could never imagine. With Daily Harvest, the only decision I have to make is which stellar option to grab when I open the freezer!"