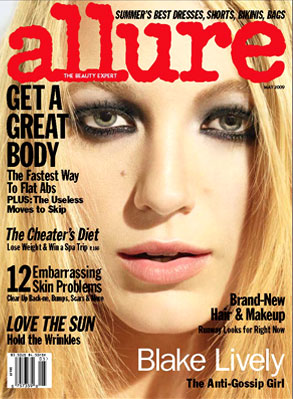 Allure Magazine
Gossip Girl's Blake Lively opened up in the May issue of Allure, revealing her deepest insecurity.
"I feel like a tranny a lot of the time," the 5-foot-10 actress said.
"I don't know, I'm...large? They put me in six-inch heels, and I tower over every man. I've got this long hair and lots of clothes and makeup on. I just feel really big a lot of the time, and I'm surrounded by a lot of tiny people. I feel like a man sometimes."
So the beauty magazine decided to help her out and apply heavy tranny eye makeup for the cover. It's all about conquering your fears by facing them head-on in extreme close-ups.