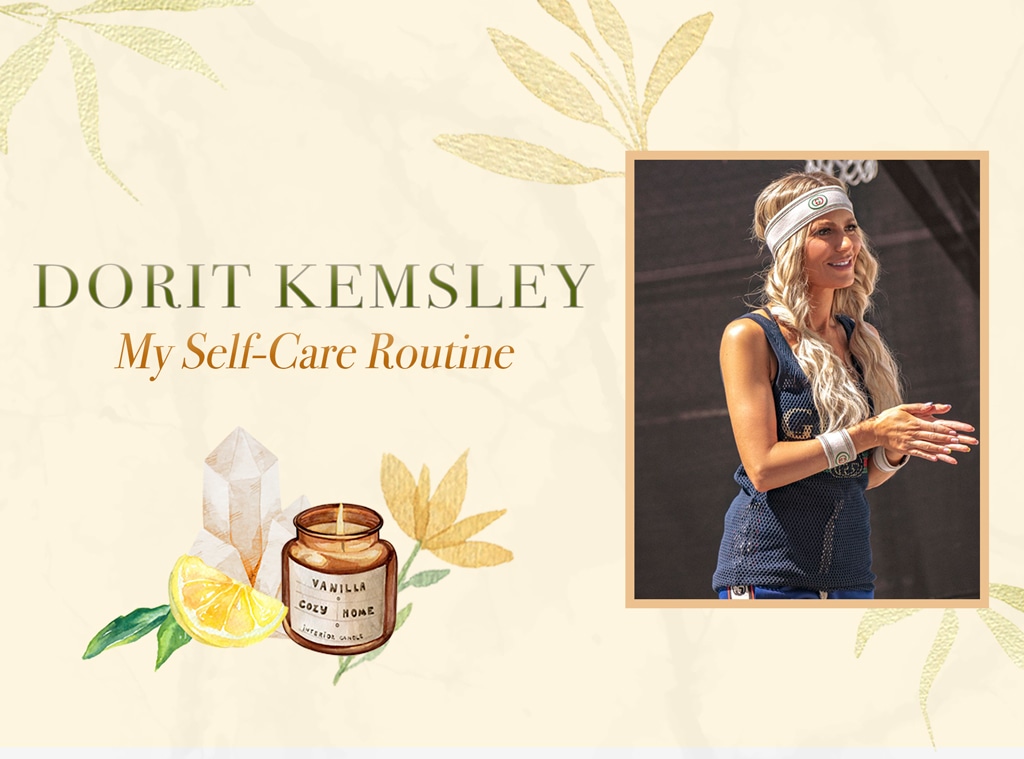 Raye Boyce/E! Illustration
Dorit Kemsley won't settle for anything less than everything and we won't settle for anything less than learning everything about her self-care routine.
We know we're not the only ones who have spent our Wednesday nights living for The Real Housewives of Beverly Hills star's stunning looks and quotable lines, with the mother of two—wed to property developer PK Kemsley—consistently serving heaping helpings in both departments throughout season 10. And that might just be because she's established an attainable and family-oriented self-care routine at-home with son Jagger, 6, and daughter Phoenix, 4, to keep her centered amid all the drama going down in the 90210. 
In E! News' Wellness Wednesday series, the Beverly Beach designer is reveals her go-to healthy snacks and indulgences, her favorite way to break a sweat and what she can't go to bed without doing.  
Affirmation or Mantra You Tell Yourself:
I am grateful for all of my blessings.
The First Thing You Do in the Morning: 
I drink a glass of hot lemon water and hug my husband. 
Three Things You Try to Do Each Day: 
Something to keep me organized, something fun with the kids and something to help me prep for the next day.  
Watch:
Dorit Kemsley - E! People's Choice Awards Glambot
Social Media Accounts You Follow for Positivity:
@HilariaBaldwin and @iamtabithabrown.
Your Favorite Way to Break a Sweat Right Now:
Doing something active with the kids. It's always different but recently it's been dancing or playing some kind of sport.
Your Go-To Snack:
Carrots and hummus is always a fave with a handful of raw almonds and/or cashews.
Cibelle Levi/Celebrity Photographer
Your Go-To Healthy Recipe:
It's usually between a really great green shake, a yummy vegetable soup, or avocado toast with a poached egg.
Your Go-To Indulgence:
It really depends on the day. Sometimes I'm in the mood for a cookie, sometimes a bowl of chips. I love baking with my daughter Phoenix, so anything that we bake together I absolutely indulge in.
Your Go-To Easy Beauty Routine:
I cleanse my face, apply a serum, a moisturizer, an eye cream, and a neck cream (if I remember). I'm big on moisturizing my body, especially my hands.
Your Current Feel-Good Song:
"Watermelon Sugar" by Harry Styles.
The Apps or Podcasts You've Been Turning To:
I've been so busy recently that I haven't been on my phone much!
No. 1 Self-Care Tip:
Love yourself, be kind to yourself and hydrate!
You Can't Go to Bed Without Doing This:
Having a good cuddle with my babies and kissing them goodnight. I also love to put hand cream and lip balm on right before bed.
What Is Making You the Happiest Right Now:
Being home with PK and the kids. The silver lining of quarantine is definitely the time that I get to spend with my family. It's been so incredible and I feel so blessed and happy to have it.
The Real Housewives of Beverly Hills reunion continues Wednesday at 9 p.m. on Bravo.
(E! and Bravo are both part of the NBCUniversal family.)