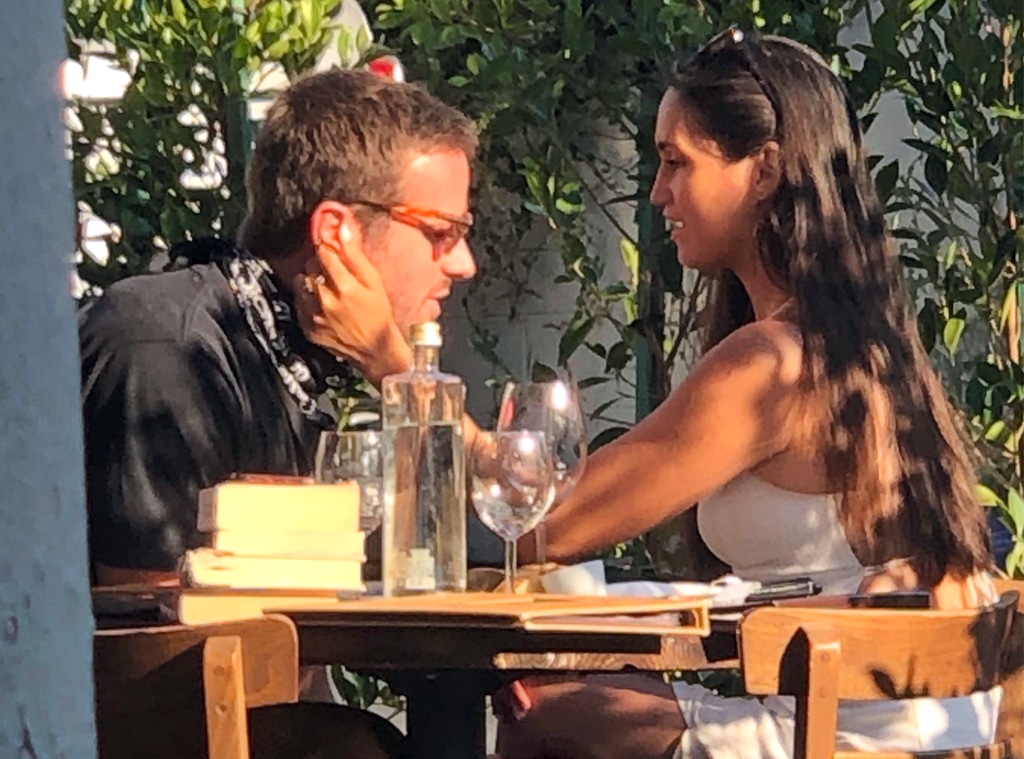 SplashNews.com
Armie Hammer continues to make headlines.
Nearly three months after breaking up with Elizabeth Chambers, the 34-year-old actor seems to be enjoying the single life. The Call Me by Your Name star was recently spotted with another newly single lady, Jessica Ciencin Henriquez, who is the ex-wife of Josh Lucas.
Armie and Jessica were recently photographed sitting close to each other while grabbing food at Osteria Mamma in Los Angeles, Calif.
For the outing, the actor kept things simple with a black oversized t-shirt and black bandana, which he appeared to use as a face mask. The New York Times writer and editor opted for a beige-colored dress and large sunglasses.
While it's unclear how long Armie and Jessica dined out for, a source tells E! News they were hanging out "the same day" the actor was seen with Rumer Willis. Last week, E! News reported The Social Network alum went for an afternoon stroll with Demi Moore and Bruce Willis' daughter.
Photos showed Armie with his arm wrapped around the actress' waist while out and about in Los Angeles. Another image captured the two smiling at each other, even as they wore matching blue face masks.
Despite the actor's recent outings with Rumer and Jessica, a separate source previously told E! News he isn't looking for anything serious. Given he was with Elizabeth for a decade, it's easy to understand why.
As the source put it, "He isn't dating or in a relationship with anyone. He and his ex were together since his early 20's so he isn't looking for a relationship now."
Watch:
Armie Hammer Spotted With Rumer Willis 3 Months After Divorce
At this time, Armie and Rumer haven't publicly commented on their hang out. However, Jessica briefly addressed her dine-in with the actor. She told Page Six, "That's just me having lunch."
Back in July, Armie and Elizabeth issued a joint statement announcing their divorce. "Thirteen years as best friends, soulmates, partners and then parents," their statement read on social media. "It has been an incredible journey, but together, we've decided to turn the page and move on from our marriage. As we enter into this next chapter, our children and relationship as co-parents and dear friends will remain our priority."
"We understand this news lends itself to public dialogue, but in the interest of our children and our family, we're asking for privacy, compassion and love during this time," their message concluded.
The former pair are proud parents to two kids: Harper Grace, 5, and son Ford Douglas Armand, 3.
Although Jessica and Josh called it quits in January 2014 after two years of marriage, they reconnected recently. While it's unclear when the duo reconciled their romance, Jessica made it clear things were over for good in May.
Taking to Twitter at the time, the writer accused the Sweet Home Alabama alum of cheating on her. "Exes are exes for a reason," she began her post, which has now been hidden on her timelime.
"Having a child with someone makes you want to forgive them more than you normally would," she continued. "It makes you believe they are better than they are. But it takes a really s--t human to cheat on their partner (correction: now ex partner) in the middle of a pandemic. Thank you for reminding me why I left you in the first place."
"I deserve better than this. Our son deserves better than this," she added.
Jessica said she was "airing this publicly" to help other women going through the same thing. "...there are a lot of women accepting much less than they deserve because there are kids in the picture," she explained. "You're not stupid for hoping, for believing that people can change. I see you."
Lucas never addressed the infidelity accusations. He and Jessica share a son Noah Rev, 7.